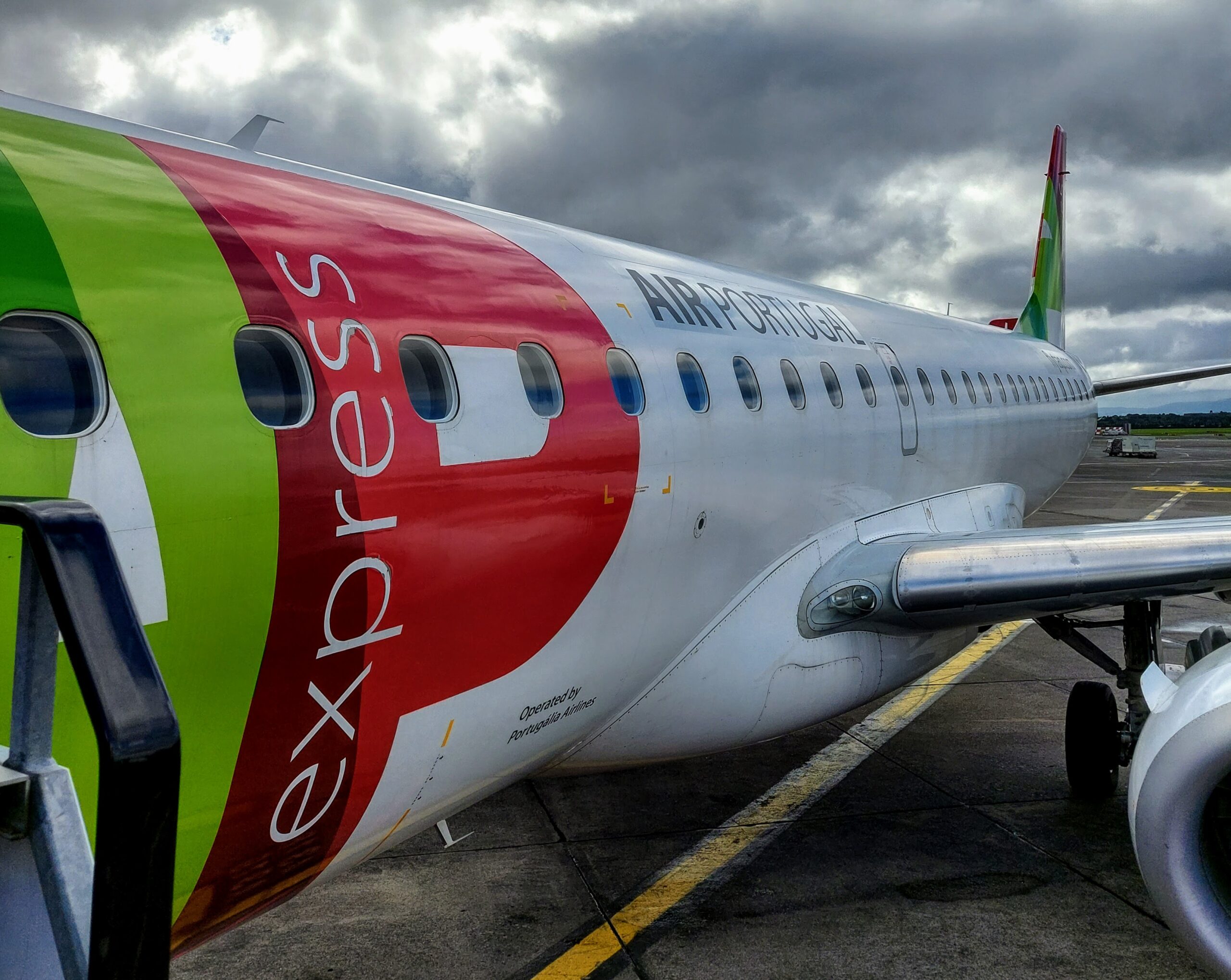 For a long-awaited long weekend in Lisbon, Portugal – a country I'd never been to before – I decided to avail of the benefits of my recent TAP Air Portugal status match, and give TAP Express' service from Dublin to Lisbon a try.
Unfortunately with airfares travelling higher this summer than the aircraft themselves, business was out of the question from the get-go; besides which, I simply can't justify intra-Europe business class, consisting, as it does, of the same seats as economy, with the same legroom, and a slightly enhanced complimentary meal service.
Dublin Airport positions TAP's check-in desks in the grim, cavernous Area 14; a small, dimly-lit basement area that feels like it's seen vastly better days.
Check-in took an incredibly long time, but that seemed more down to the inexperience and subsequent uncertainty of our (sole) check-in agent, who insisted every single barcode sticker be removed from my well-travelled suitcase. A decade worth of baggage trace stickers removed later, and we were on our way.
Dublin Airport was busy, busy, busy over that bank holiday weekend and to my disappointment, TAP do not offer any lounge for status or business customers flying from Dublin. So instead, we forlornly made our way towards the gate.
To say Dublin Airport Terminal 1 needs some love and attention would be a significant understatement – it is such a terminal of contradictions. Towards TAP's gate (also the same gate area as Air France and British Airways), the toilets have been recently redone in a very plush, marble-laden style – but then, right outside you have the below hideous sofa that looks like it was dropped there by an employee who didn't want to pay to dump it at a civic waste facility.
With the same inexperienced check-in staff also handling boarding, it was a total free-for-all. There were two undivided, unmarked lines that had formed; one was loosely comprised of business class and status passengers who believed they should be in this smaller line, as well as those confused or who thought it was for rear-door boarding, had families or needed extra time, or had done web check-in and believed that conferred some kind of special boarding benefit. In the other line was everyone else.
Priority was duly accorded to that first line but with no particular policing or monitoring, and the second queue started to eventually push in anyway – so for those who have found this article specifically to understand if priority boarding is a thing for TAP in Dublin, no it isn't.
TAP Express, which is operated by Portugalia, operates a fleet of small jets. Once onboard, and reflecting on my front row seat in economy, I was thankful I didn't splash out for business as I looked forward to the exact same legroom being enjoyed by our more lofty, premium passengers.
After an initially announced one hour delay due to Dublin ATC, we were told moments later with an almost congratulatory tone that we would be leaving immediately. Our crew on this flight, if not particularly polished, were absolute entertainment personified! An absolute opposite to the grumpy, deeply unhappy TAP mainline staff we met on the way back.
In-flight, and meal service was entirely Buy-on-Board, with a few value packs available – including minimal cost upgrades to wine/beer. I went for the sandwich, chips & a drink package, along with, of course, the upgrade to wine. A complimentary, questionable-quality, cup of water was also served.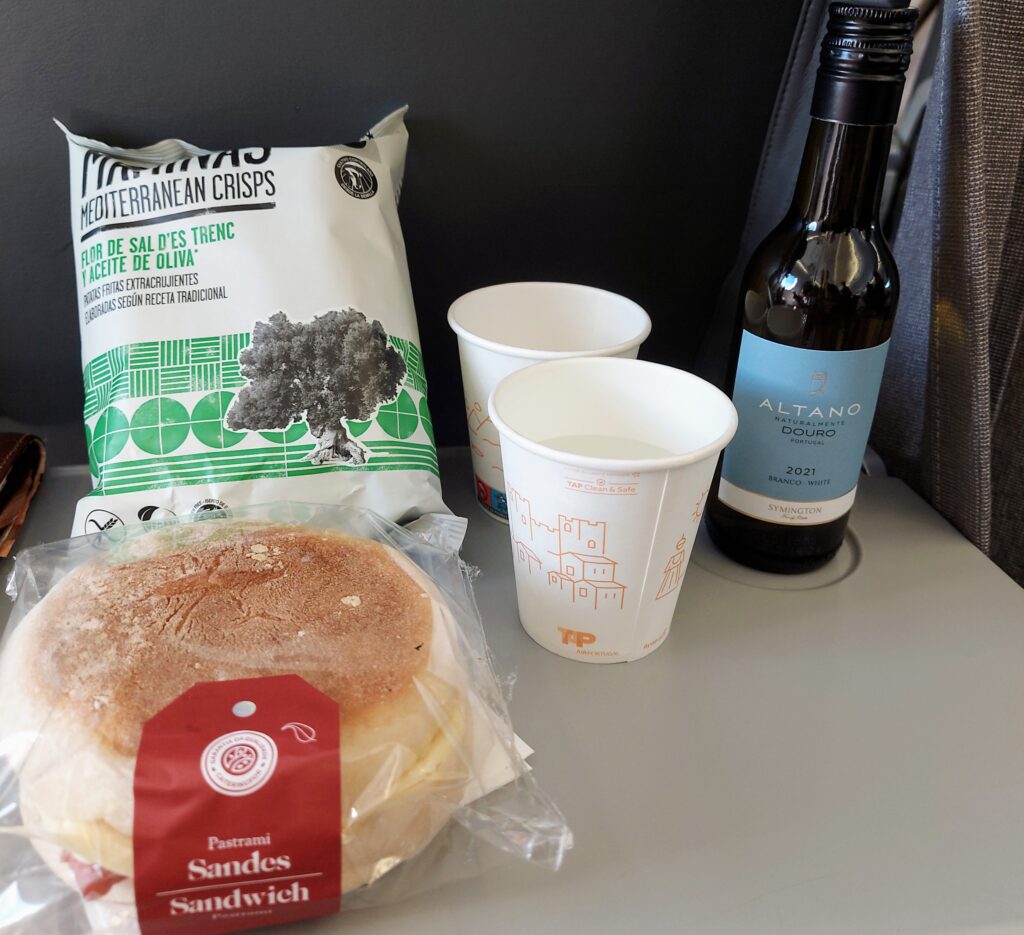 Though the sandwich was somewhat stodgy, and the wine a little warmer than I suspect it was supposed to be served at, it all went down easily and enjoyably. Most of all, as is always the case on an intra-Europe flight, it passed the time effectively.
Entertainment was otherwise provided by the change of landscape below as we gently begun our descent into Lisbon, an airport located surprisingly close to the city centre, and which affords very picturesque views on both approach and departure.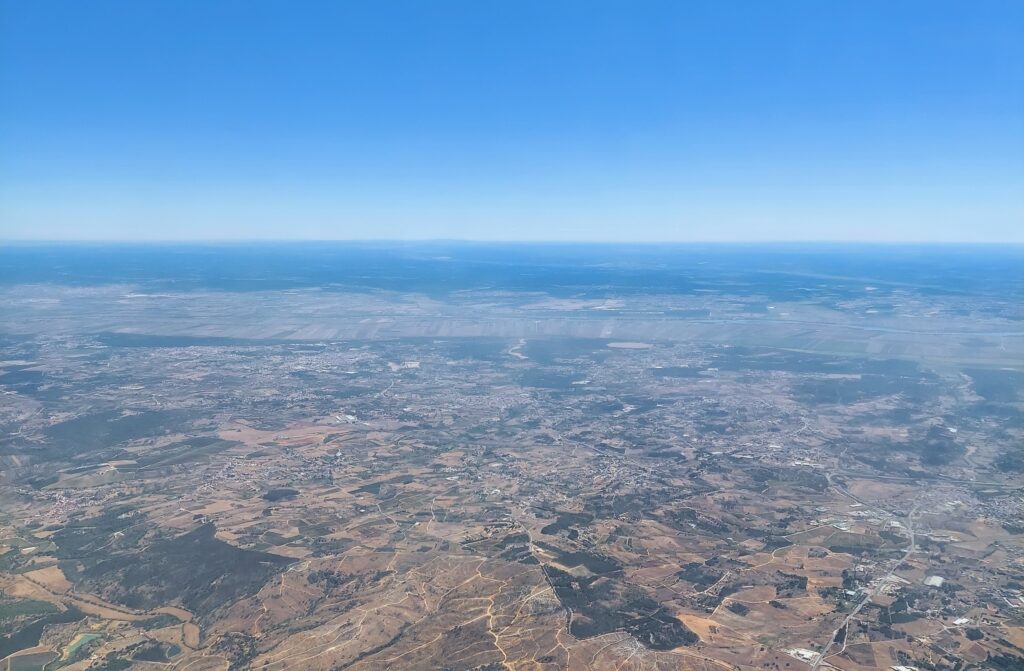 In no time, we were on the ground being bussed to the arrivals hall in a very stuffy, what felt like non-air conditioned coach. Despite the very grim Area 14, the lack of lounge, priority boarding or complimentary meals, I quite enjoyed my time on TAP Express and only wish I'd booked the same flight on the return. The crew were highly enthusiastic (at least about leaving Dublin on time), and it was as good a flight as you can expect on a European national carrier travelling short-haul.