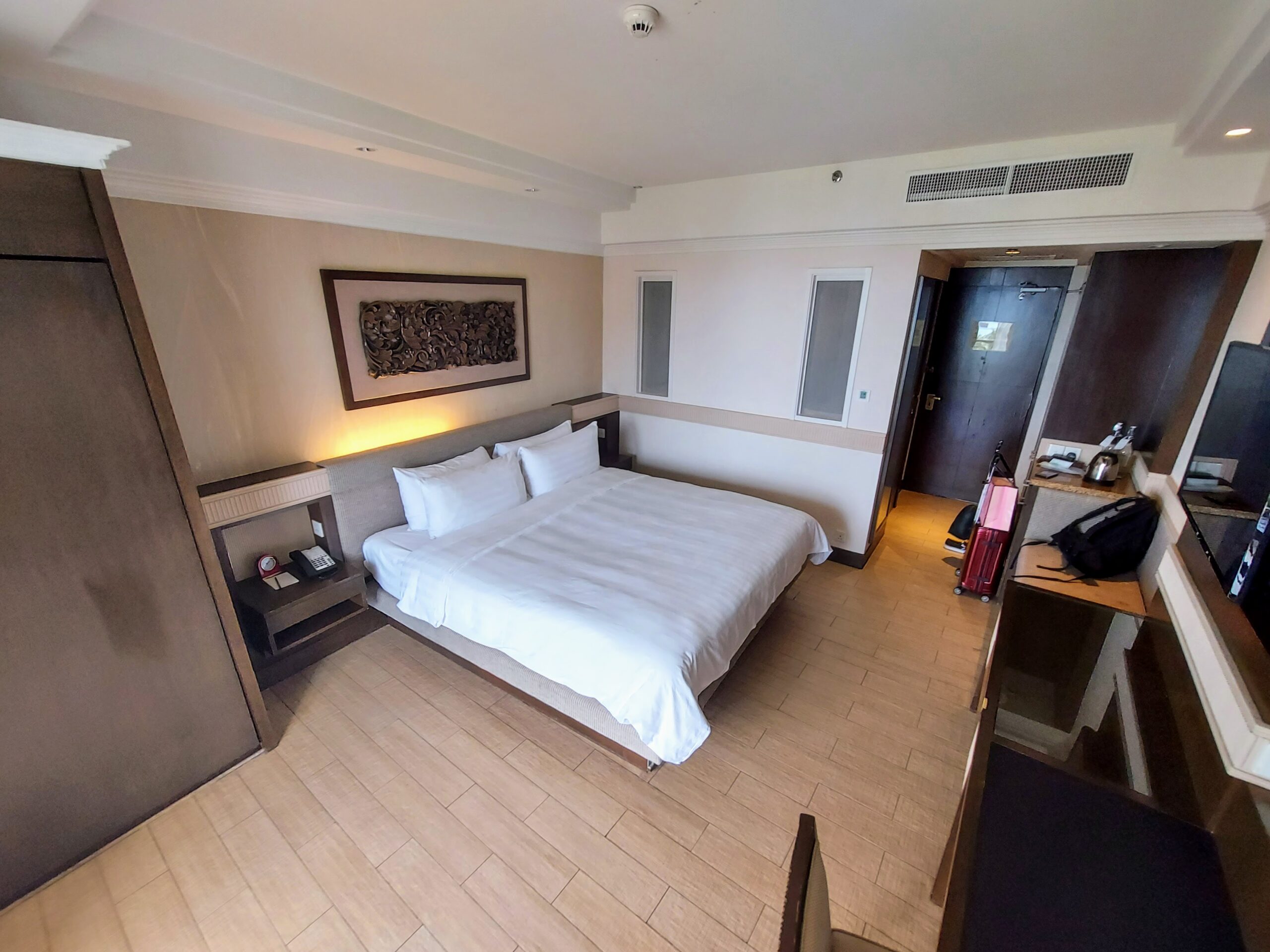 With Shangri-La Circle points to burn and having not visited in years, I was delighted to book into an Executive Seaview room at the Shangri-La Golden Sands, Penang for a very brief one-night stay.
Wandering into this property, there's no doubt it exudes a far more family-friendly vibe than its slightly stuffier neighbour next door – while still offering beautiful views out over the pool area and across to the Andaman sea, through the open-sided lobby area.
When we arrived, we landed right in the middle of what appeared to be peak check-in time and there was a subsequent short wait to be seen. A runner did attempt to encourage us to use web check-in or through the app, but the Shangri-La app has an annoying habit of attempting to charge the full room charge all over again as an incidental, which doesn't occur in-person at reception and so we declined (Shangri-La Corporate, it would be lovely to see the deposit in the app be the same as the deposit charged in-person – then I'd love to do app check-in).
Our check-in was a little tricky as it was a booking fully on points, which our agent seemed to have significant difficulty handling, before charging me an amount for an undisclosed reason (possibly 'local tax and service charge'), which ended up having to be refunded the next day due to it being an error. In fairness, this matter was handled efficiently, apologetically and with grace the next day.
Onto the room itself – the Executive Seaview Room. The Golden Sands Resort is evidently an older property, but the room size was more than adequate and well maintained. I would say perhaps not as over the top as the Rasa Sayang Resort next door, but then the price clearly reflects this, and our room was very much still more than adequate for a family break – the apparent target market.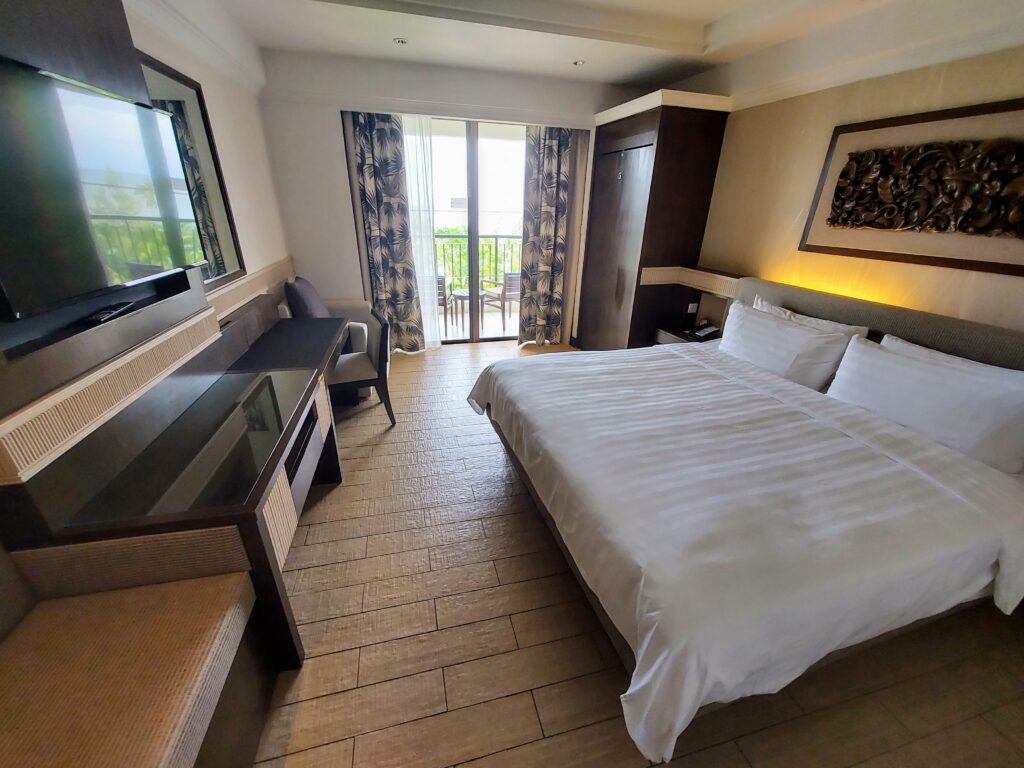 The balcony meanwhile opened out to really very spectacular views across the gardens, pool area and out to the sea. It was very impressive.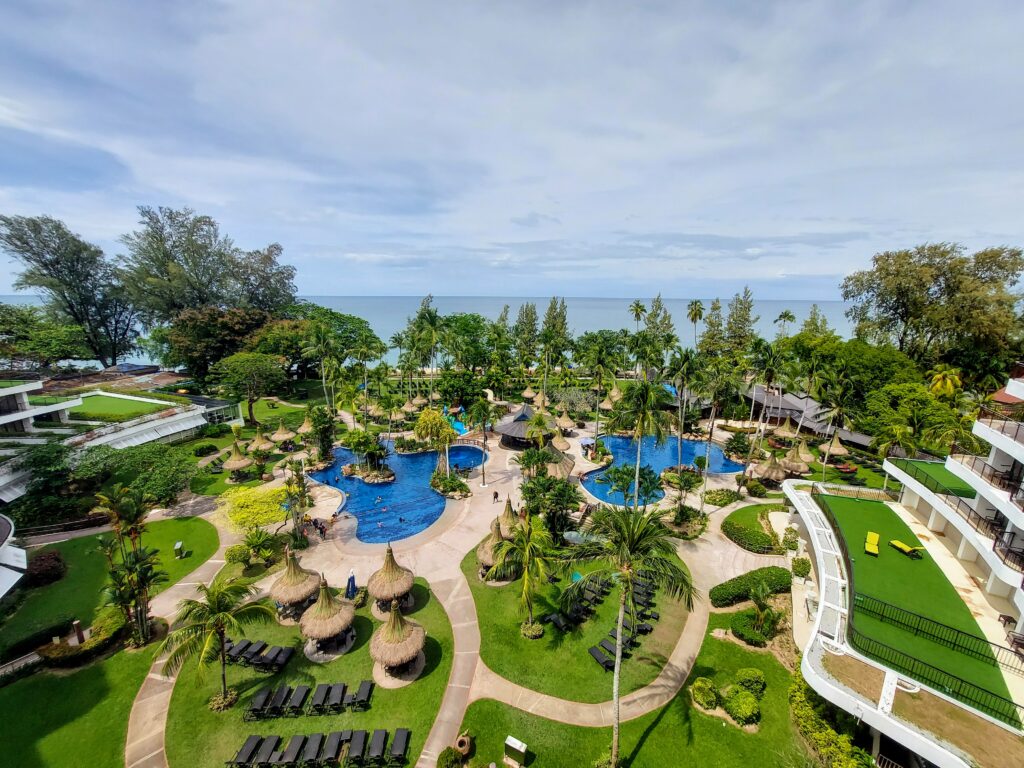 Back inside, and the bathroom was tight enough – with a large central mirror and little frosted windows into the room on either side, in case that bothers you – but with a well-equipped shower, double sinks, and all toiletries you could possibly need.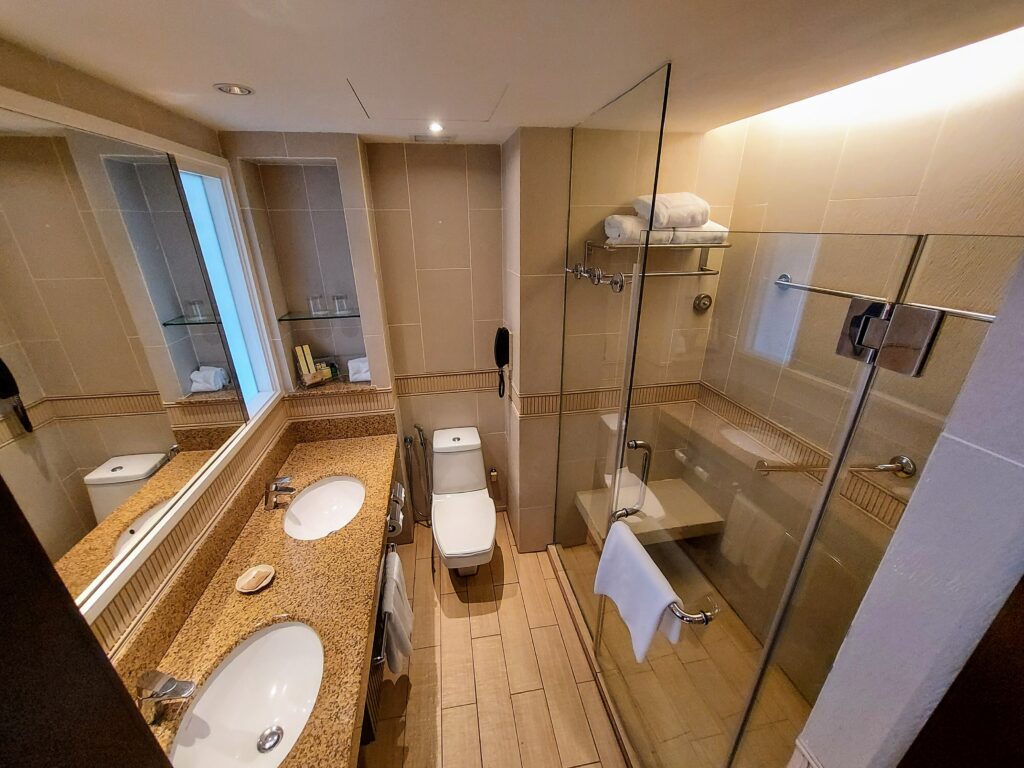 One area the Shangri-La app has begun to excel is in the ability to order additional conveniences as needed – I used it one morning to order additional toiletries and water, more so as a test than out of need, and sure enough it all turned up very speedily to our room.
Undoubtedly the pool really filled up during the day with families, teens and kids; but I was delighted to see that beach chairs and loungers were more or less consistently available throughout the day and – overgrown child that I am – the pool slide is indeed open and accessible to fully grown lanky adults like myself, and I can confirm is also a lot of fun.
The beach of course is only metres away – as is the Shangri-La Rasa Sayang – and thankfully after the frightful erosion issues that the whole venue seemed to be experiencing back in June, things are now looking much better as you can see below.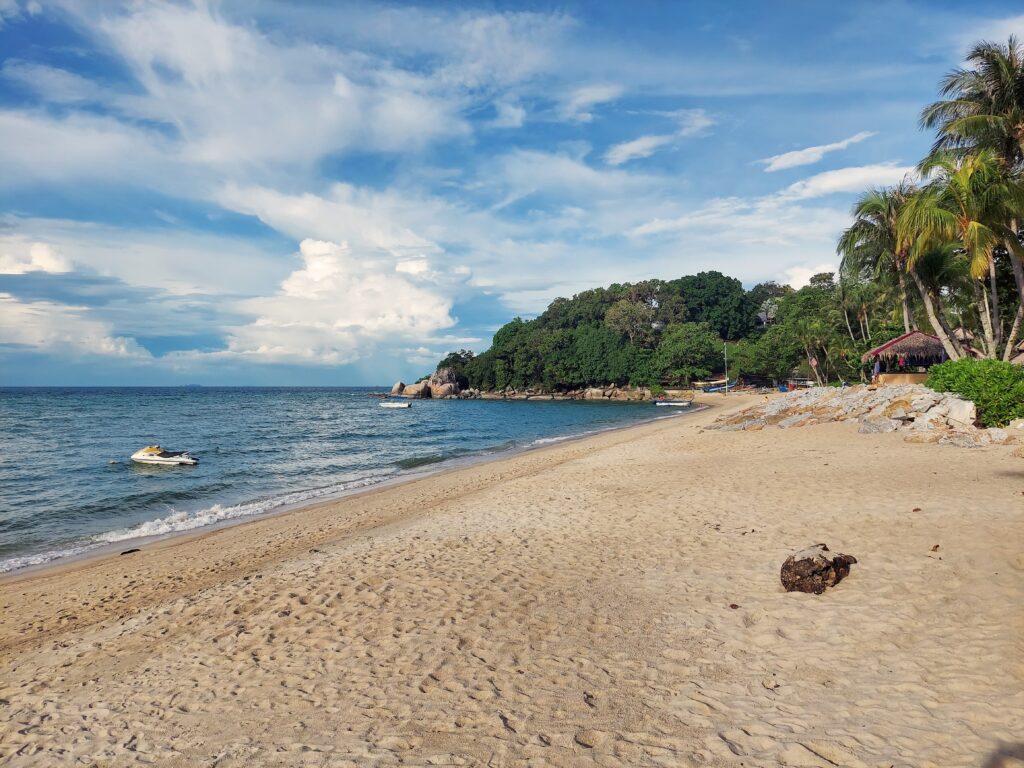 After a wonderful nights' sleep, it was time to sample breakfast. If I had to put breakfast into words it would 'delightful, but a little chaotic', as tables emptied and re-filled with guests at warp speed, kids wandered all over, and stands went from packed to empty seemingly at totally random intervals. The food itself was excellent however, and there was plenty of choice such that you could dine for a number of days and not have tried everything you might want.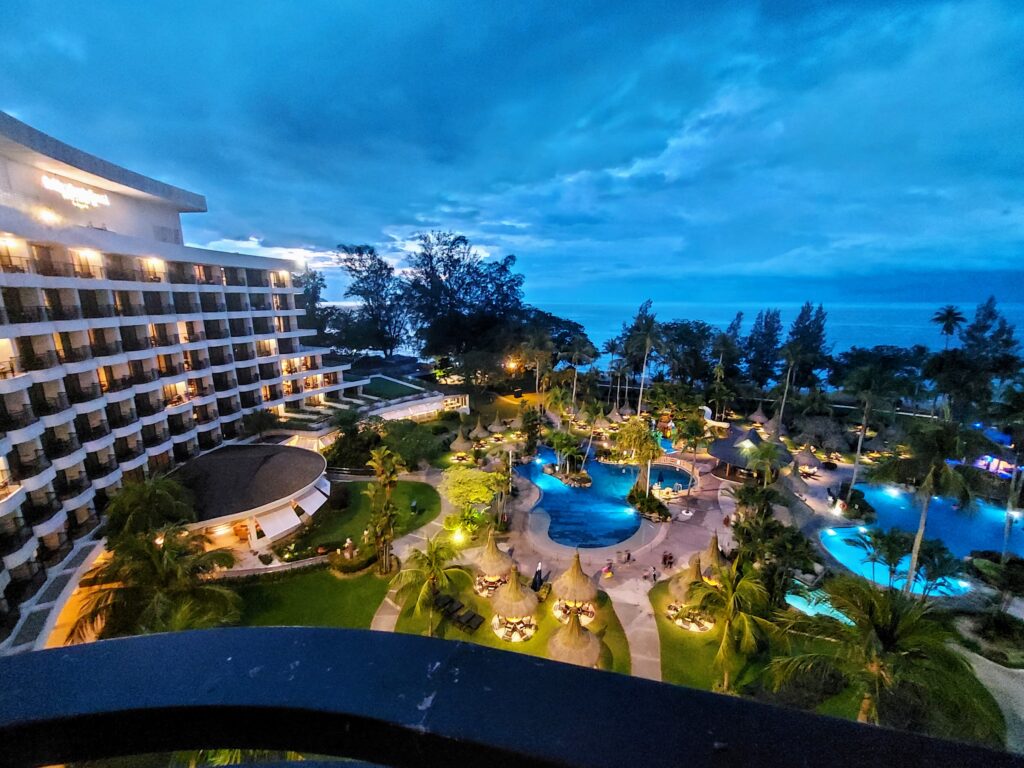 Check-out was another rapid-fire occasion and the key cards were collected and we were bid a farewell – until we collected our luggage a few hours later.
Overall, I enjoyed my stay at Golden Sands Resort. The property is definitely on the older side, but very well maintained and a very good fit with the family staycation/break market they seem to be going after. For guests going solo or adults-only, this may not be the place – unless of course you want a go on the slide, for which I don't blame anyone, but even so it's a fun hotel, with good rooms, great views and reasonable prices.