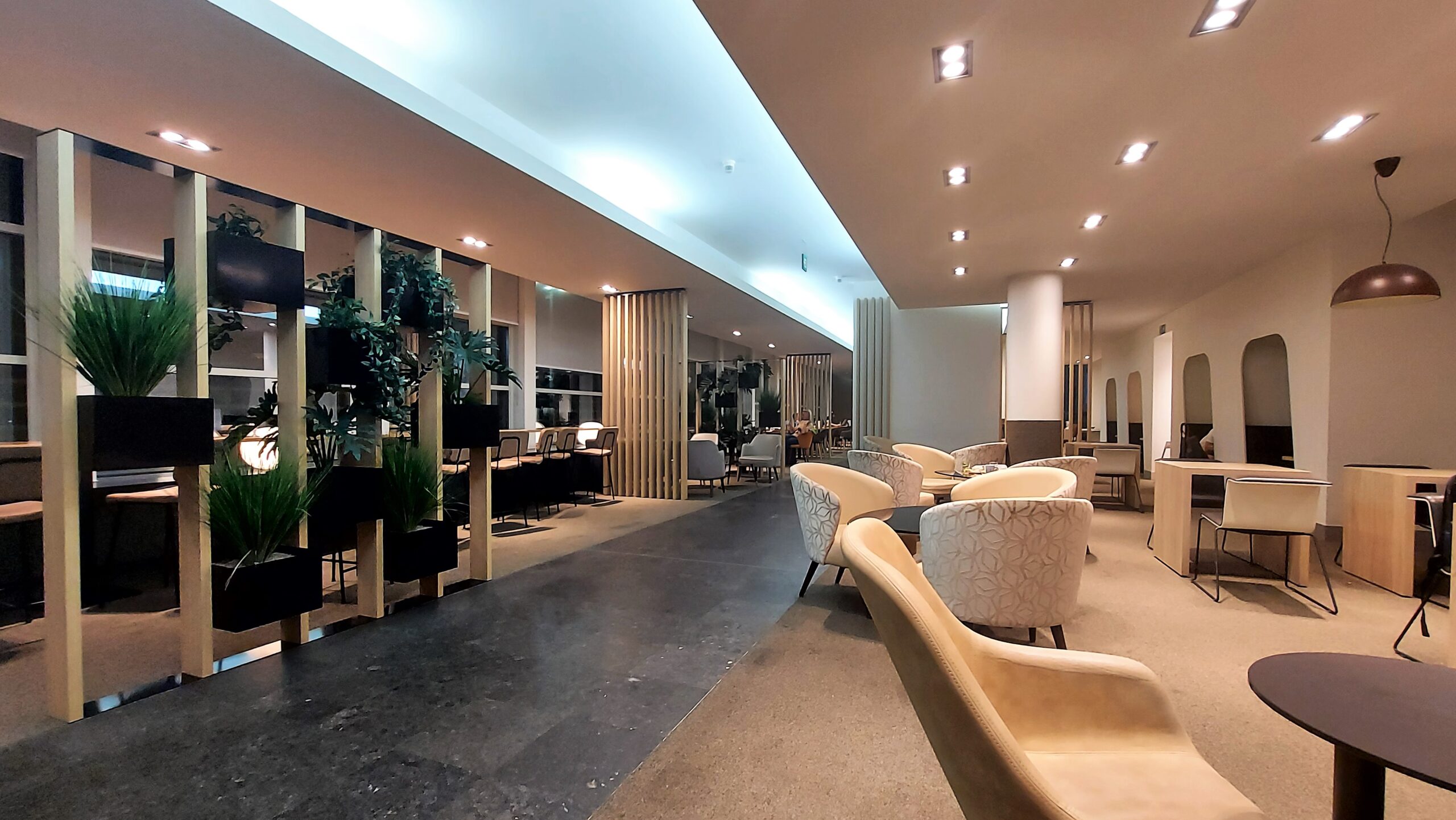 I always struggle with lounge reviews, because someone's 'full house' at a certain day and time can be someone else's 'abandoned' within an hour or two – and this trip to the Diamond Lounge, Brussels Airport was exactly that.
Located just after security and the non-Schengen passport control area (signage right after security isn't especially wonderful, but rest assured, you can go through passport control), the lounge takes a little bit of corridor-crawling to find.
In our case, we ventured upstairs, where we found a large painted wall with 'Diamond Lounge' on it (see below), along with four planes – that I wasn't actually sure indicated the necessary direction of travel, or if they were just simply for decoration.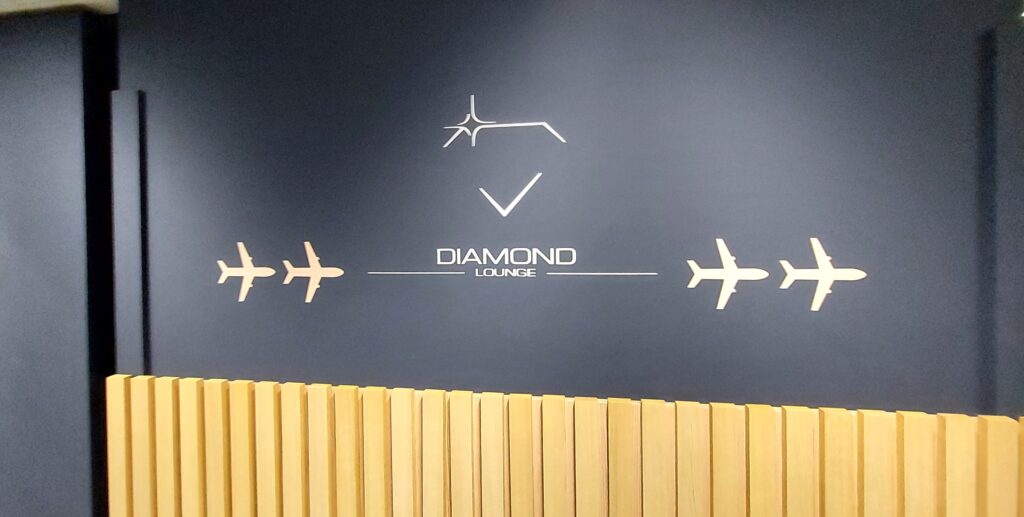 Down a very 1970's-esque corridor, and the lounge is to be found on the right hand-side – also, from the outside, looking positively dated.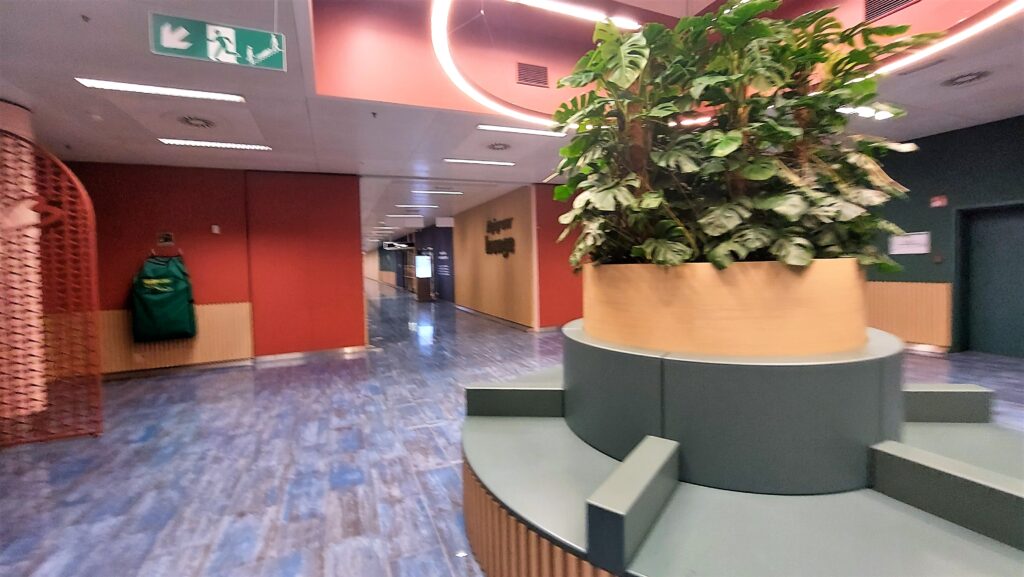 Reception inside was warm and welcoming, and we were quickly informed of a delay including the new revised departure time – quite impressive, for a third party lounge.
However – and here comes the big however – the lounge was absolutely slammed. It seems like there were multiple departures, all of whose status and business travellers were eligible for the lounge, still pending.
For starters, there was a very delayed flight to London; those passengers' trip to the lounge had now fully evolved into a drinking trip, and one passenger in particular was by now grinning at the wine bottle, as if it was somehow going to engage in some flirty banter.
There were also Emirates passengers, as well as at least one or two more flights. So seating was at an extreme premium.
Having said that, and this is something unusually positive, but in spite of the seating issues, there were no problems with catering supplies and there was both a cold section, containing salad ingredients and cold meats, as well as a small selection of hot food items, such as tandoori chicken, pasta, and rice. All the carbs you could need!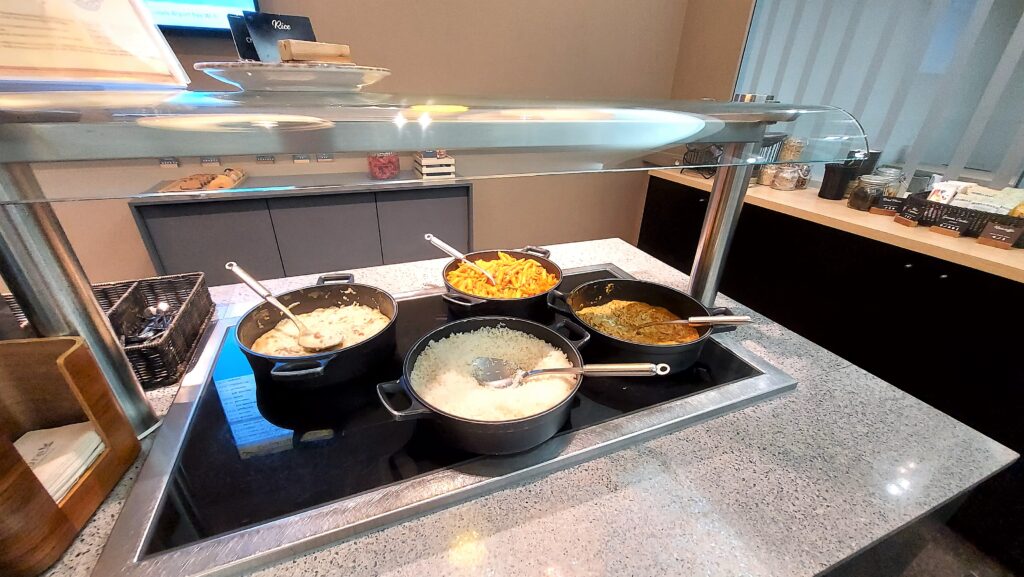 But, the food was hot and tasted fresh. For the drinkers – and there were certainly plenty – there was a decent selection of spirits, red and white wines, along with mixers available from a row of fridges.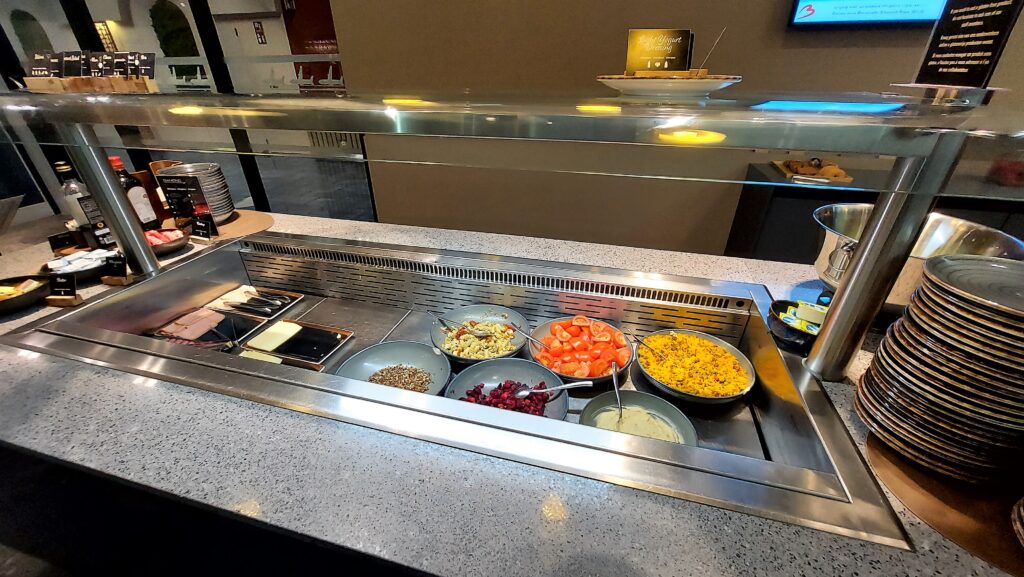 Thankfully also, as the evening wore on, the lounge significantly emptied out – British Airways finally manage to repatriate their passengers to Heathrow, and with that both attendance and noise levels declined significantly. After that, Emirates started boarding and before long – finally, I was able to get the lounge perfect picture at the top of this post.
But in seriousness, while the seating initially was a real issue, and the 70's corridor outside is a little weird, this is actually a perfectly pleasant, well-stocked lounge to spend some time before a flight, with everything you could need!