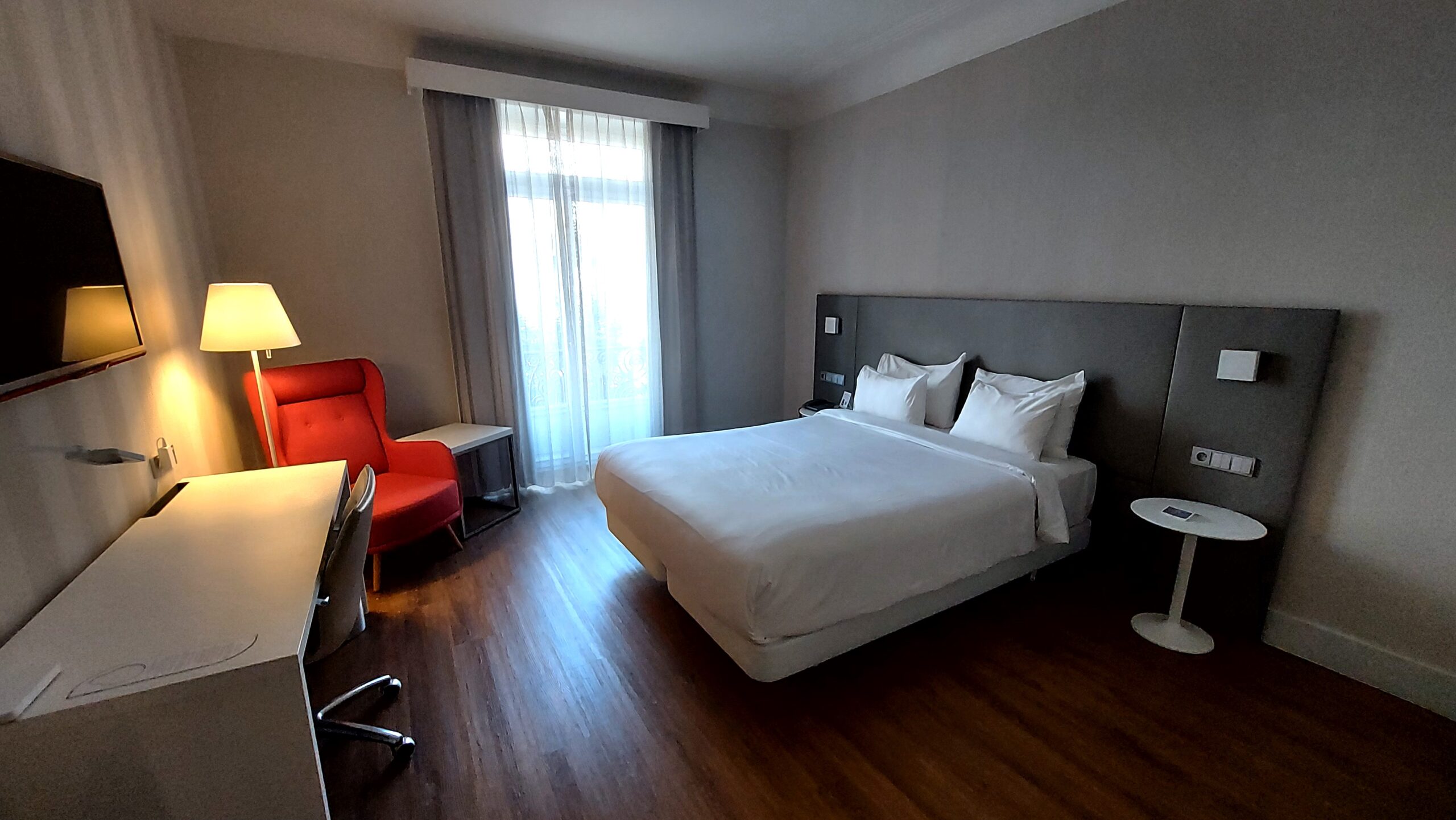 After a wonderful – but too short – nights' stay in Bruges, it was back down to Brussels for another night of our long weekend; this time, opting for the NH Collection Brussels Centre.
We did so because of three reasons really; firstly, the location, followed by the price, both of which were pretty leading across all comparisons. Then, having recently become a GHA Discovery Platinum member, I was keen to see what kind of welcome we'd receive for being status guests – and consequently, if GHA membership was truly worthwhile pursuing and retaining on our travels.
For GHA Platinum, one can look forward to (subject to availability) room upgrades, late check-out, a welcome amenity, among other offers.
Reception was a fairly bland space, punctuated by off-white chairs and sofas, and the occasional red cushion.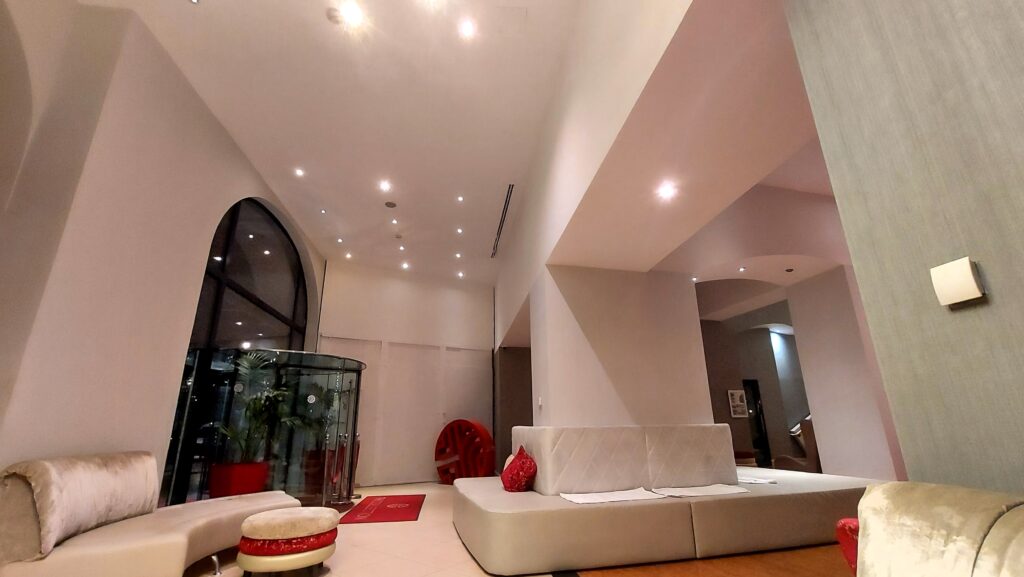 Check-in took some time – staff seemed bewildered, and confused, with one seemingly training another and a number of guests having apparent issues, as the queue slowly dragged on. Once at the desk, we were seen to promptly, and given keys for room 2004, a Premium Double View room, as booked and paid for (i.e. no upgrade, nor mention of it).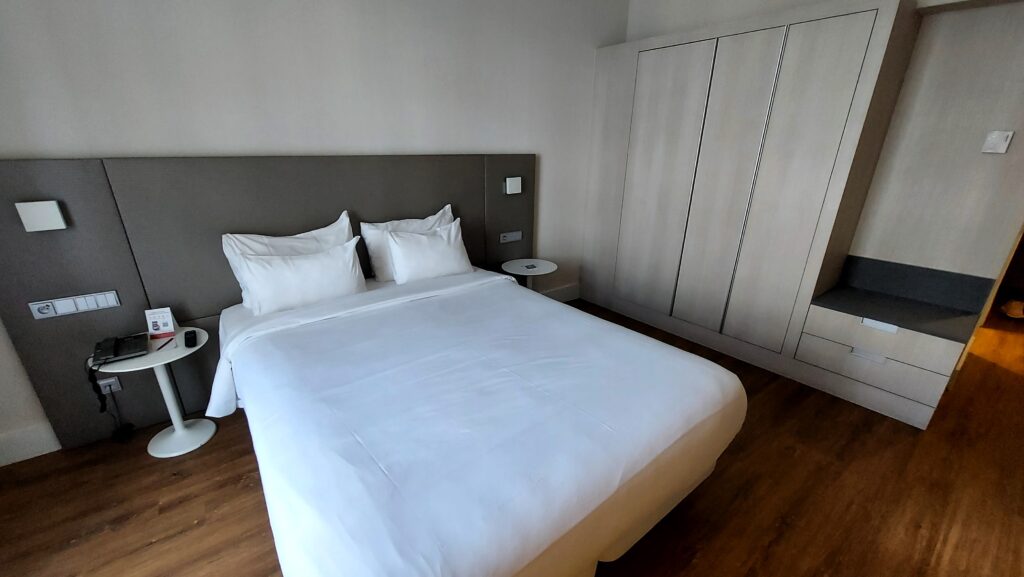 First impressions of the room were mostly positive – it certainly wouldn't count as the height of opulence, but was functional and a pleasant space for our single overnight stay.
The room had exactly what you might expect; the bed, along with a desk and office chair, and a large plush armchair – all facing each other, and bookended by a large set of double doors facing out onto the street outside. Perfect, as it would turn out, for a few pre-dinner glasses of wine.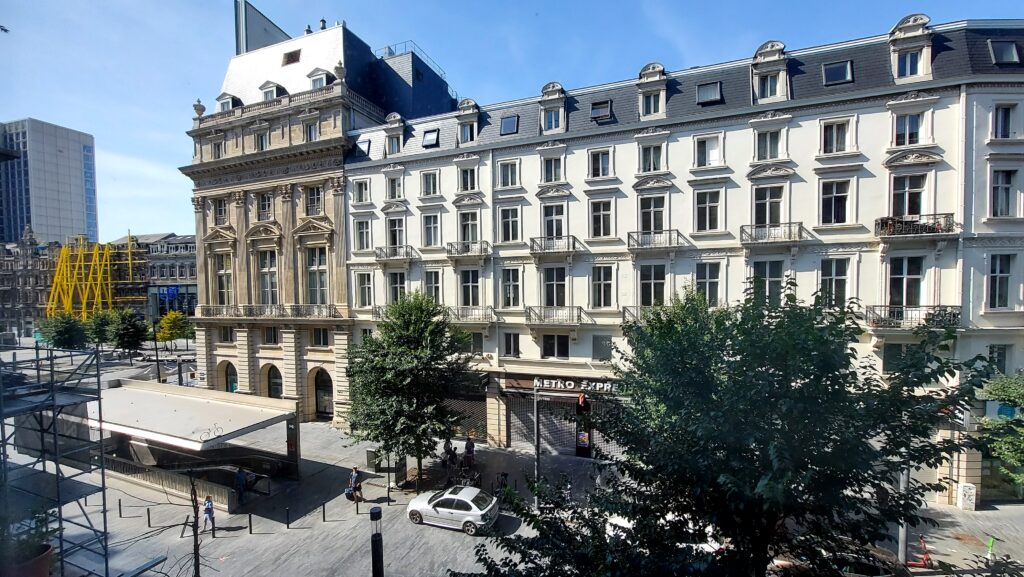 I'll be honest – I was tepid generally about the property given the price, and the apparent disregard/ignorance of GHA status recognition, but cared only in so far as it would serve a request for late check-out later on.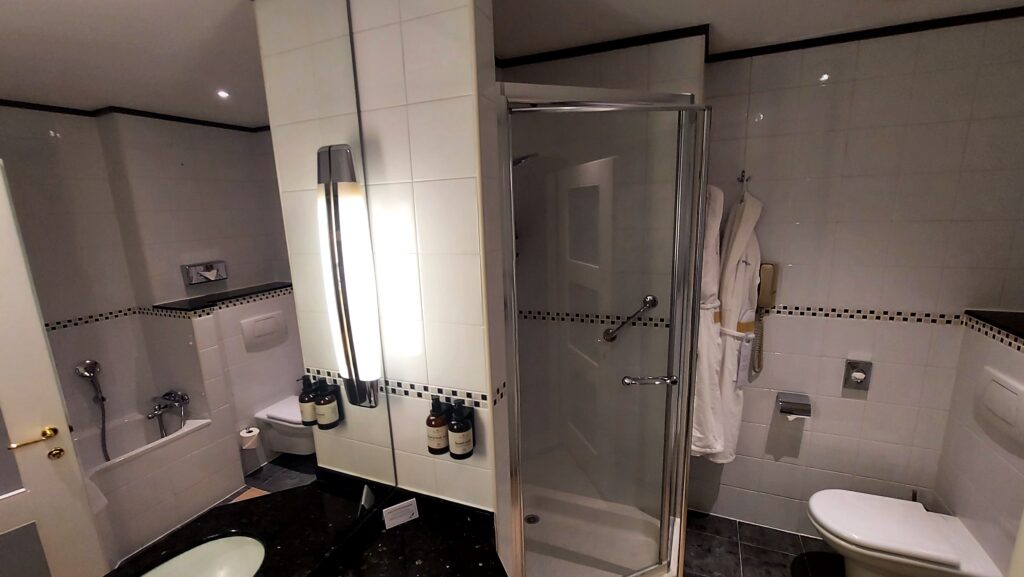 With the evening drawing to a close however, we decided to visit the rooftop bar (also the venue for breakfast) before calling an end to the evening.
The bar unfortunately was due to close within 5 minutes – but the staff member we encountered couldn't have been ruder if she'd tried. After we asked if we could have a look around (worth noting there were many people still there mid-beverage, so it wasn't a case of last out, or delaying her exit), she asked why couldn't we come back at breakfast instead. She then followed us halfway outside to say we could only look. When we came back inside, the door to the lift lobby was shut (just) and we were told 'you can just take the stairs downstairs and get the lift from there'. It was a dreadful attempt at customer service.
Feeling particularly irritated, I went down to reception to now request the late check-out and also ask about the amenity – as it turned out, the receptionist insisted that, while my GHA App showed Platinum, he couldn't find it and wouldn't be able to help. Instead, he suggested I wrote to the Guest Relations Manager, and have her follow up the next morning.
To say the service delivery was a little odd overall, would be being very generous. So, we marched back up to our room to write politely requesting our late check-out.
Next morning, it was back upstairs for breakfast – where thankfully, service was a little friendlier than previously. Breakfast is very much the standard continental, with plenty of choice and enough variety to suit all tastes. No complaints; other than from the neighbouring wasp nest that ensured multiple groups (including us) fled inside during the course of the breakfast.
Having received no reply to my e-mail, we returned downstairs to inquire – again – about late check-out. As it turned out, we met the Guest Relations Manager at reception, who thanked us for our e-mail, and let us know late check-out would be no problem. She also let us know that there is regular issues capturing status from bookings made directly through GHA.
Finally – in what was the most obvious attempt to not to have to provide the promised amenity – we were informed that the welcome amenity for GHA Platinum members at the moment was something like a few 'postcards'. No it isn't – at least I am almost certain it isn't, and could only hope no hotel chain would insult top tier guests with postcards as a welcome amenity. I didn't challenge her insistence, but mentally registered my dedication to not attempt a stay at an NH Hotel again.
On check-out (and in a subsequent e-mail reply to my survey from the guest relations manager), it would appear my status was never made available to them until post departure – but this is ultimately not a guests problem.
Overall, this property (itself) does the job, the room was pleasant with its view out over the street, and is more than functional for short stays like ours. But the confused/irate staff, the whole mess over the GHA Discovery program, and the 'amenity' gift of postcards really just put me off – a hotel stay should not be taken up worrying will staff be in a bad mood, wondering what amenity gift you should have got, or why the apparent loyalty scheme doesn't actually seem to work.