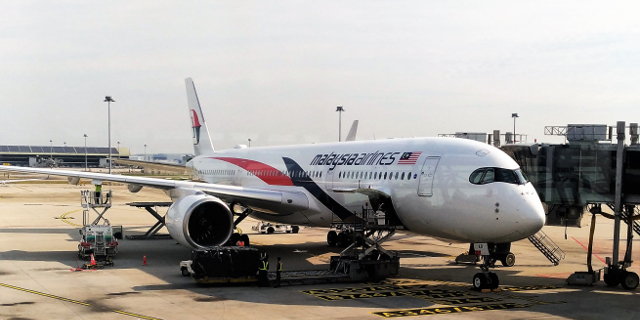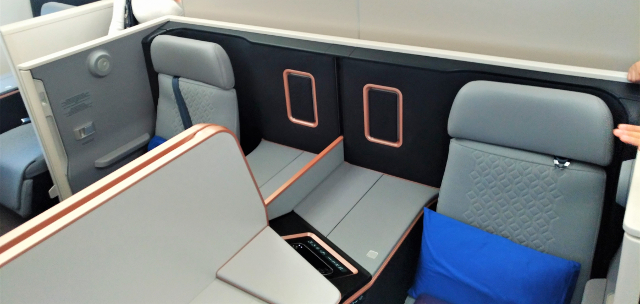 So my (expat) "home" airline has famously been in the media over the last few years for – mostly – all the wrong reasons; missing aircraft, a revolving door of foreign CEO's and so on. Somehow in the middle of it all, they maintained their 'flagship' route from KL to London with an absolutely gigantic double-decker A380 twice daily.
One of my main gripes with Malaysia Airlines is that they traditionally do two things that irritate; first of all, they never do anything particularly groundbreaking – rather following the competition half-heartedly, and second, their maintenance, cleanliness and upkeep of their aircraft has for some reason always left a lot to be desired. The planes are often only a few years old and yet, I can recall one recent incident where I dropped something on the floor and the dirt on my item from just being on the floor for a few moments' was absolutely unforgivable. Likewise, all parts of the experience from check-in desks through to the catering on-board is always a bit "fine, but nothing special".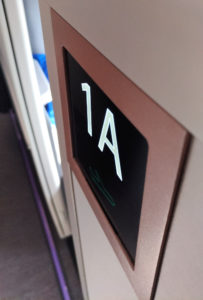 So, suffice to say I had very high hopes for their new A350, which allegedly goes to replace the A380's – although even in that, some confusion appears to exist. They happened to run trial flights with the A350 for a few weeks back in December on short domestic and international routes, so I made sure to incorporate one of those flights into my plans – and so, here's what you can look forward to expect from their soon-to-commence Malaysia Airlines A350 London flights!
Boarding through the front door, the first thing I saw was the first-class section of the plane. Their first class is arranged 1-2-1. Initial impressions were that – thankfully – it looks so much more classy and modern than the previous A380 first, with muted subtle tones.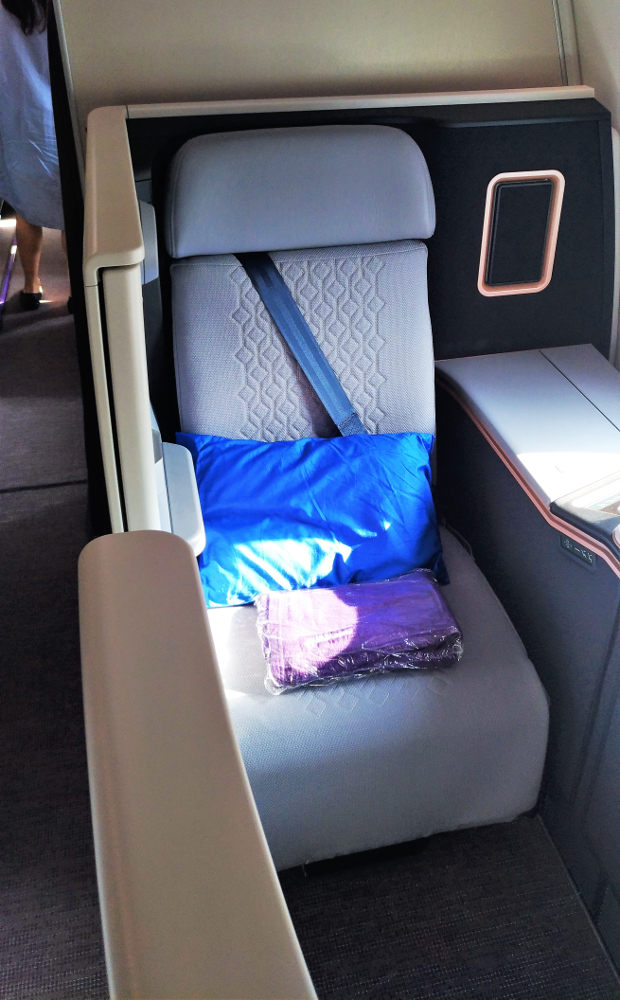 For me, there's no doubt that the side window seats are absolutely the only place to be as a single traveler; the two middle seats are a little bit overly 'cozy' for my liking, in spite of the partition dividing them. In addition, the cabin wall doesn't come up that high so anyone standing up can see across the entire mini-cabin of 4 seats. I'd also be highly cautious of the window seat on the right hand-side facing forward, which has the first class bathroom right in front of it (which by the way, I used and is nothing special – very standard airplane bathroom).
I did wonder might the little closed cabins get slightly claustrophobic during the course of a 13-hour London flight, but as I was only going to Singapore, there's really only one way to know that for sure – fly in them sometime 🙂
Having said all that above, which may make it sound a little bit unexciting – which it would be maybe compared with Singapore Airlines or Emirates – it's worth bearing in mind their main competition on the direct KL – London flight, which is British Airways. BA flies a First cabin, which is also equally uninspiring and if anything, even less private. So to be honest, I find the MH first class cabin pretty decent.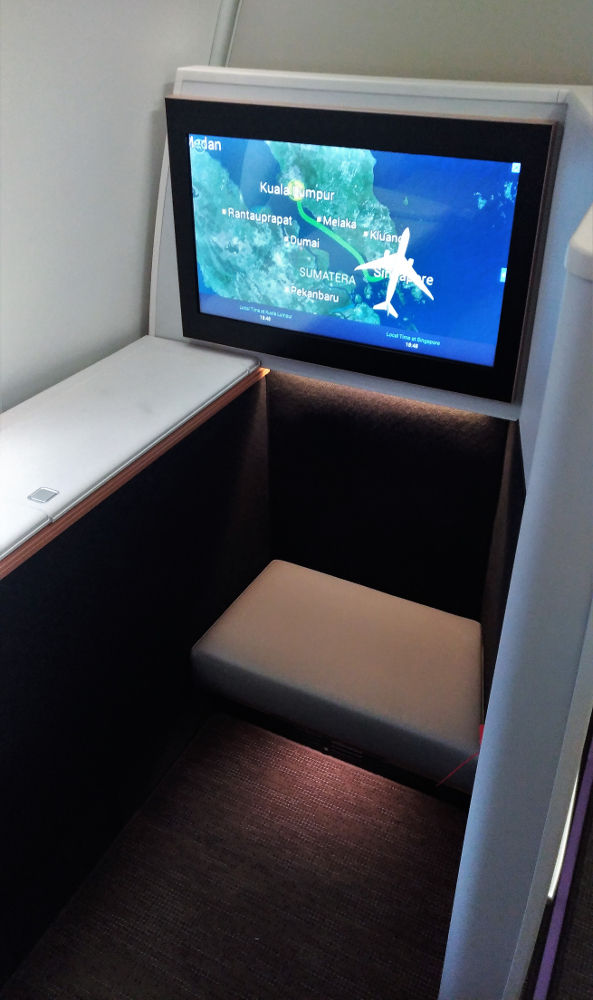 Of course, as I made reference to above under 'upkeep', the proof for me will be in a few years' time; one thing I immediately noticed and was saddened to see was the beginning of scuff marks alongside the outside of the cabin walls where careless passengers have already dragged their wheel-along cases past, scraping the wall.
Moving along now to the business cabin – by the way, a massive kudos to the crew on this flight, who more or less invited me to roam the aircraft at my leisure taking as many pictures as I wanted, and also seemed delighted themselves to be working on this brand new plane – which to be honest is much the same as the current business cabin deployed across the A330 routes.
I'm a big fan of this business cabin; again, we couldn't really say that it was by any means groundbreaking but for Malaysia Airlines it's been a huge step up from the ghastly excuse for a business class that came before it.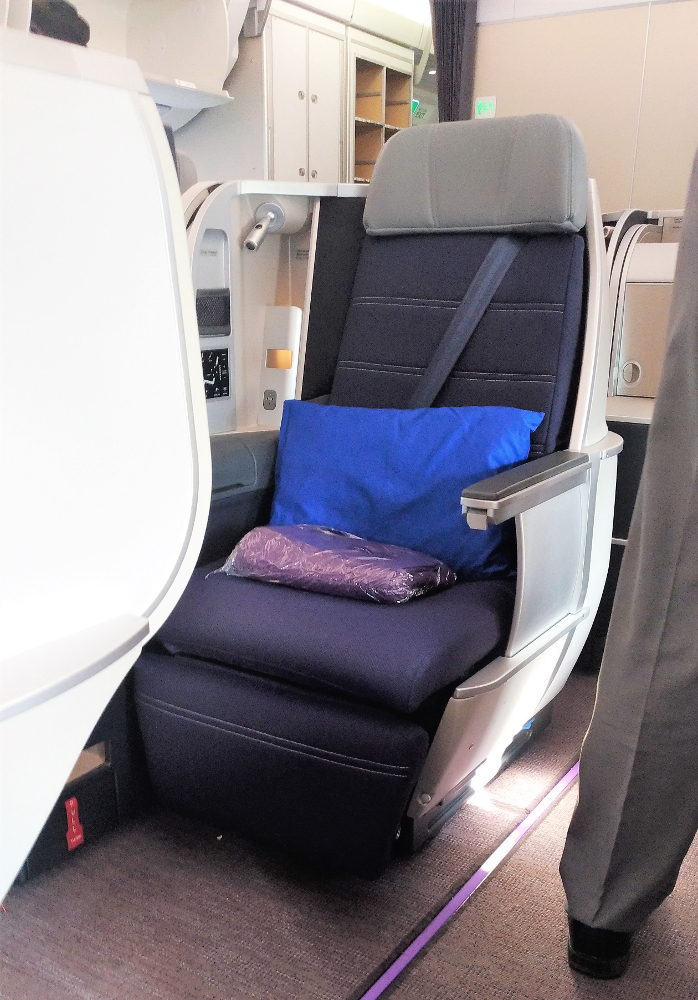 There is absolutely no doubt that for the singletons like myself, the seats on the left or the ultra-massive throne seats (of which I'll have a full review shortly) are the places to be, and you can tell that compared to the cavernous A380, this aircraft really right-sized their KL to London operation with the business class cabin much more manageable and appropriately sized.
Leading back from there was a slightly more intimate economy 'plus' cabin, before the main economy cabin. Much like the BA 787 currently plying this route for British Airways, the economy cabin is much more compact and far less proportional in occupancy of the plane than previously and you can see that the affordability of premium classes is really having somewhat of an impact on those who would prefer some extra comfort.
So will I try the Malaysia Airlines A350 to London? I really hope so and am already eyeing up mileage redemption opportunities for late January to see how it compares with my beloved BA World Traveller Plus experience. Stay tuned and hopefully I'll be able to let you know soon – in the meantime, for anyone booked on it, enjoy this brand-new, modern Malaysia Airlines aircraft.