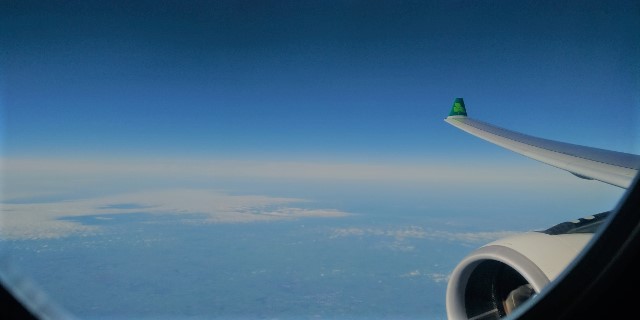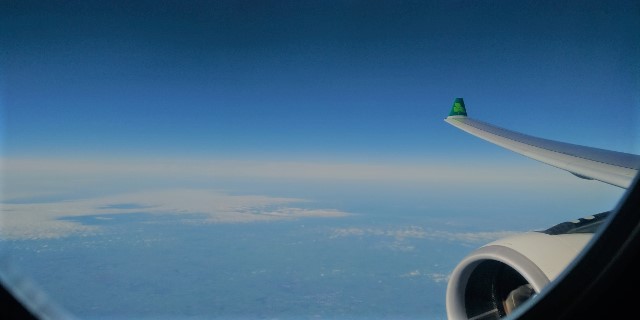 What with flying from Kuala Lumpur back home to Dublin in British Airways' Club World, it seemed positively offensive to then have to downgrade myself to economy for my long weekend trip to Boston to see an old friend in the middle.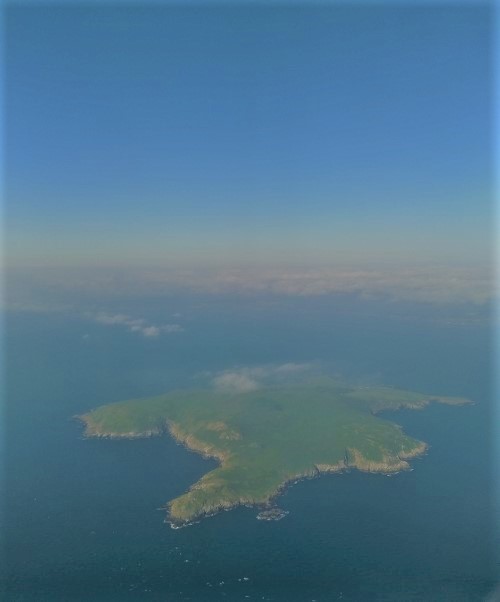 As a child, like no doubt many Irish people, one of my dreams was always to one day be able to fly in Aer Lingus' Business Class. To me, as a child, being able to sit up front on one of my home 'fleet' was as good as it possibly could get; and I'll be honest, no amount of Terminal 5 First lounge visits, or chauffeured Emirates' drives to and from the airport has yet been able to take away that allure.
So, while I went whole-heartedly into the experience knowing that I may be one of the few very regular business-class travellers in the world who would put Aer Lingus' Business Class up on such a pedestal, it was with unbelievable enthusiasm and excitement that I finally ticked off this almost-bucket-list like item, spending about 6 hours each way to and from Boston.
I will begin by voicing my only major critique of this entire experience, which was the on-the-ground experience; I am a big fan of the Aer Lingus Dublin lounge, which I think is one of those most tasteful, homely lounges anywhere I've been to. It's not huge by any means, but it manages to be very cosy and intimate. So I definitely wanted to take a few minutes to pop in and say hello; except, when I arrived, I was told in no uncertain terms (not due to time constraints) that I wasn't allowed in as a Business Class traveller bound for the US, and needed to use 'the lounge' (no name given) after US pre-clearance.
Similarly at the boarding gate, which was in a pretty cramped location, the gate agent seemed to be actively 'shooing' passengers away to get in priority order; except when I approached him, he tried to also move me back without checking that I was eligible to board – which I was. When I pointed this out, the response was less apology and more 'yeah of course you can get on when you want'. Hardly a premium start unfortunately.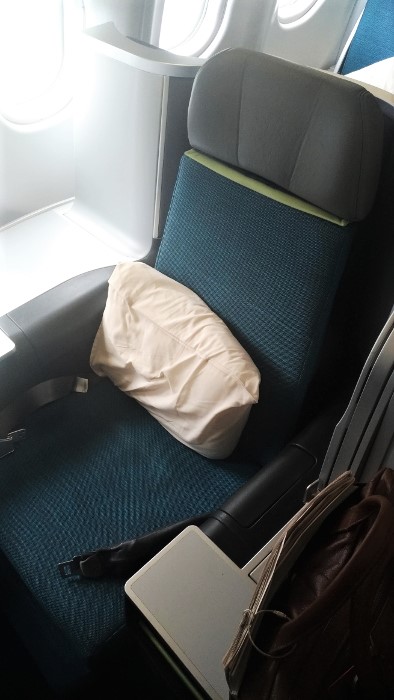 On-board though, things improved radically. If you recognise the seats throughout this post, you should – they look, feel and are the exact same as what Malaysia Airlines have also installed, which I reviewed on a similar 6-hour sprint to Seoul from Kuala Lumpur last year.
Mercifully, unlike Malaysia Airlines, Aer Lingus serves champagne from the ground. On the way out to Boston, the cabin crew serving my aisle was being particularly cost-conservative we can say with the champagne (and alcohol in general). Aer Lingus, in Ireland especially, holds a particular fondness with everyone for the borderline "motherliness" of the cabin crew and on the way back however, I was served multiple glasses of champagne on the ground "because we need to finish the bottle, and I've just opened another" and likewise in the air with my choice of wine for the express meal because "you'll have another to help you sleep".
Say what you like – encouraging alcoholism or drunkenness on-board – but for those that know their limits, this is the kind of caring, personalized service I struggle so frequently to find with other airlines, even in their premium classes.
Moving along, the main meal served on the way over was a lunch. I commenced with a smoked salmon dish, which I found beautifully tasteful considering the environment in which it was being served, followed by beef madeira. By now I had let loose and moved on to one of the – admittedly short list of – wines from the menu and even on the way over with my cost-conservative crew, was being more than amply kept topped up. On the way back through the night (worth mentioning, the business cabin was otherwise seemingly full of Americans on once-in-a-lifetime trips and about 3 or 4 business people), it was even more hardcore with the wine glass kept topped up until I could actually stay awake no longer.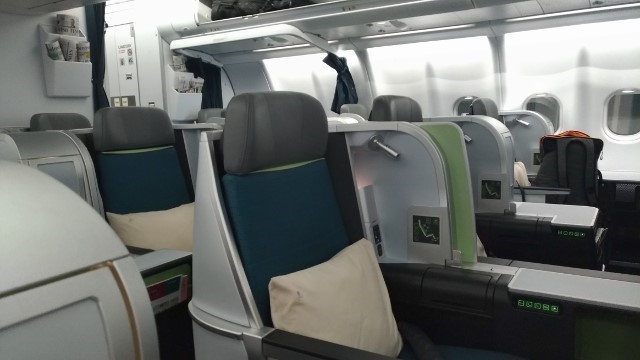 Aer Lingus' Business Seat I have essentially reviewed before with Malaysia Airlines. Considering what I found to be Emirates' lackluster business cabin, as it stands, I find Aer Lingus/Malaysia Airlines and British Airways to have the two most desirable business cabin layouts for someone, like myself, who is tall. Their seats are comfy, certainly very private in 3K and 5K, and have ample legroom and no immediate neighbor disrupting your toilet trips; of which, on Aer Lingus, you will have no doubt a few after the many, many drinks being poured unless you actively put a stop to it.
On my return, I opted for the 'express meal service'. Boston to Dublin surprisingly tips only a little over 6 hours, if even, on the return, making an express meal a necessity if you can, on the way back. The express meal is effectively a single pre-selected meal served alongside starter and dessert all on a single tray, along with a glass of water (in addition to the bottle of water you receive at your seat). It was one of the most simple things ever; yet I'll be honest, it really did help me get off to sleep as quickly as possible and still have time for the breakfast next morning.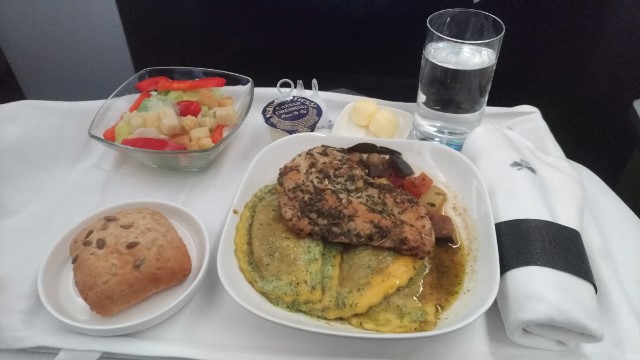 So here's a criticism; the breakfast service. I will admit, you are probably being woken up after only 4 hours again for breakfast, but it really is laughable; my bacon roll was so small and not worth the effort. I feel like a more appropriate offering would be either a full breakfast served 2 hours beforehand, or nothing. In this case, I would certainly have saved them money by skipping the breakfast full stop.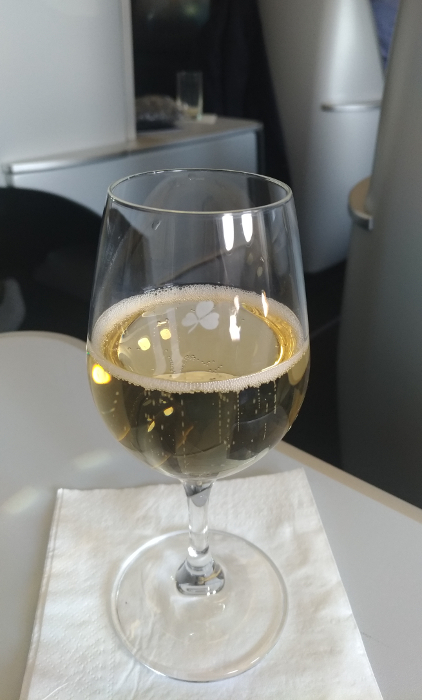 In conclusion, there was so much good to say about Aer Lingus' Business Class. It ticked off almost a bucket-list item for me, the seats are really very good, the food and the drink is outstanding and the crew are very well-meaning and motherly, if perhaps at the expense of the usual over-the-top formality of a business class experience. The ground experience is not really up to it in my one experience (at both ends), but as an Irish national flying my own home carrier in its best class, I sort of was able to overlook this. The bigger question for me was would I be willing to do this, and then connect on to a standard-layout A320 on to Europe? That was the biggest question I had – but for me on this flight, the only thing I can say was bring on something longer like LA!