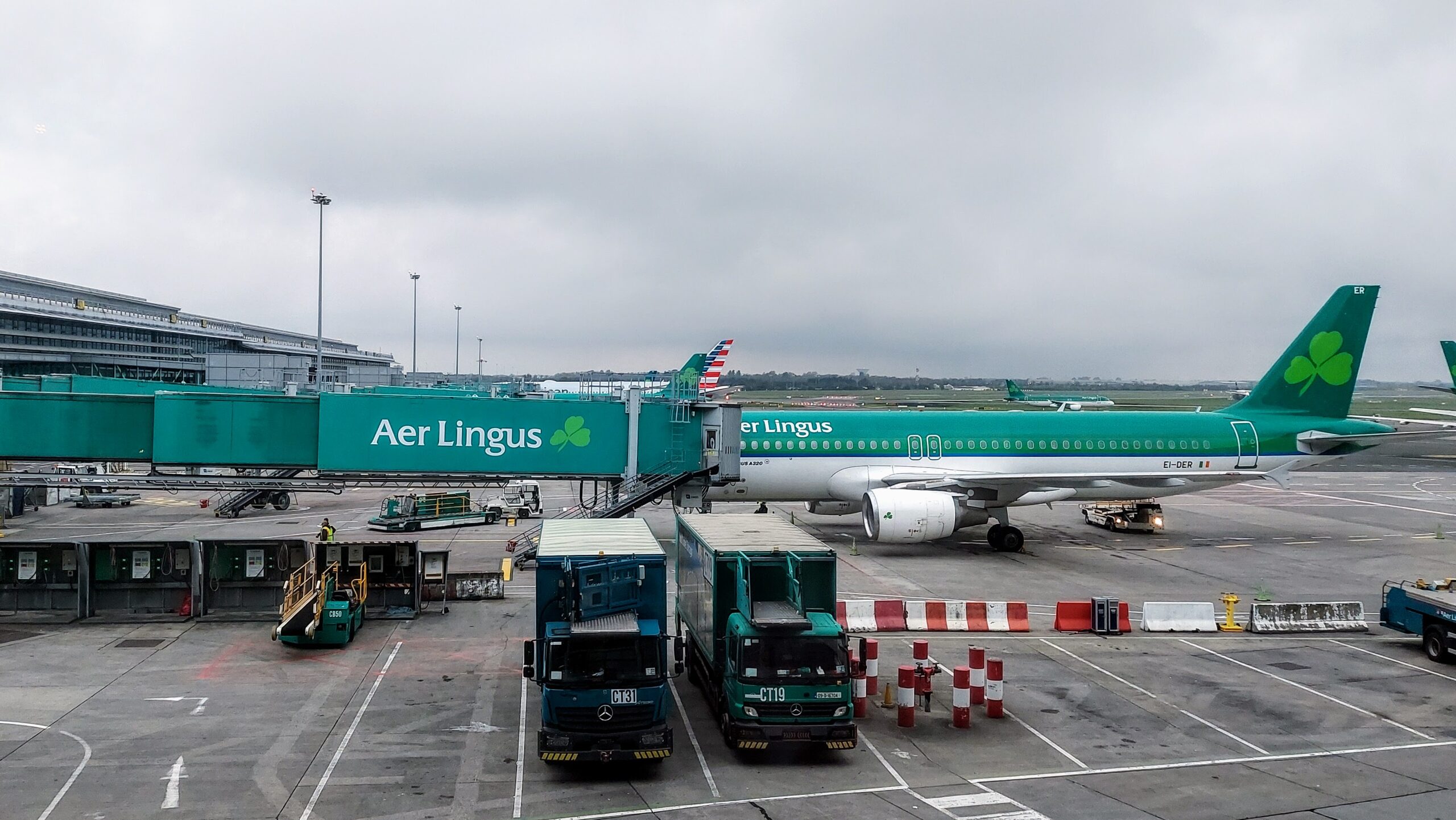 Living back in Ireland since 2020, the time, it felt, had come to re-attempt to achieve my former frequent flyer status with Aer Lingus – and sample a little bit of long-haul luxury on the short hop to London, in Aer Lingus' AerSpace cabin product on EI154, served, uniquely, by one of their long-haul fleet.
Especially with my British Airways Executive Club 'Silver' status finally due to come off life support in August, there seemed no time like the present to finally try the AerSpace concept, when booking travel for our long weekend to London.
Dublin Airport Terminal 2 has a check-in hall that appears to be over 50% dedicated to Aer Lingus, the anchor 'home' tenant; and of that space, well over 50% is comprised of self-service check-in and bag drop kiosks. For the quick, uncomplicated flight to London, there was no need whatsoever to see a real person at all.
A plus point for Aer Lingus' self-service bag drop, is that the baggage tags don't need any complicated 'peel back this strip to here' or 're-attach the tag at this point' like I've seen elsewhere – the label that prints out will simply stick to itself upon contact with the other end, and our bags were hastily dispatched and we were on our way in no time.
AerSpace customers are entitled to use fast track security, where available, but one wrinkle is that (and this happened again in London) there's no very clear guarantee of this on the boarding pass either digitally or printed – it doesn't say it anywhere, or "priority" – but there were no issues accessing the fast track lane at a very sleepy Dublin Airport of a Saturday morning.
Similarly, lounge access, while not printed anywhere on the physical, or marked on the digital boarding pass, is included with the Aer Lingus AerSpace fare. I'll detail my experience in the Aer Lingus Dublin lounge in a later blog, but suffice to say that, in spite of a minor furniture refreshment, it remains much the same as I recall from many years ago.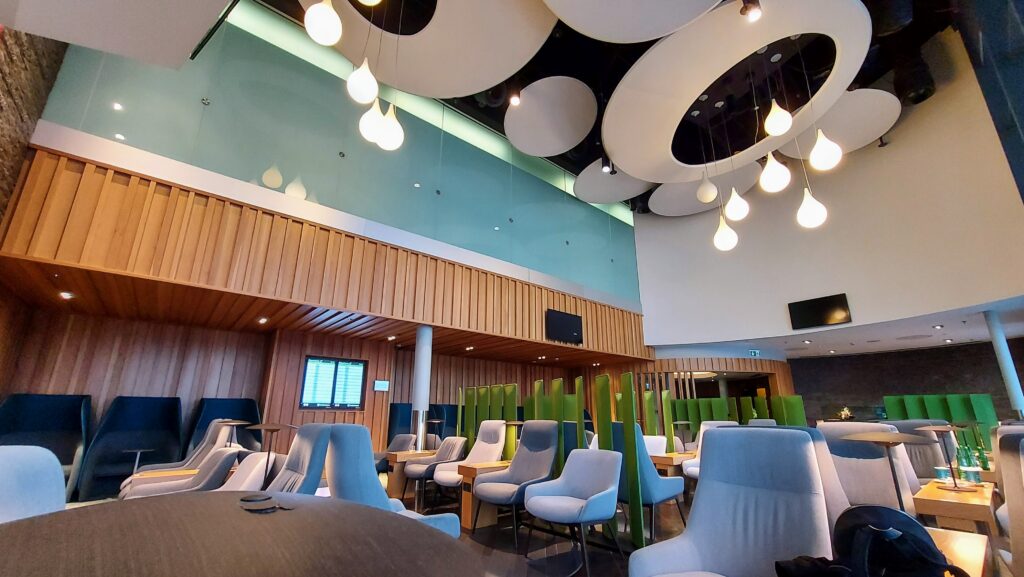 Priority boarding is also included in the almost never-ending list of benefits (including ability to standby for earlier flight on the day, and free changes/cancellations) – and we were quickly admitted on-board at the gate, which was being handled with stunning efficiency by a single gate agent.
The A321neo serving the route this morning, at least in the business cabin, looked like a perfectly pleasant – if not mind-blowing – cabin for a transatlantic haul; and was certainly a real delight for the very brief 1-hour jaunt over to Heathrow.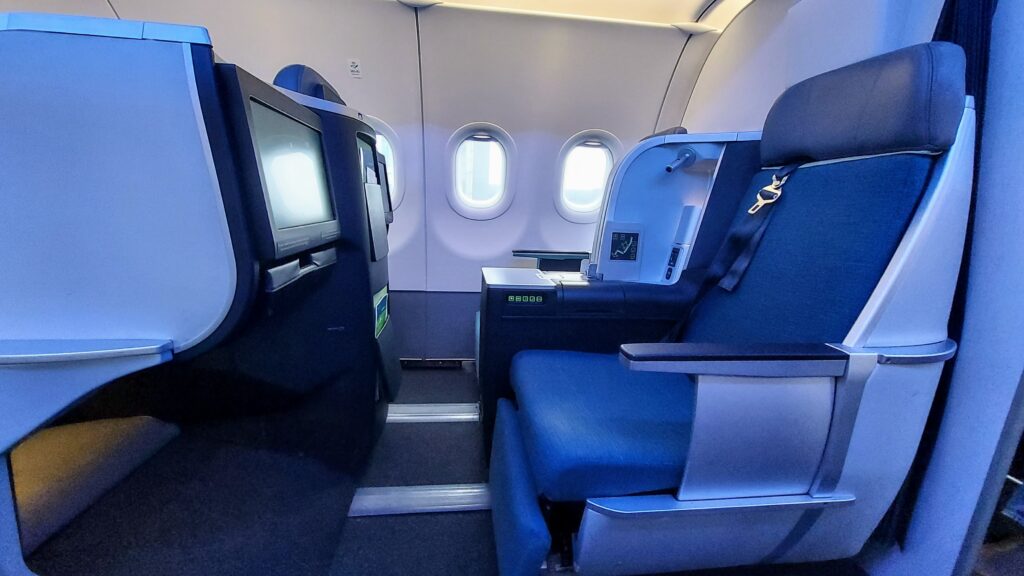 The business cabin (sold as AerSpace on this route) will look familiar, if a little miniature, to anyone used to the regular Aer Lingus A330 business cabin – it'll look familiar also to a number of other business class cabins, such as that on Malaysia Airlines long-haul.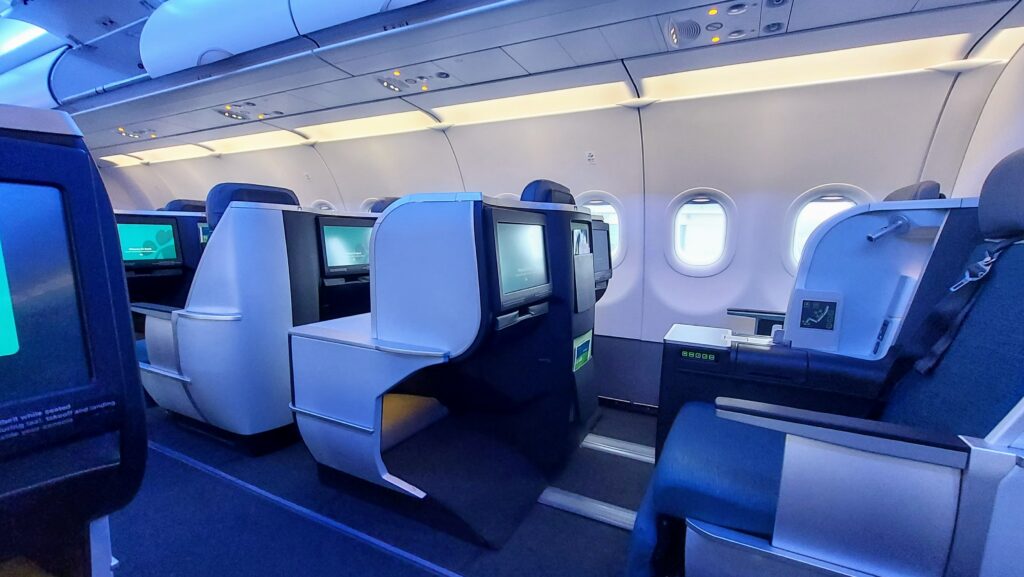 There is of course, famously, 4 'amazing' solo seats that are perfect if you're travelling by yourself and wish to be isolated by as much of the seat as possible from any possible socialising or interaction. Meanwhile, all other rows are comprised of 2-seaters, as we were in.
The 2-seaters are still very pleasant, and I'm sure I could sleep soundly on a longer trip – even if storage space at the seat is somewhat limited.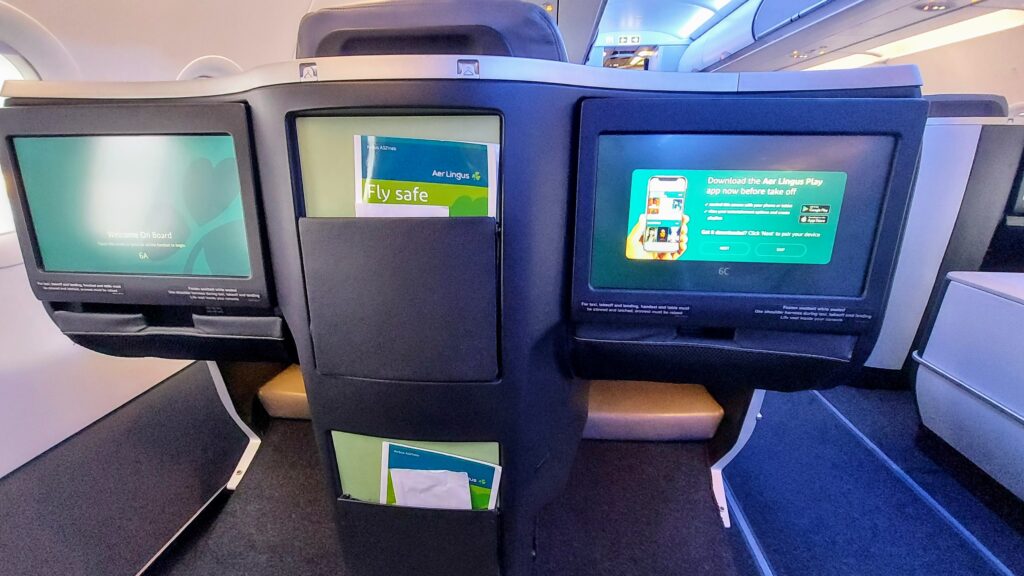 Unfortunately, we were over an hour late departing from the gate due to a) fog at Heathrow b) being blocked in by a plane near us and then c) a backlog due to the aforementioned fog at Heathrow.
Once in the air, the crew sprang to action pretty quickly for in-flight service, especially on our short flight of only 50 minutes. AerSpace – once again back to the fare benefits – includes a free snack and drink.
This, to be honest, was another weird moment in the 'eligible, but not reminded' category of the travel experience to date; the front row passengers, seemingly unsure if they would have to pay, elected not to have anything as the trolley went by. The passenger in row 2 meanwhile, was directly offered 'would you like a coffee?', as if that was the only option. When we were asked, because of this oddness, I had my phone, with the fare benefits, open as I inquired about a sandwich and a prosecco. All of which we were very quickly handed. Strange…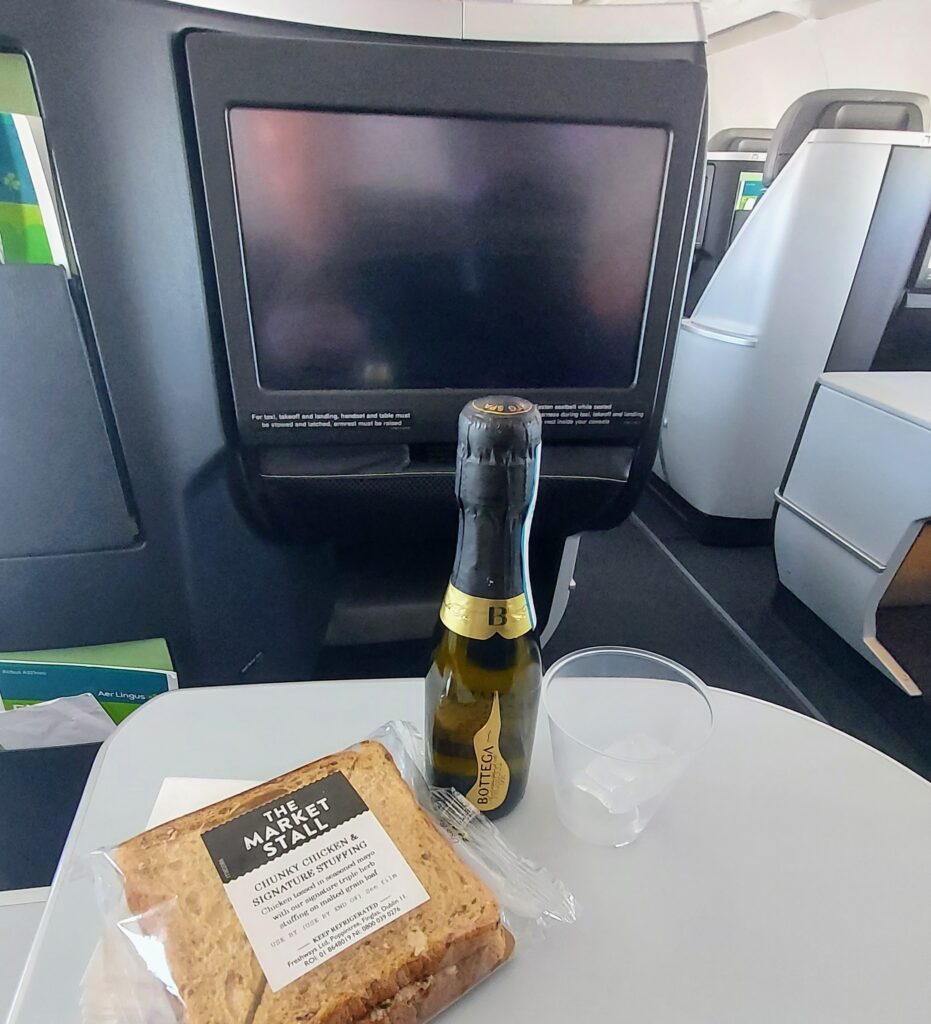 Needless to say, despite the early hour of the morning, I enjoyed, as I always do, my prosecco – and the sandwich.
By the time that was done, we were already well on our way into London Heathrow and before long, we were on the ground, waiting for our gate to be freed up – magic!
So how about Aer Lingus & the AerSpace product? Well, I still continue to enjoy Aer Lingus for the most part – they play the role of cheap & cheerful ex-national airline incredibly well, and they do have a lovely (if a little unmaintained, thanks DAA) home in Terminal 2.
As for AerSpace – I actually really liked the concept, the benefits and, if you can snag, the A321neo, that cabin. But the execution, which appears to involve knowing intimately each benefit and being pushy enough to ask, just seems a little cheap. But, I do know the benefits, and I'll keep my screenshot of the benefits handy on my phone – and I'll likely see quite a few more morning prosecco's in my quest for frequent flyer status.