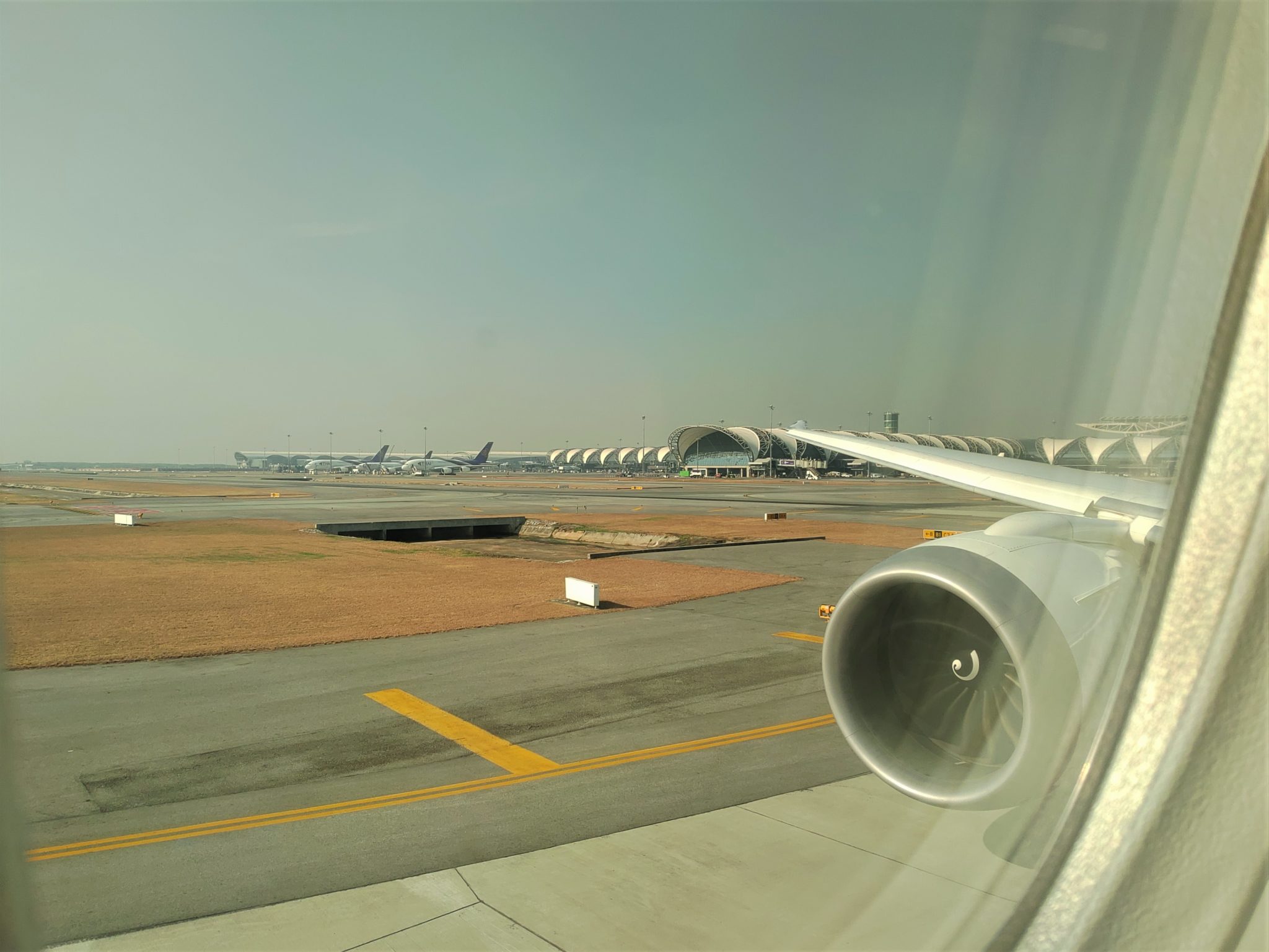 After a less than delightful sleep at the Amaranth Suvarnabhumi hotel, it was back to Bangkok's Suvarnabhumi Airport for my flight on to Europe, via Muscat. I noticed during check-in a bit of a peculiarity, in that the second flight from Muscat on to Munich appeared to have been swapped at some point back to one of Oman Air's last few planes flying their older, armchair-like business class – by now, ancient relics of a time when airlines didn't try to jam in a million seats per flight (and I'll review it at a later stage). But for this first flight, I had selected Row 10, the very first row of this plane, into a window seat (of course, #windowseatpreferred!).
After a very brief check-in, I was sent through to security and immigration (Bangkok offers a fast track/VIP separate entrance for this, and it was very speedy despite the best efforts of the passenger in front of me) and on into the main airport terminal.
Oman Air, strangely for an outstation into which they operate only two flights a day, operate their own branded lounge in Bangkok and, it seems like all lounges in this airport, can be found downstairs from the main departures level (where you will find signage is at a distinct premium).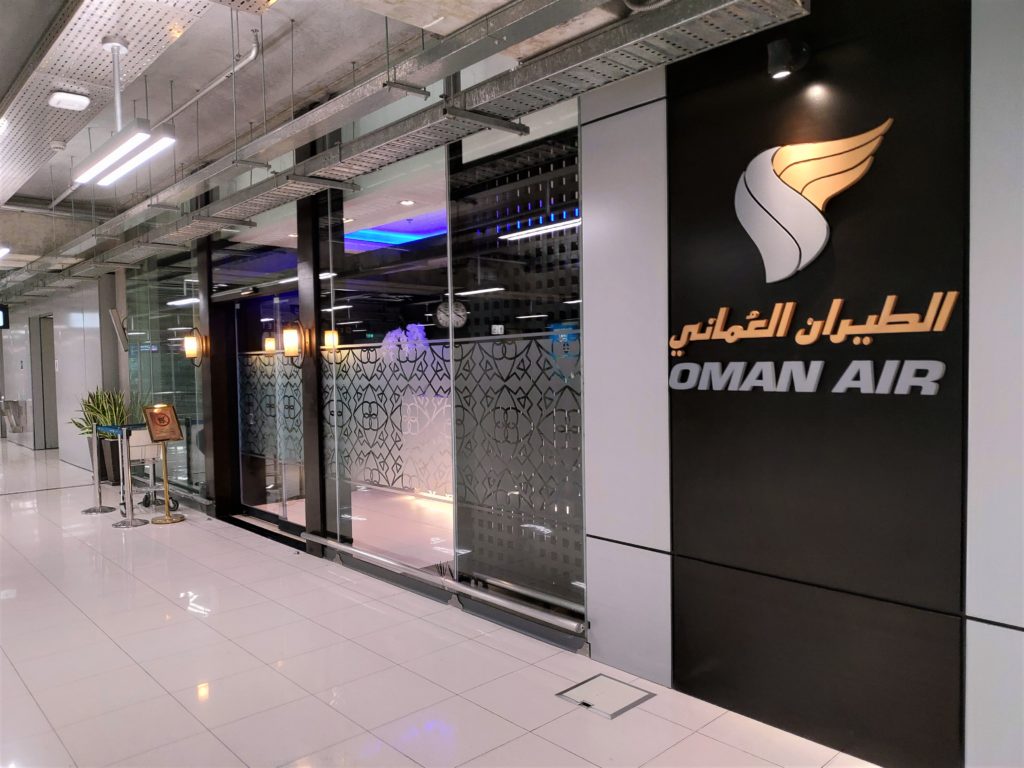 The lounge was pleasant I'm going to say – but very compact, and it was incredibly tough to find a place to sit down. In the end, I took a chance and sat down where it appeared someone had been and gone (empty cup, dirty plate, etc.). The lounge had pretty much everything you might need for a short stay but I'll be honest, I wouldn't make a habit of coming to the airport early for this lounge if I flew Oman Air a lot; it did the trick, had some snacks and fresh coffee – but otherwise was pretty cramped, the toilet was very small and the whole place offers no views whatsoever.
Boarding wasn't too far away at all, requiring a trip back upstairs again to realign with the proper departures level, before comically going back downstairs again to get to the gate. By the time I arrived to the gate, boarding was already well underway and I walked straight on. First impressions of this business cabin that most everyone seems so impressed by; yes, the finish is very beautiful; yes, it looks great – and once you can put the blinds up, there's quite a bit of privacy; but say what you will, it is tight having 6-across.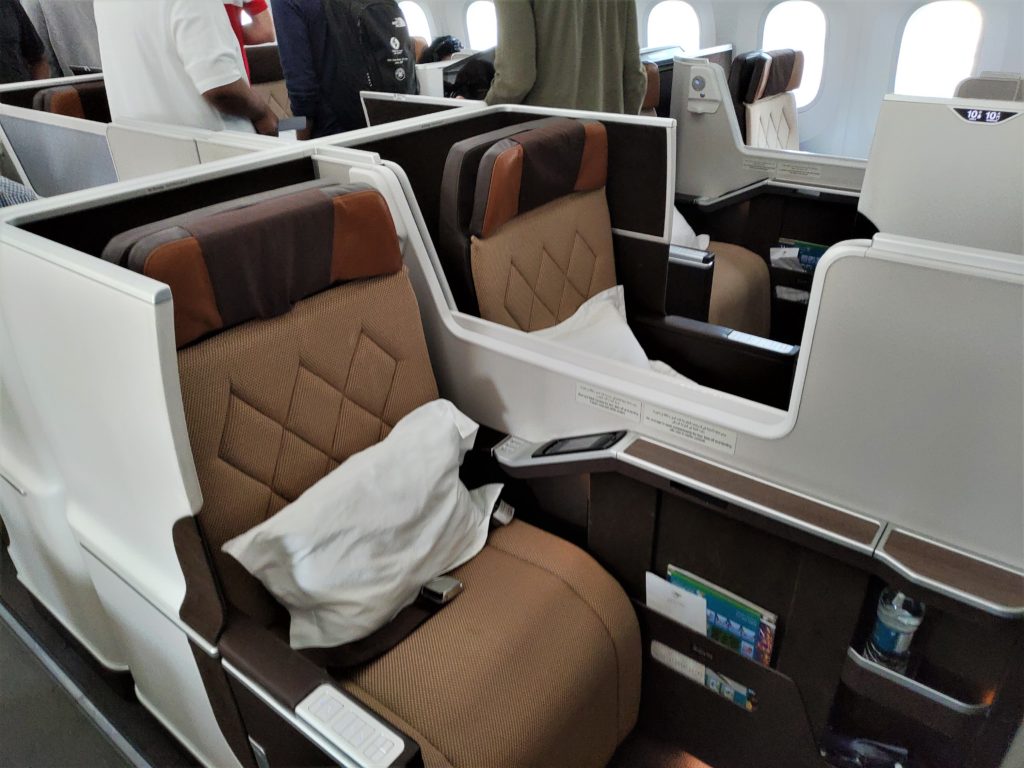 By the time I got to my seat, my seatmate on the aisle was already in situ and I slightly found that the whole reason this cabin is able to fit so many people in, while permitting aisle access for all – was also the thing that threw me off; while I was playing with my phone or watching anything on the TV without the blinds up, my seatmate, set slightly back behind me, was completely able to see absolutely everything I was doing. However, in defense of this cabin, once the blind went up (which I saw to extremely quickly after take-off), this problem immediately dissipated.
There's no doubt; this seating area is compact, but surely makes the best use of space and is very thoughtfully finished.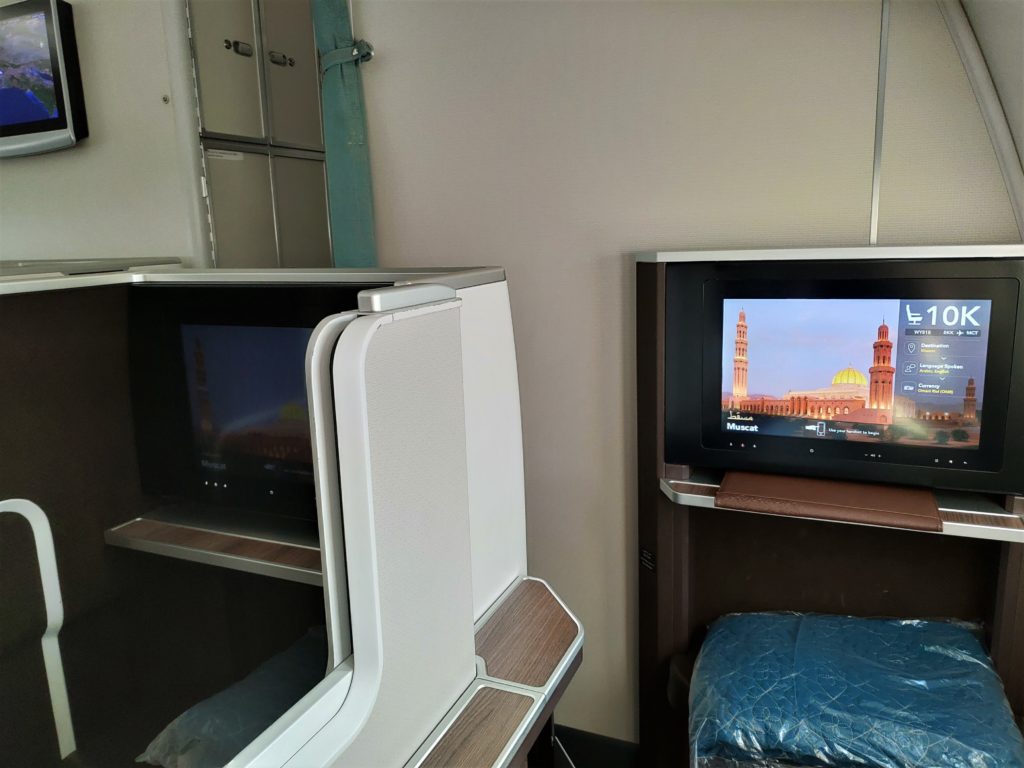 Service began promptly with drinks orders taken, followed by an invite as to whether we wanted to dine shortly; which it seemed despite being dine on demand, was the semi-appointed mealtime whether we all wanted it or not (I was fine with it, having not eaten all morning).
Both service, and food on this flight was really excellent, almost to the point of pushiness. For starters, I wasn't so keen on anything, but was nearly bullied into 'trying something', and went for the very delicious herb-poached prawn and tuna starter. This time around, unlike the unfortunate Royal Jordanian experience, the wine came in sync with the meal and so I didn't have to go thirsty!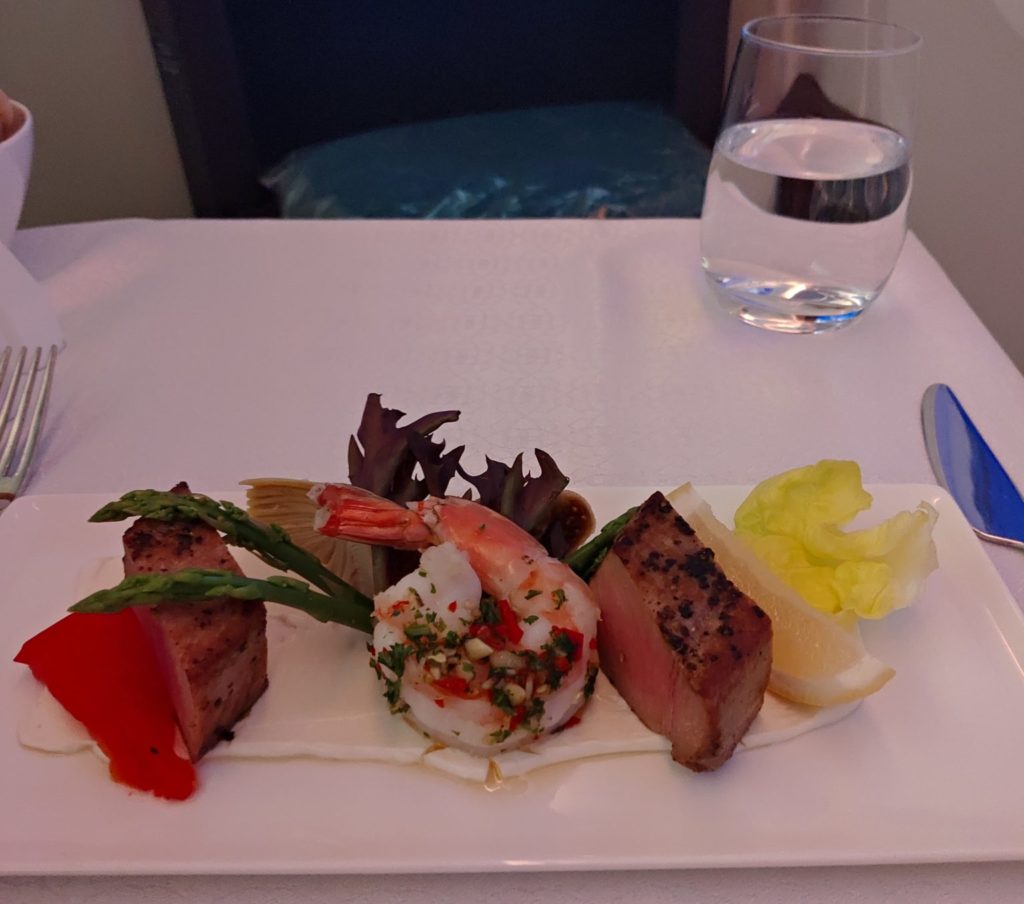 For the main course, I opted for the beef massaman curry (as I asked on Instagram, what is a Massaman does anyone know?), which was also extremely delicious and as a result, I can't fault Oman Air's meals at all.
After that, it was time for bed and after freshening up, I went and made my bed – incidentally, not the easiest thing to do when your footwell is eaten up by the bed as it reclines back. For such a short flight of only around 6 hours, I slept probably about 3, just in time for a quick cup of coffee prior to landing.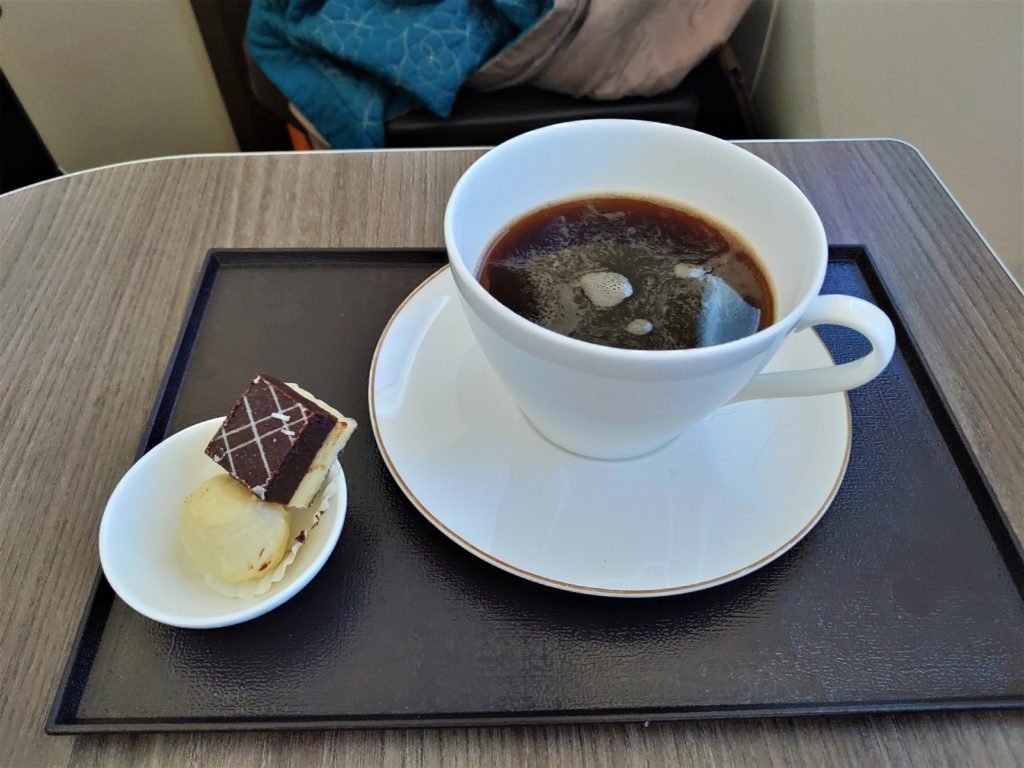 Having never landed at Muscat Airport during daylight, the view was excellent, offering views right across Muscat city as we circled out towards the ocean for final approach. This, of course, assumes you know what you're looking at – but Muscat is suitably small enough to be able to identify landmarks. And even if you can't, just take in those almost moon-like rock surfaces.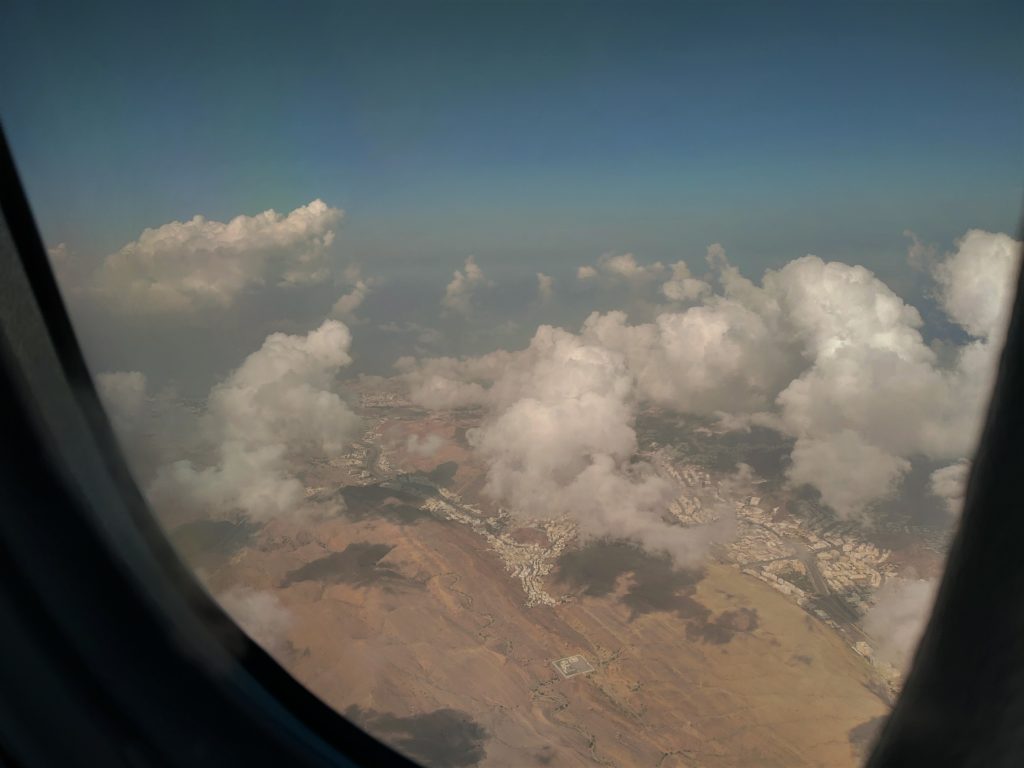 Overall, I enjoyed this flight and everything seemed to go off without a hitch. Oman Air is widely held out as having one of the best modern business class seats; I enjoyed it thoroughly and would be more than delighted to be in that seat again, although I would say it is compact in width and somewhat claustrophobic – although on the flipside, legspace is nearly unlimited and your feet have unrestricted wiggle-room, unlike many business cabins that force your feet into a cubby. Would definitely be happy to fly this flight again – although unfortunately, it was one of only two Oman Air flights (out of a supposed four) that I got to experience!