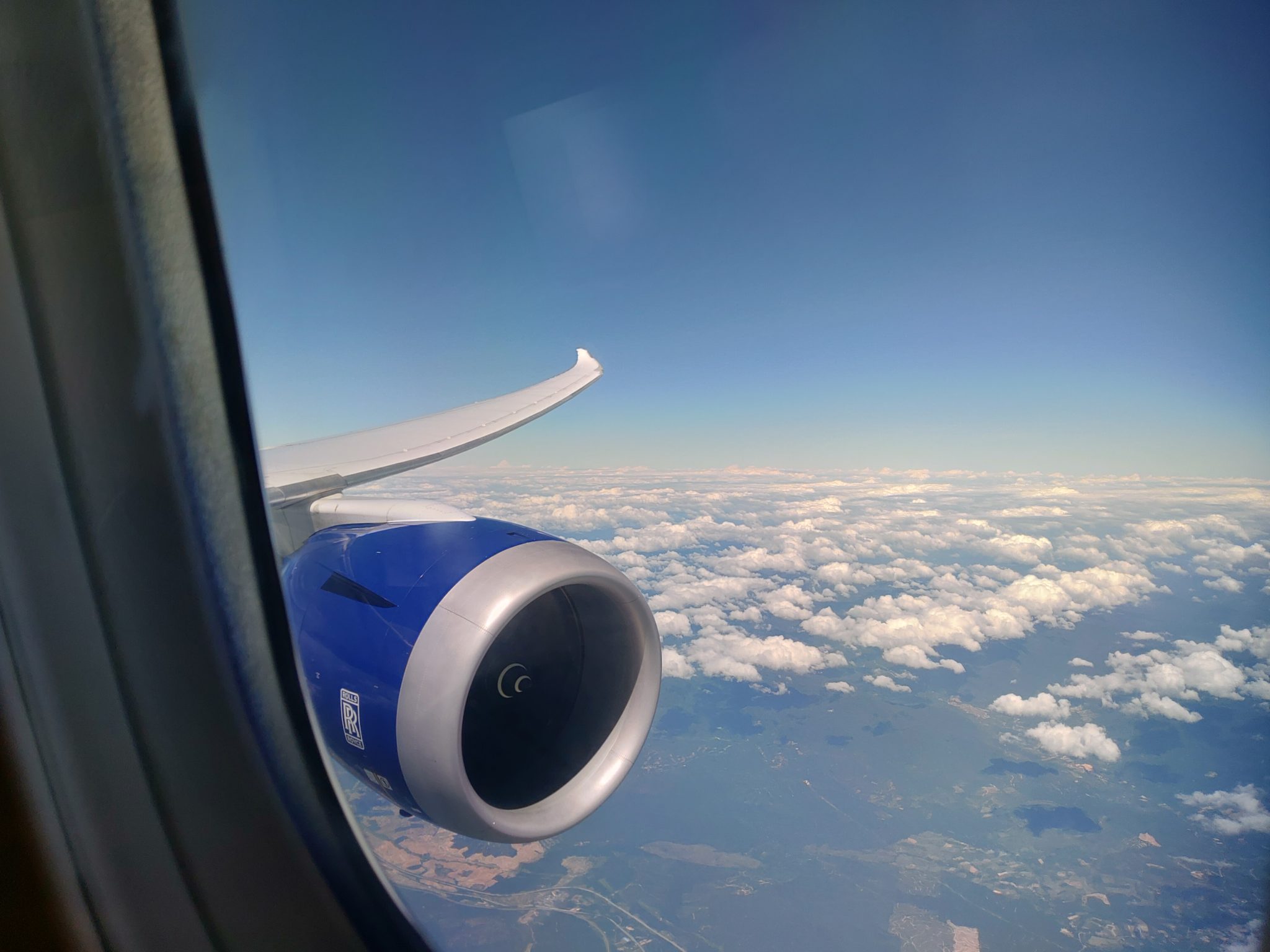 The last several weeks have given me the ultra-rare opportunity to sample the two competing direct flights between London Heathrow and Kuala Lumpur in Business Class; in both cases completely unexpected.
With Malaysia Airlines, I was initially billed to enjoy Oman Air's stunning – if a touch cramped – business product via Muscat, but after a complete bungle on their part that threatened to ruin new year entirely, I ended up enjoying Malaysia Airlines' hospitality instead. British Airways on the other hand had at least had been expecting me all along – but in 'World Traveller Plus' (review soon!), their name for premium economy. In that case, I was upgraded, to my absolute delight, upon entering the lounge.
So how do these two products compare? Well, for the purpose of this review, let's compare across a few aspects, rather than my usual rambling essay-style trip review.
Boarding, Pleasantries & On-Ground
From the point of view of terminal experience, BA have the obvious upper hand here considering Heathrow is their home and they are much more easily able to segregate and arrange queues as they wish – and this flight had a very definite priority boarding to it. However, Malaysia Airlines also observed priority boarding quite strictly, and even had two different pathways to the aircraft, with one leading directly into the business cabin. BA meanwhile only ever uses one jetway, but on this occasion lowered the tone a step further by forcing us all outside into the cold to take a bus to a remote stand.
However, the welcome on British Airways was significantly better – someone actually took my boarding card and walked me right to my seat, stopping only to crack open an overhead bin for me to deposit my belongings into. Conversation between crew and passengers was reasonably free-flowing, and amenity kits and a drinks tray (champagne/water) was on offer moments after sitting down. Malaysia Airlines was a bit of a let-down in this regard; I was gestured to my seat, and drinks were offered towards the end of boarding, but with the caveat that champagne was not on offer (water or fruit juices, but nothing especially mesmerizing).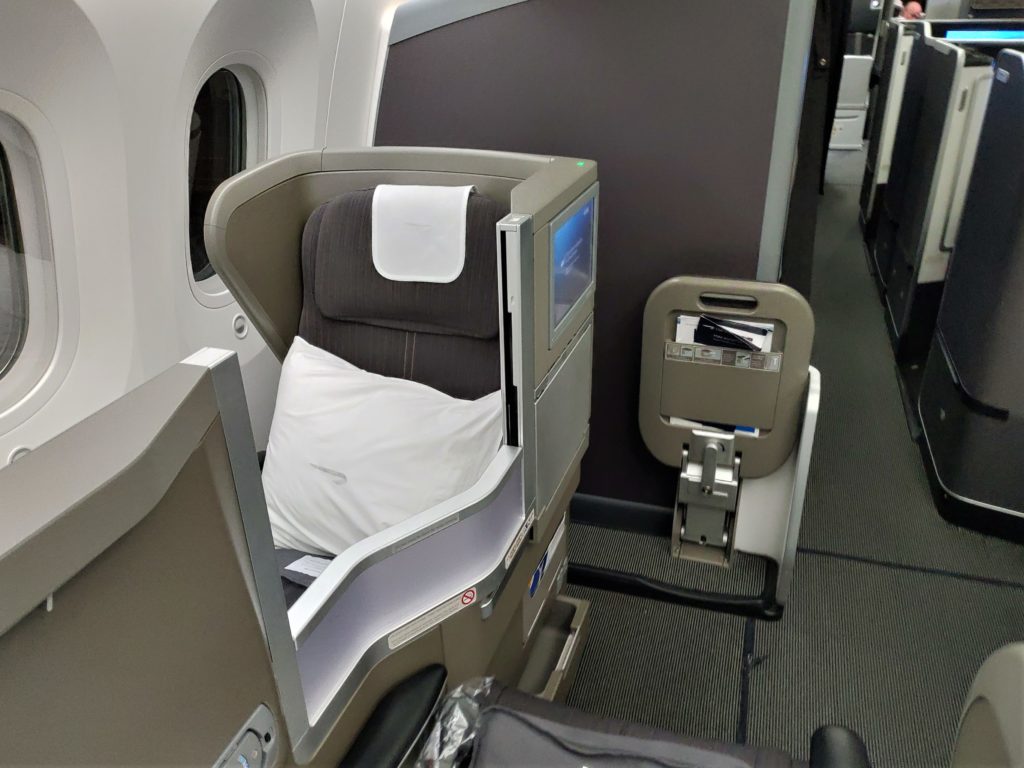 The Seat
This one is – shockingly – a mixed bag. British Airways has an incredibly compact 7-across layout, which probably should've been made illegal by now for a business product; and in many cases, including mine for this flight, you need to step over the person behind you to exit out to the aisle. Malaysia Airlines on the other hand, offers mostly aisle access for all passengers, with the exception of those in 2-seater window seats. British Airways, as a result, has a very narrow seat area but – if you obtain a window seat – great privacy once you pop up the dividing partition, since pretty much nobody else can see you. It's almost like a cocoon.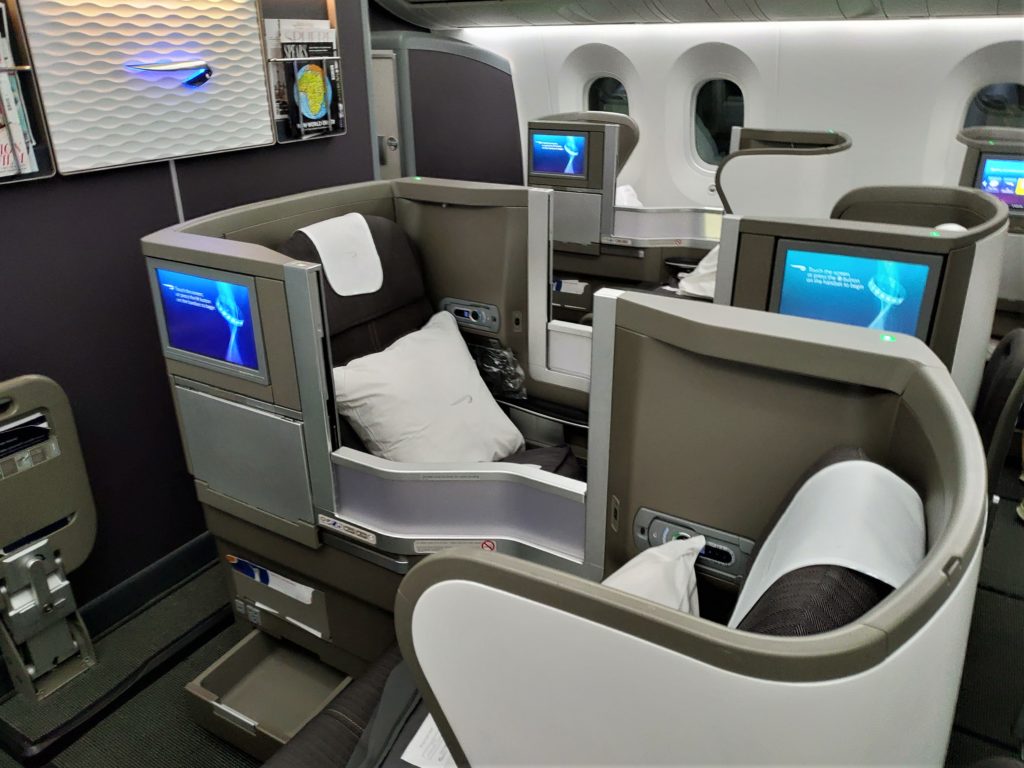 Malaysia Airlines on the other hand, has plenty more space to play with and surely offers more storage, pockets and whatnot at the seat (compared to the tiny drawer at my seat on BA that you wouldn't manage to fit a handful of pairs of socks into!). But wear and tear (minor scuffs along the seat walls, nicked fabric, etc. – some of which you can see in a picture further down) and a narrow seat despite the space to play with, led me to feel the cabin looked a little less sophisticated and surely, unless you score one of the very few throne seats in the cabin, you will end up feeling quite exposed in the seat as it's open and visible to everyone. British Airways' cabin on the other hand has been designed in quite a subtle charcoal grey scheme, which not only looks classy, but seems to also hide scuffs and nicks much better.
But probably one of my biggest gripes in the scope of any comparison must be foot wiggle room for the lankier members of society, like myself. British Airways from any seat offers unlimited foot wiggle room, because your feet are just heaped up onto an opened-out resting pad in the open, when lying down; whereas the design of Malaysia Airlines' cabin means your foot must fit neatly into a little cubby between the seats in front (not pictured, because despite not planning to take this flight, I landed a bulkhead row, which entirely avoids this issue).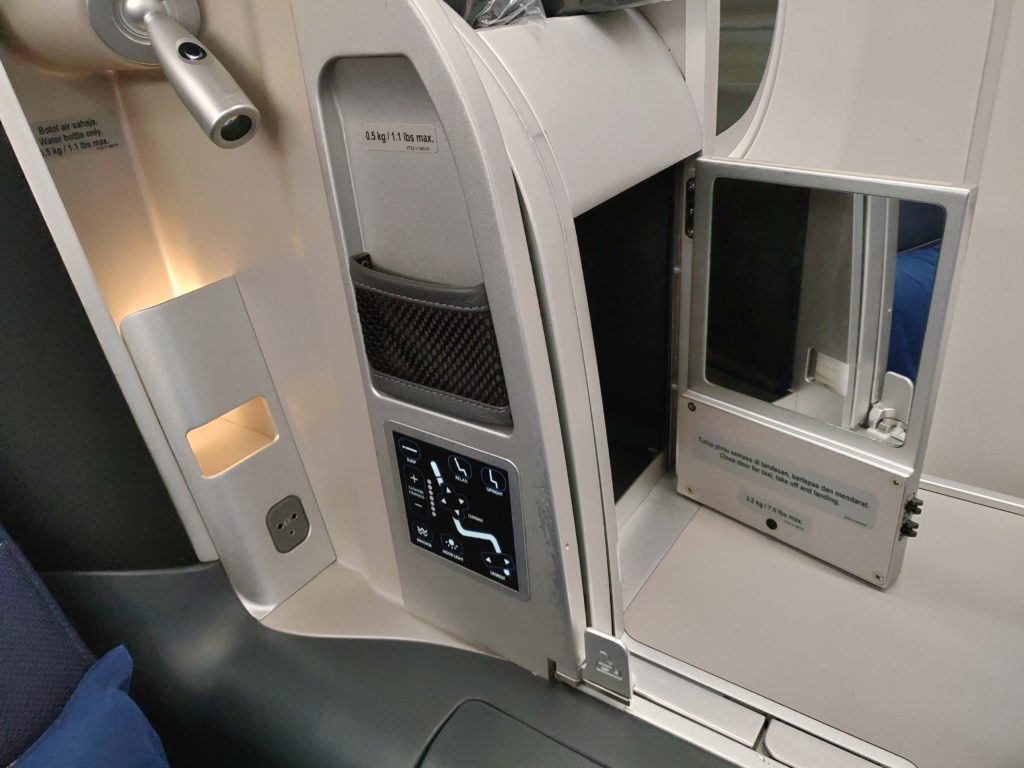 Food & Drink
This one went a hard 50/50 for me – the breakfast was pretty ghastly on both, so let's not even get into that on either flight. British Airways' crew were far more forthcoming with pre-dinner drinks (I am Irish after all), and made sure to keep everyone topped up, even after the meal. However, the starter was a little bizarre and the dessert was really on the miniscule side (see my Instagram review for the details) – although the presentation, silver- and glassware was far fancier looking than on Malaysia Airlines.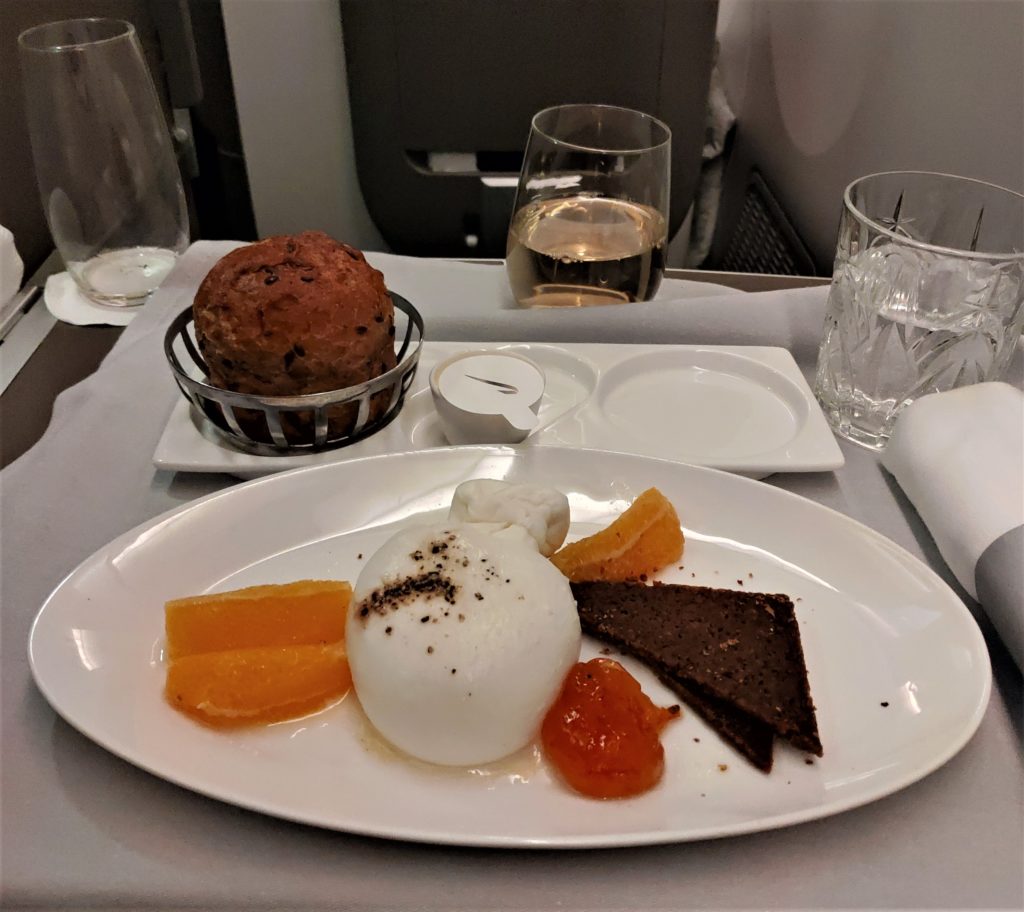 Malaysia Airlines on the other hand though also offered up an incredibly bizarre starter of some kind of ice-cold beef brisket, but did at least have a tasteful – if unattractively presented – main course, and a reasonably large slice of bright pink cake for dessert. But best of all was the satay to start – I took exceptional issue to only trying to serve two tiny pieces of satay at a time, knowing how delicious it is (really, it should be the actual starter to be honest), but the crew were more than happy to oblige further. However, Malaysia Airlines were far, far stingier with alcohol and it was a long distance into the flight before we really got going with any offers of drinks, and even then frequent reminders had to be made to change to white wine, retrieve another glass, etc. which I don't think is a very promising sign on what I presume is a lucrative business class route.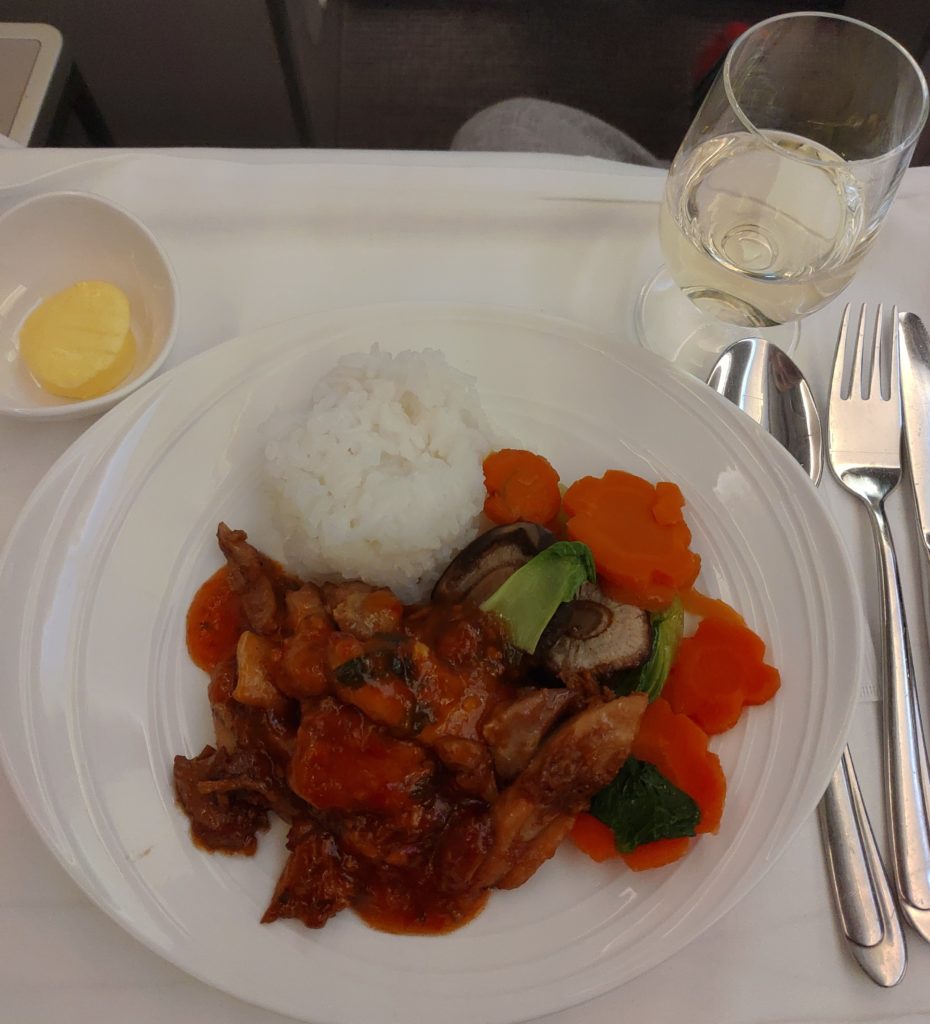 Crew
This one, sadly, was an easy winner. Malaysia Airlines' had one fantastic crew member (and a very few others who were quite unremarkable and uninterested in any level of conversation) who seemed to do her best and try to be proactive to help in spite of the slightly disjointed service routine (working one aisle at a time of the same cabin, for example). We were also joined by some elder in a grey blazer who clearly fancied himself as the leader; he made no real appearances other than to come out once and pour me some wine, but the next time I saw him was when I went to the bathroom and he was sat in the jump-seat trying to get the WiFi password to work on his phone. When he saw me, he barely flinched but abruptly told the fantastic crew member to pour me more wine – even though actually, I really just wanted to use the bathroom. When it rains, it pours I guess.
British Airways on the other hand – have surely had some mixed days in my experience, but were on form that flight. All the crew were engaging, witty and paced the service excellently throughout. No one particular crew member stood out, but that's actually a great sign that nobody had a chance to be so obviously better than anyone else. For a business class product also, and it is the small things that matter, but they addressed both myself and my seatmate (a Malaysian with a slightly more complicated name) by name every time, including at the door leaving the plane – where there was no manifest to make use of.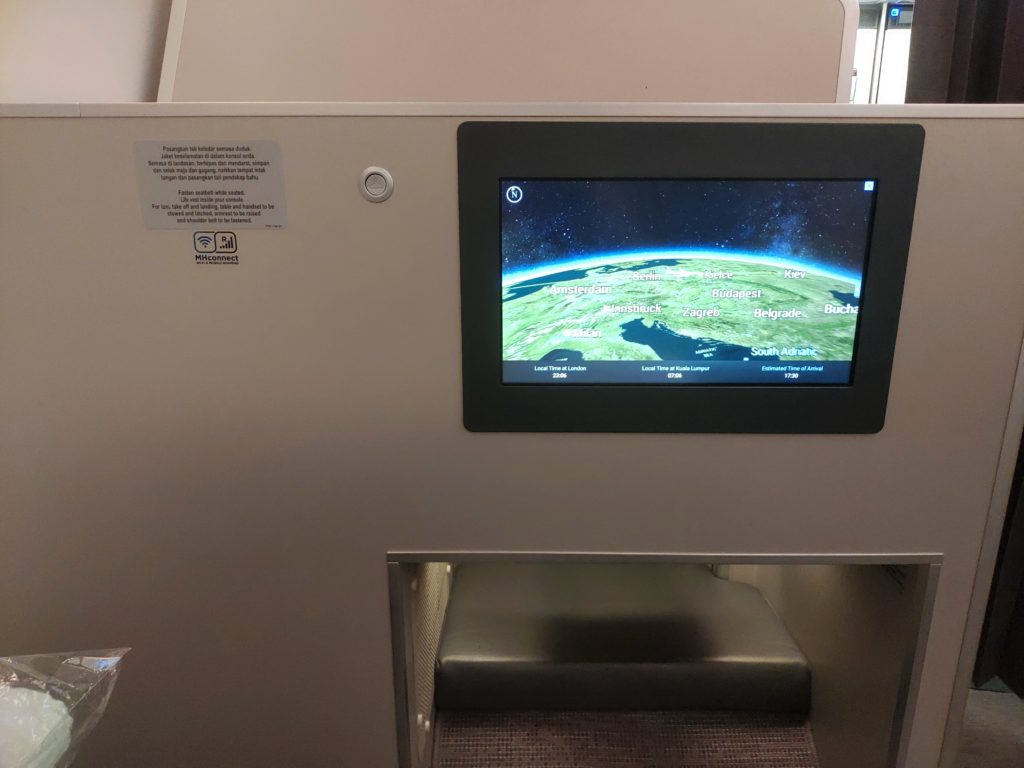 Overall, both flights and both airlines had their ups and downs – personally, and to my own surprise, I came out of the experience preferring almost everything of British Airways – I feel that, while Malaysia Airlines has a reasonable product, all things being equal, the whole experience is pulled off much better with BA; if only they could both figure out how to give a normal starter and dessert!