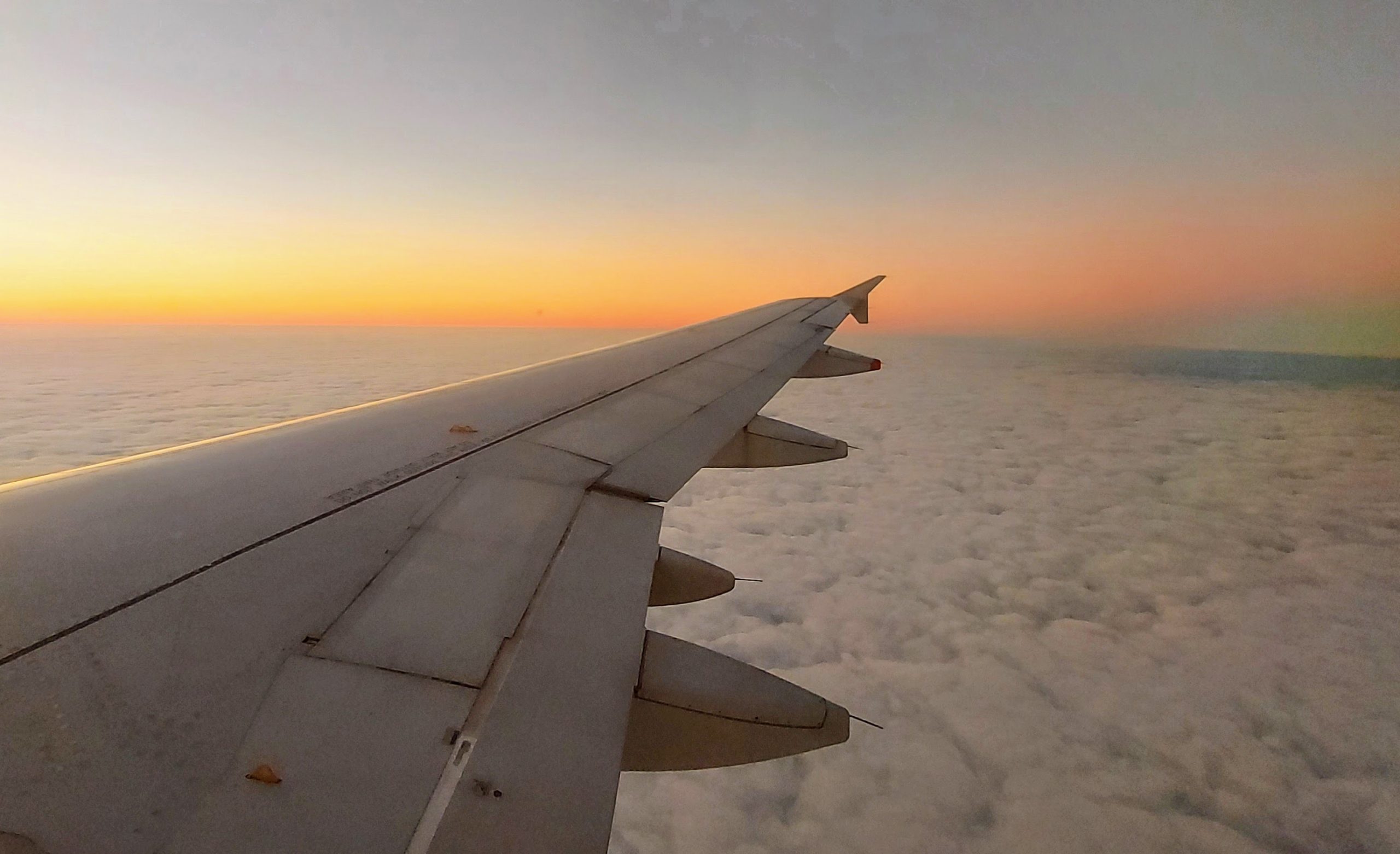 In my best attempts to pretend the last year and a half didn't happen, and resurrect what is by now a social media and blog presence firmly on its last legs, it was with pleasure to find myself standing in Dublin Airport's absolutely unchanged Terminal 1 checking in for a flight to Paris early of a Saturday morning.
In economy – because a pandemic can really help you see the important things in life, like how outrageous paying for euro-business would be on any carrier.
Check-in was a very gentle affair, although after so long I don't really have any frame of reference anymore for what is or isn't an acceptable waiting time, and so we plodded along, making slow progress towards the front of the line. Check-in and covid formalities done and dusted, we were on our way to Dublin Airport's fast-track security.
As always, this was one of the more efficient components of the journey, and we were stood airside, with nothing to do and not a lounge eligible to be visited in moments. I stood in disbelief, unsure what to do in an airport at 5am other than visit a lounge and have an early morning G&T – eventually ending up buying a bottle of water instead.
Dublin Airport, despite being my home airport, is unfortunate in that it's basically been bolted together with various senses of architectural flair and passenger experience prioritisation in pieces, over many generations.
As a result, Terminal 1 is very inconsistent in that some gates are reasonably well-designed and spacious, while some are showing signs of age, and then some – in particular where British Airways and I now learn, Air France, are parked – that seem almost insulting to the carriers involved. Cold, with a worrying smell of jet fuel even indoors, and an inability to form any kind of cohesive, understandable set of boarding lines that take into account pre-boarding, priority, etc.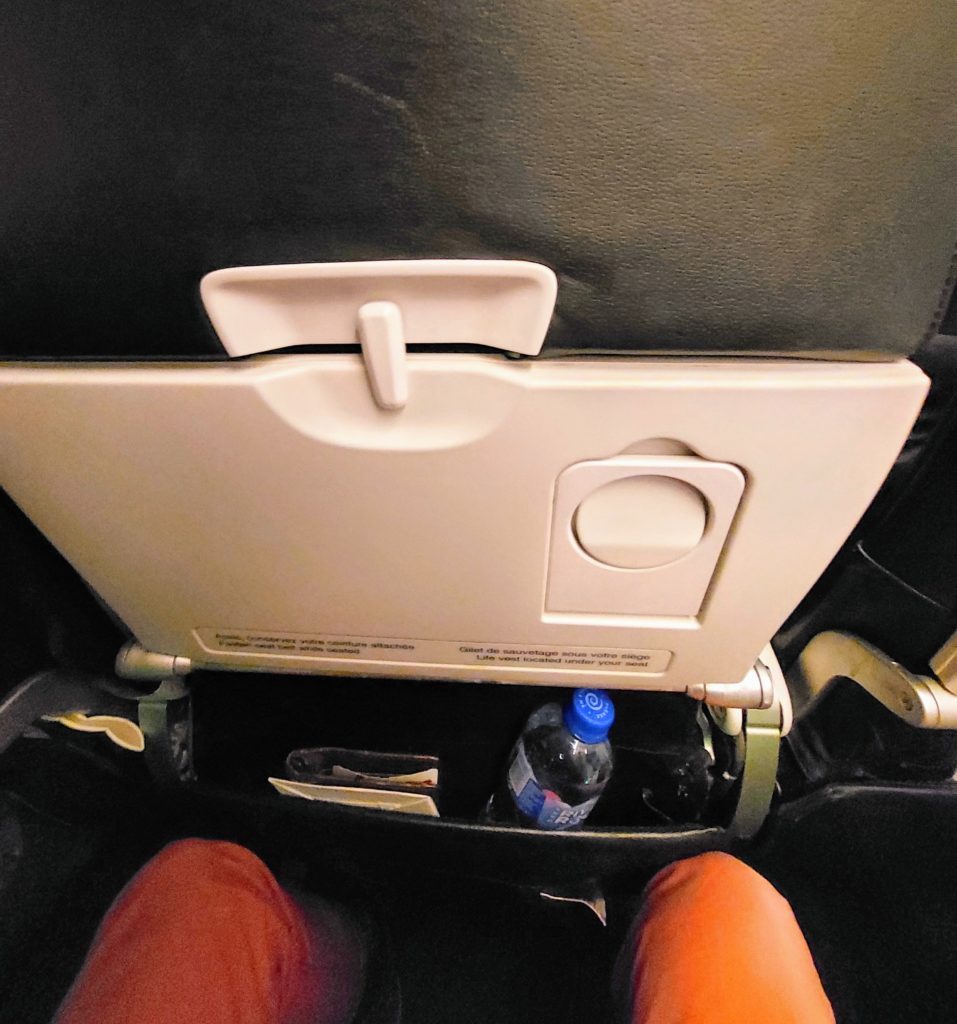 Air France further added to the inconsistency by boarding groups 1, 2, 3, 5, and then 4 (I'm not sure what came next, as I was in Group 5), leading to a trail of disappointed Group 5-ers blocking up the gate confused as to what they'd done wrong to be shunted to last place.
Across the cold tarmac and up the back stairs, and the cabin showed all the traditional signs of the standard European national carrier short-haul starter kit; well-worn leather seats, less legroom than many low-cost carriers, overhead bins packed beyond any storage limit by virtue of checked bag fees, and of course the exact same thing in business class but divided by a curtain that may or may not ever be fastened closed.
When I saw this, I knew it was good to be back in the air, and that to see a Saturday morning 6am flight to Paris entirely full, that nature is truly healing.
After a short taxiway, we were up into the air in no time, and service commenced soon after. I would like to pre-face the following commentary on the 'service' by saying that I am actually very impressed that Air France even goes to the bother of offering a service, given that nearly all other European national carriers now offer a paid service intra-Europe, and a complimentary service of absolutely nothing – so it came as a very great surprise to me that anything was on offer at all.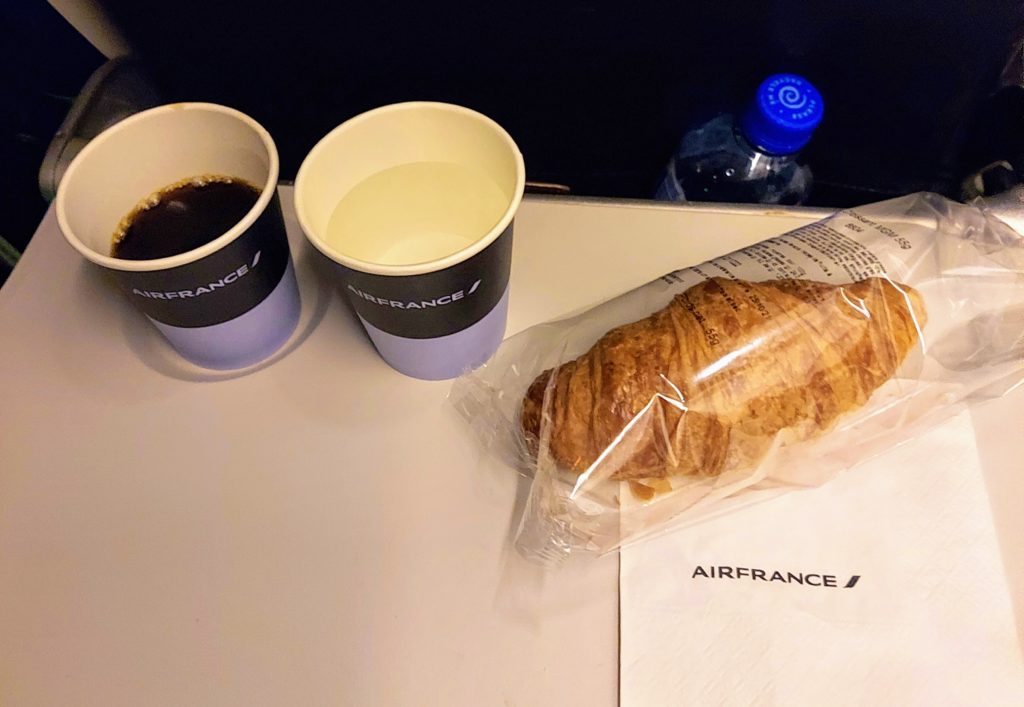 Anyway, as I say, service commenced and on offer was a choice of beverages and one of France's driest croissants, which was served alongside no butter, marmalades or jams whatsoever; presumably, so as to ensure that the full dryness of the croissant would be easily apparent, which it was. I went for a coffee and a water otherwise, deciding not to invite judgement upon myself by asking for the aforementioned early morning G&T.
By the time I had finished thoroughly drying my mouth out devouring the croissant, we had already commenced our descent into Paris, just in time to capture a beautiful sunrise.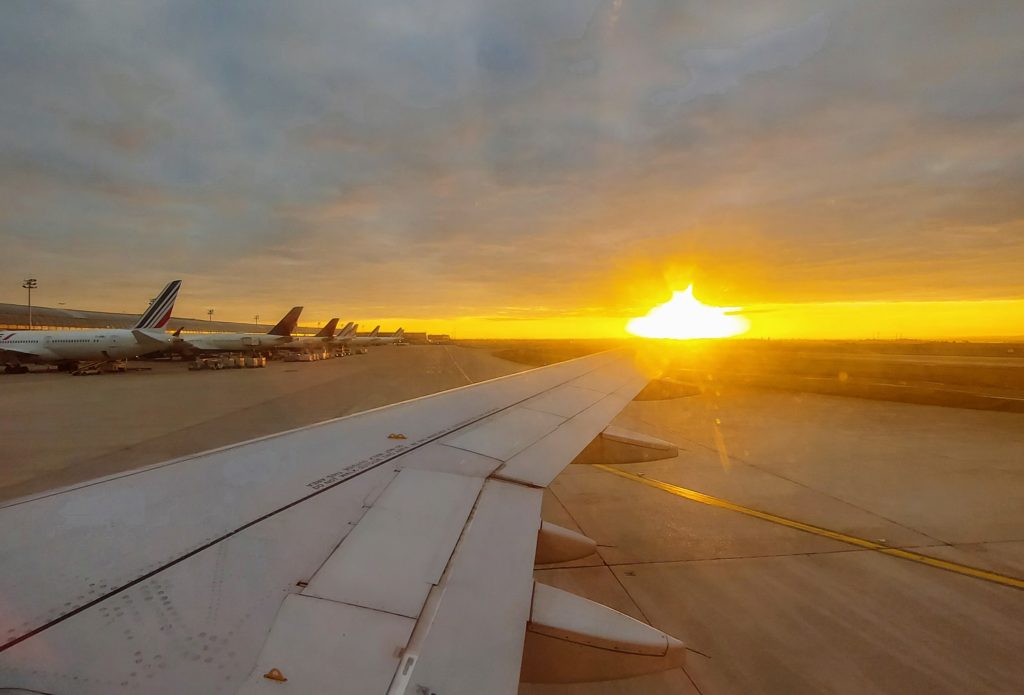 Unfortunately, the beauty of the morning abruptly ended there as I was greeted with the longest immigration queue I've faced in possibly ever – amazingly, a queue that actually took far longer to complete as an EU citizen than for any other passport holder.
The reason – well, it probably needs not be mentioned, but seemingly because only French passport holders were being allowed use the automated kiosks (which otherwise advertise acceptance of all EU passports), and the EU staffed kiosks being served by two individuals who at one point jointly went on a 10-minute strike for no apparent reason, another who was trying her best, and another who was asking everyone for their hotel confirmations and agonizing over every single detail.
It has been years since I passed through Paris CDG's Terminal 2 and I must say, it has not aged well. Worn out carpets, cluttered immigration areas that would actually lead to catching COVID-19 rather than help prevent it, and an odd arrivals area that instantly induces confusion. Not to be repeated, thank you.
Overall though, it was so re-assuring, pleasing and also disappointing all in the one to see that intra-Europe air travel remains such a short, but ungracious experience involving minimal legroom, maximum queues and very little food and drink to wash it all down with. I do however applaud Air France for offering something in the way of service on-board, even if their home airport was a total let-down.