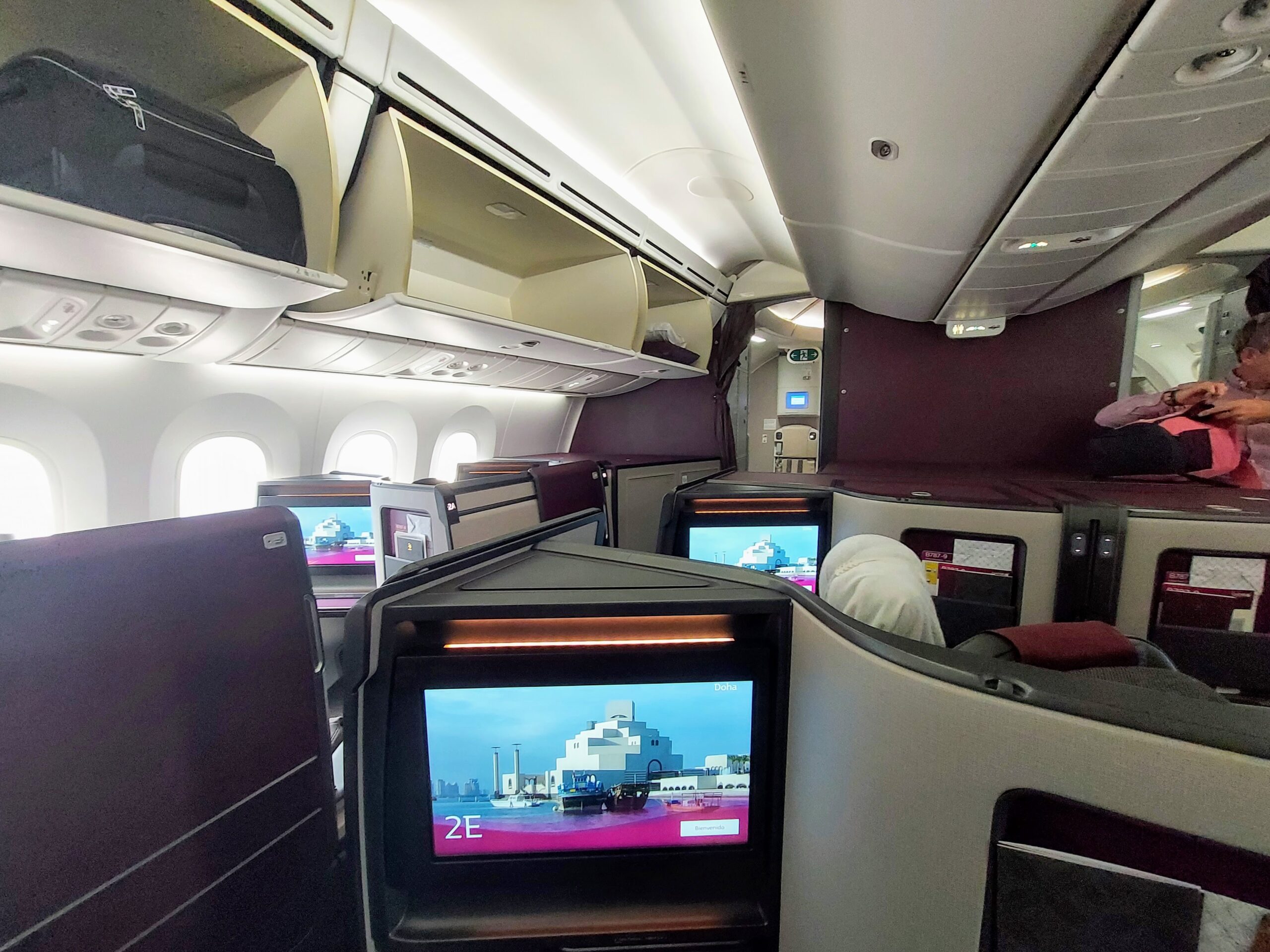 Having scored an astoundingly good value fare to KL way back in February – when Malaysia wasn't even open, I watched with disappointment as European airports became packed, then unable to cope, then Qatar Airways changed my second flight from QSuites to not only an inferior product, but an inferior airline (Malaysia Airlines).
One bright light in the midst of all this chaos was a late-breaking change of aircraft from Dublin to Doha, from the original 787-8 business class product (wide open, exposed seating) to the new 787-9 business class 'suite'. Not quite QSuites, but I was keen to see if it'd go some way to quell my disappointment…
Owing to Dublin Airport's current (summer 2022) inability to be a functional airport, we arrived as early as possible despite the advice to arrive just on time. In the end, check-in opened precisely 3 hours' before departure, to lines snaking right across the length of Terminal 1 and a mix of people standing in the incorrect queue – including a lady in front of us who tried her best to make it all the way to the priority check-in desk before realising that ineligible passengers were being turned away, when she was by-now second in line.
Check-in went smoothly, and an invite to use the fast track security was forthcoming. A catch of my 'incredible' deal was that these flights booked into Qatar's new, 'unbundled' business fares – meaning lounge access, seat selection, etc. is not included and are paid extras. Thankfully, anyone with a Oneworld Sapphire membership – like myself – remain entitled to the unbundled benefits to some extent; but it was nice to see fast track still included, even for these lowly 'unbundled' business passengers.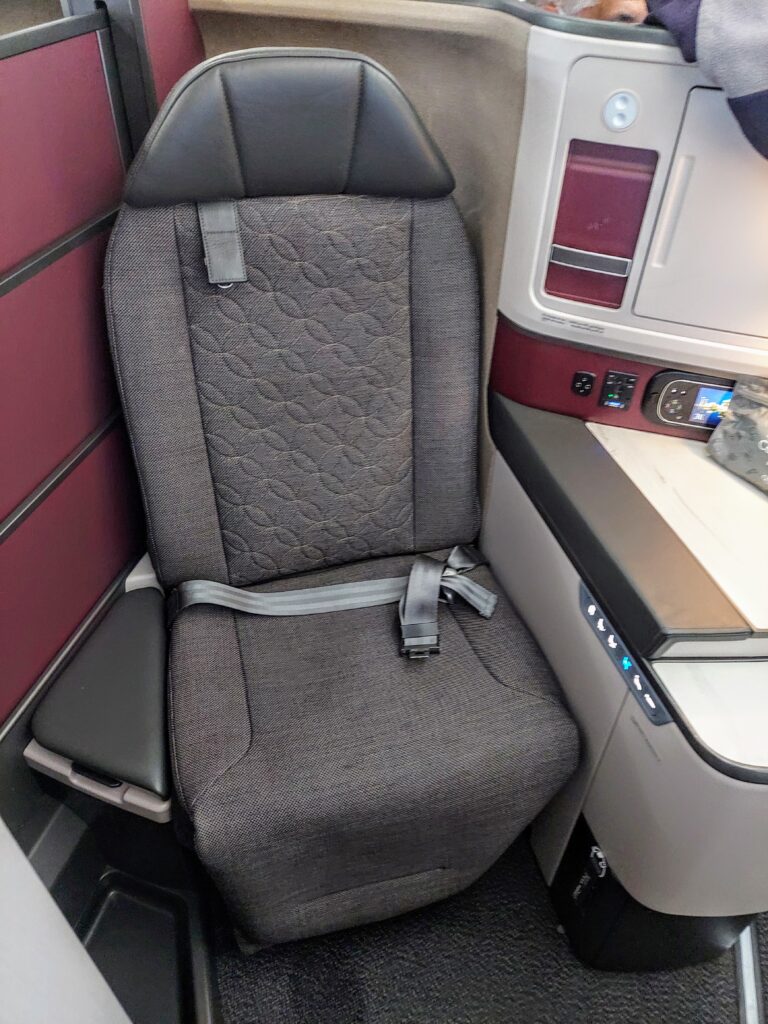 Dublin Airport's 'East Lounge' is not fit for the current traffic volume – and I would have been horrified if I'd paid the full 'lounge inclusive' fare. There was barely a seat to be had, food selection was very limited, and it was overall a most unpeaceful, unwelcoming place to spend any time. Not that it can be helped, but there was also an unusual situation in progress – an Australian passenger flying Emirates, took it upon himself to only offer his entire table space to fellow Australians, who then did likewise with whatever extended space they'd managed to command. Interesting…
Similarly, the gates from which Etihad, Qatar & Emirates currently operate in Dublin Airport's Terminal 1 is very tight considering the high passenger loads these carriers are putting through at roughly similar times. I couldn't board quick enough, just to get out of the terminal building.
Boarding our Boeing 787-9 was done through the second door for all passengers, arriving to the back of the business class cabin.
First impressions – it's not QSuites for sure, and the large cabin layout looks somewhat dormitory-style, but overall it's very impressive to see how Qatar have fitted some form of private suites within the tight confines of the 787.
Moving into my 'suite', 2E, you can't not be impressed by the ingenuity of how the airline has managed to fit in so many seats into such a small space – and yet the fittings and fixtures look and feel very high-quality, from the marble-effect counter beside the seat, to the lamp perched up above the seat on one side.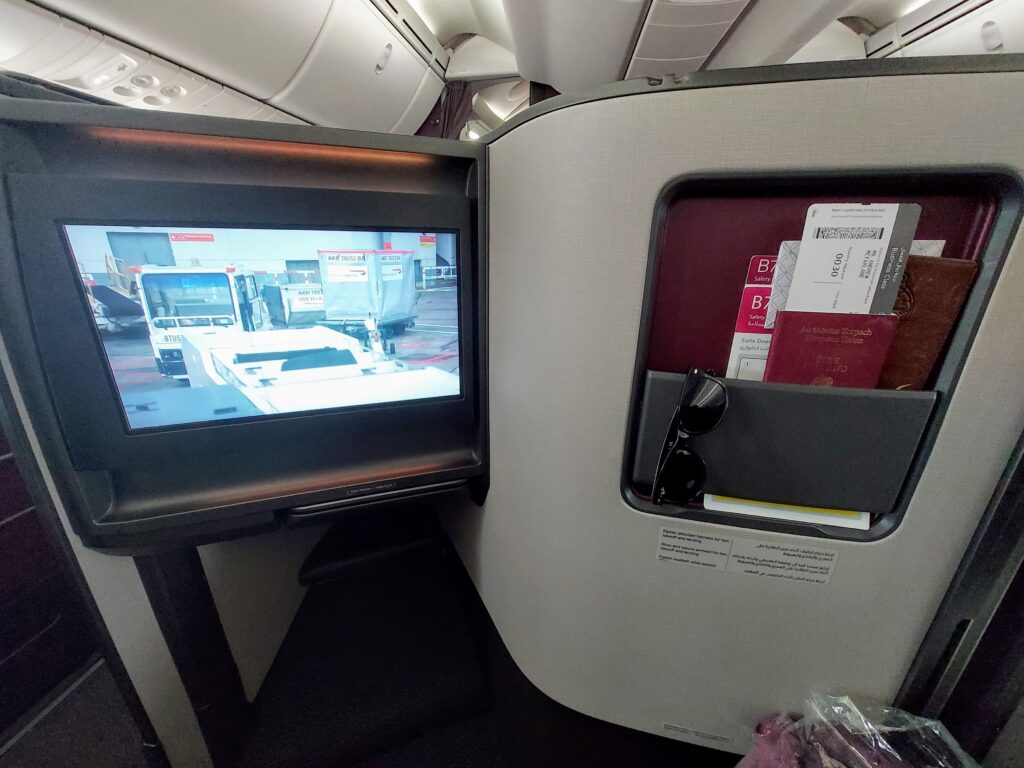 As you would expect, there's a plug, pull-out touchscreen remote control that can be used alongside the main TV monitor or by itself, and of huge benefit for those of us travelling with someone else, the partition can be lowered any time by having both passengers press the partition control on either side simultaneously.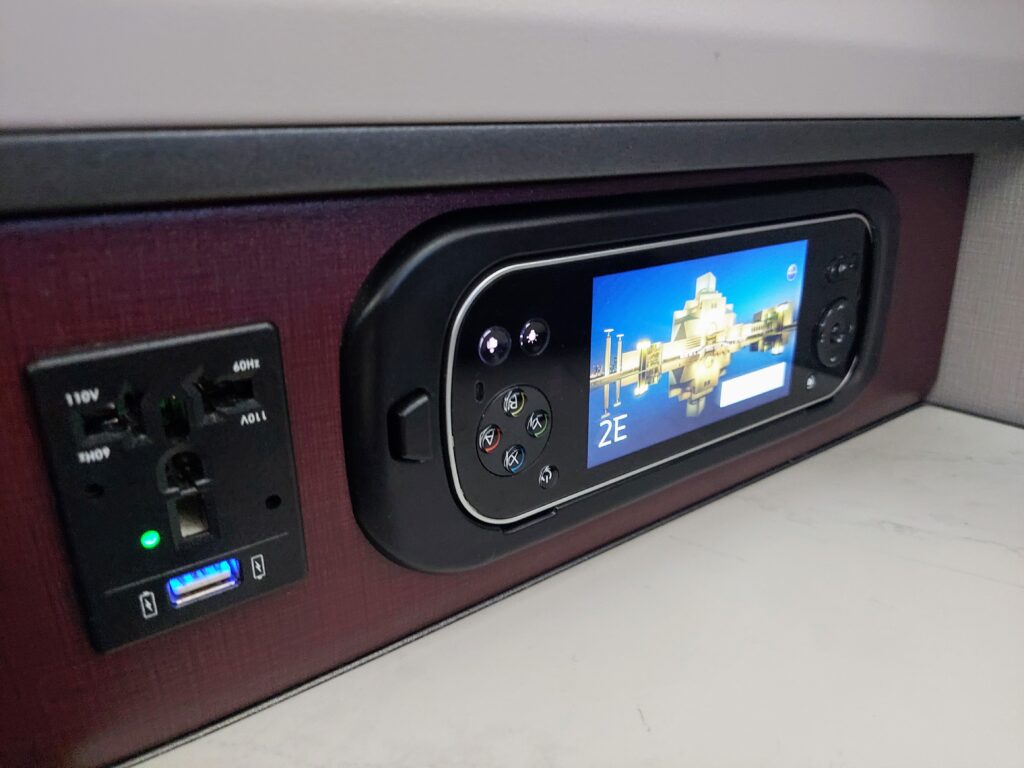 For those wondering, I had a look at row 1 ahead of me and it seems there's very minimal 'extra foot space' in the foot cubby. Considering that the product juts out at the end into the aisle at row 1, unless you feel very strongly about a minimal/almost invisible amount of extra foot space, I wouldn't take the risk of crew, trolleys, etc. knocking into the end of the foot space as they attempt to navigate the aisle mid-flight from the galley.
Once in flight, the door to your suite can be closed over – though a note on this, it's not very high and it doesn't fully close. There's probably a 1cm gap in the door, not that it bothered me in the slightest, but you will definitely be able to see the faces of everyone who passes by and likewise. So the 'privacy' in this case is very much perception rather than 'actual'.
How about service? Well – something had to give and I'm afraid this was where that happened. Look, our crew were mostly well-meaning and well-intentioned but very forgetful, there was a complete timing disparity on either side of the aisle (the right side were on dessert, while we were just moving onto our main course – a big issue if attempting to dine with a friend on the opposite aisle seat). In terms of pre-departure beverage out of Dublin for anyone interested, it's non-alcoholic options only (read; no champagne).
I was told later on by the crew member on my side that they were working on very low staffing for the extra size of the 787-9's business class cabin and had only one person dedicated to each aisle. Again, not really the end of the world and I was more than happy with the 'best effort' of the crew, but for an airline as prestigious and full of themselves (and dare I say, expensive, currently) as Qatar Airways, I'd have expected a little better.
After lunch was concluded, it was more than time to get one last wine top-up (quickly received now that most other passengers had finished their meals), close the door and shut the eyes for what was a very restful 4 hours sleep on this flight of just shy of 7 hours.
Overall, while minimum crewing led to some service disappointments and while there's no doubt some might find this cabin and suite a little cramped – especially set against the award-winning QSuites product, I found it perfectly adequate, comfy and enjoyable for a flight of this length.