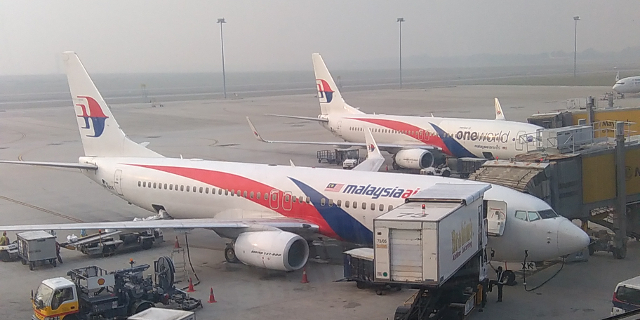 Review: Sama-Sama Hotel, Next Stop HK!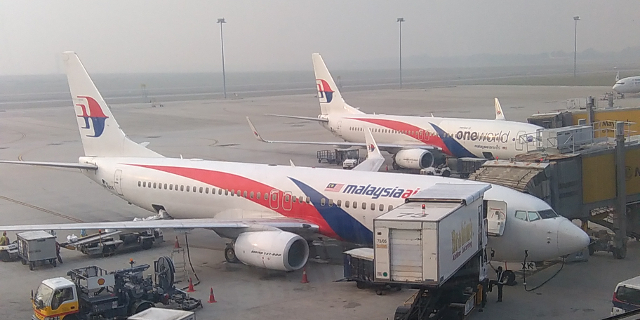 It's been at least a month since my last trip and with the haze in Kuala Lumpur showing no signs of dying down – actually, it's getting worse to be honest – and Anna's birthday on the horizon, I planned what friends have begun calling an "Andy Mac Special" to go on a world tour centred over last weekend. With what could only be described as a severely punishing flight schedule kicking off on Wednesday morning, it seemed like at least one nights' great rest was called for and I booked us into the Sama-Sama Hotel, Premier Floor Deluxe Room.
The Sama-Sama is KLIA's nearest airport, located over a short footbridge from the main airport terminal. Unfortunately, my experience of KL's "upmarket" hotels hasn't always been great and as we drove down into the basement, evidently arriving at the wrong entrance and having to haul our luggage up a long set of stairs (there appeared to be no lift – but it was actually on the other side of the car park), I feared this could be another such situation. One porter more or less threw themselves at us when we finally made it to the reception and quickly relieved us of our luggage, before offering us a glass of juice. Check-in was very quick (note this appears to be very much the local hotel for airline crews) and as I always explain for the benefit of others, the deposit required was either credit card or RM200 in cash (if you don't have a credit card for example, or more likely it gets stopped by your bank in Malaysia).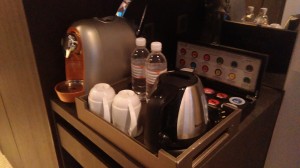 The room itself (ours was 944) was pleasant, very well maintained and while the view was a bit unfortunate – looking simply towards the other part of the building and across to the airport car park – I thought it was a great way to start a trip. The blinds and drapes – and nearly everything in the room – can be controlled electronically by the odd-looking tablet on the bedside table. Meanwhile, we also had a Coffee Bean & Tea Leaf-branded coffee machine, which I endeavoured to try and make a Chai with later on in the evening. Bathroom had both a shower and a bath and was very generous.
I'd heard accusations that the Sama-Sama was a bit "outdated" but our room certainly was very modern, the WiFi worked fine too and of course as is the best part of a club floor, there were free nibbles and alcohol to be had at the lounge down the corridor, which I immediately set about making use of!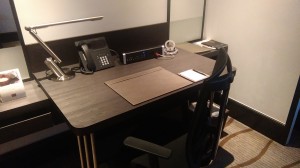 If any part of the hotel was a bit outdated, it was perhaps the lounge which felt like it may have seen many years of wear and tear (though still well maintained – just not 'new' either). Nevertheless, we were seen to immediately with two giant glasses of wine; which had a great habit of being automatically refilled and all the snacks you could want! Best of all though, as I left the car in the car park for the duration of our trip (expecting it, as advertised to be RM8/day) and it was actually free for the entire stay as Premier Floors get free parking; what a complete unexpected win!
It wasn't long sadly before we were back up the next morning for our flight to Hong Kong (which Anna only found out about at check-in as I managed to keep the entire thing a surprise – which surprised myself also, that it worked out so well!). Our flight was with Malaysia Airlines who, like Aer Lingus back in Dublin, have started trying to force people to check-in using a kiosk or online first but who, unlike Aer Lingus, don't seem to be able to make it work; the queues were ridiculous, with the guards manning the queue not really caring who had or hadn't checked in (I had, but the kiosk refused to print my boarding pass). Even our flight became a 'late check-in' just in the 40 minutes or so we were standing there waiting.
Unfortunately, with all of MH's cutbacks, our flight had been downgraded to a 737 – the same size plane we'd normally end up on going to Singapore or Phuket, but not a journey approaching 4 hours. I'll cover our flight in my next blog post, but before I leave off my review of the Sama-Sama, check out the headline of the "complimentary newspaper" handed out to passengers on the Malaysia Airlines' flight – unbelievable?! What a day to skip the free newspaper if ever there was one!