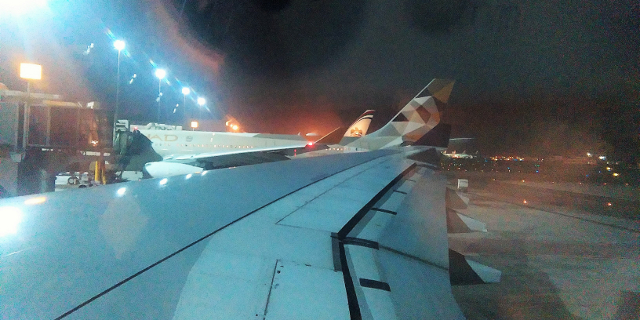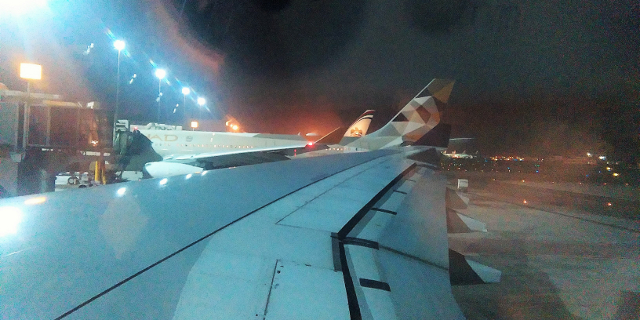 After an incredibly fantastic time in Hong Kong, where we were treated like royalty, it was time for the next part of the journey – a nightmar-ish 2-night stop from Hong Kong to Dusseldorf, before returning back to Malaysia.
It's been years since I last flew Etihad; to quickly recap, I initially hated the airline with a passion because (and this is still the case) their ground handling in my home of Dublin has traditionally been outsourced to a bunch of unfriendly incompetents and this represented my first experience with them. Over time, I mellowed hugely, to the point where barring the guaranteed one cranky wannabe-model stewardess per flight ratio I've encountered every time, most of their crew are genuinely lovely and they always win (for me) on in-flight product; in economy, would you believe!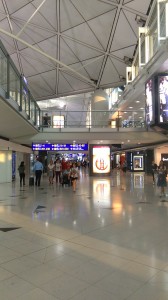 Finding the gate was a bit of a challenge in itself; Hong Kong Airport's central departures area is surprisingly confusing and, owing to the star-shaped multi-level nature of it, it's somehow very easy to become completely disoriented looking for your 'turn off'. Our gate was a short train ride away, and then about a 10-minute walk down a pier.
What I will definitely give HKIA though is efficiency; boarding had only been open maybe 10 minutes or so before we turned up to the gate and yet the queue was moving relatively non-stop, with perhaps only 5 or 6 people ahead of us in the queue.
Onto the plane, and for this leg of the journey, I took Etihad up on their Extra Legroom offer, which allows you to pay extra (quite a bit to be honest, if you've got a multi-leg journey – it seems to me it'd be far more preferable to upgrade your legroom on all legs of one journey for an inclusive price) to bag yourself somewhere like the emergency exit, in this case Row 33. Of course, for the start and finish you may need to make small talk with the cabin crew seated in front of you, but ours was very pleasant.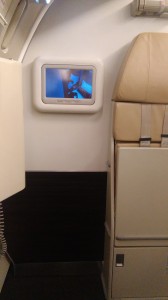 Once again, Etihad won out for me on a number of areas and it's safe to say my mellowing has now more or less become a complete defrosting. Their newer pillows (OK, the colour scheme of teal for the blankets really didn't make sense to me compared with their branding colours) are basically like those horseshoe-shaped pillows we all pay heaps of money for; instead, you rip it up the middle and then stick your head in the middle, so you're comforted on both sides. Similarly, the headphones provided (I use my own, always, but it's nice to see what's on offer) are of very superior quality to the absolute junk normally furnished by all airlines.
Lastly; my somewhat bizarre but almost ritualistic test – the in-flight entertainment and in particular, the Dance playlist. Yes, this was a good one; the only reason I take points off is because not on their website nor in their magazine do Etihad provide a tracklist for you to note down what you've been listening to. Come on Etihad, I'm still dying to know – what was the playlist for October? There's only so much Shazam-ing I can do!
The meals provided were also good and it's always nice to have some kind of cutlery, even if it's a bit finicky. The main meal was served not too long after take-off, which was just as well as I was ravenous. For the 'snack', we encountered the guaranteed wannabe-model cabin crew I warned about earlier who told us simply 'sandwich or wrap'. Not spotting the discerning factor between them, we went for the wrap, which was a luke-warm lamb kebab wrap. It was pleasant but nothing special really, made worse by the snotty method and attitude from whom it was served.
A special mention for Abu Dhabi Airport (AUH), because I've also let loose on them in the past for providing high-end duty free, a bunch of super-expensive stores and free WiFi – and not much more. Honestly, I was more content passing through Abu Dhabi Airport this time; I see that they're doing their best to manage this hardcore super-packed transit security screening, I see there's not much that can be done about all the ridiculously expensive branded retail outlets and duty free you're forced to walk through – but why, oh why, does the terminals floor-to-ceiling window areas have to be air conditioned so cold that even I, a rugged European familiar with a nasty winter, actually start shivering. Please AUH, it doesn't need to be this cold. Also, one last plea – please do something with the toilets/water fountain area downstairs in the basement in Terminal 3; it just never seems to be clean.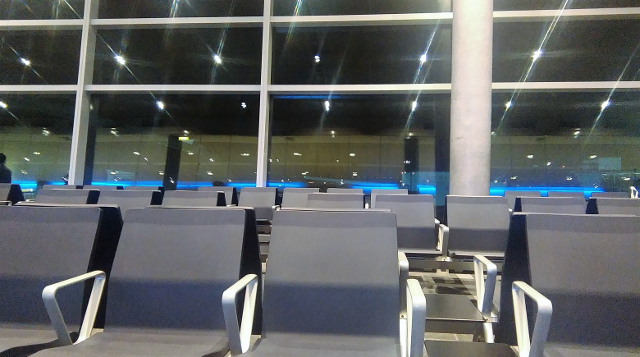 I've struggled with this because I see their problem; Etihad is feeding ever-increasing numbers of passengers, while they're somewhat constrained by the current building design and limitation; I mean the original terminal has vastly improved since I first came across it, when security was done right at the gate,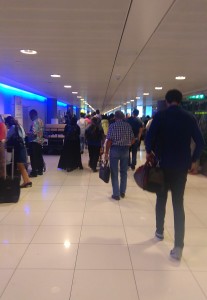 everyone inter-mingled and there was barely room to swing a cat anywhere. Thankfully – and I'll have a review of them up on the blog in a few weeks – we stopped by the Sleeping Pods for a quick snooze on the way back, what a funky experience.
Soon, though it was time for our onwards flight to Dusseldorf, which went much the same way as this journey (without the extra legroom though, unfortunately) only with the staff even more interested in chatting down the back. Still, overall a great experience for economy class and it's so refreshing to see an airline genuinely try and make meaningful strides in innovating in the area of the cabin most of us are exposed to.
What airline do you enjoy flying, and why?