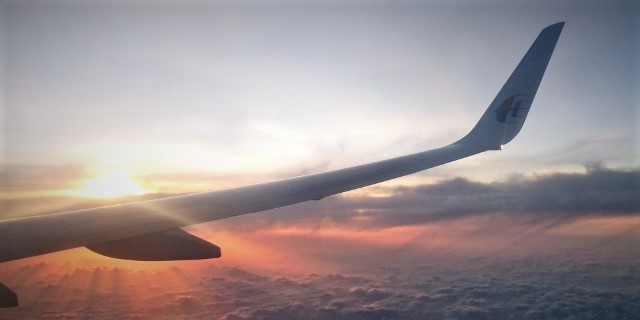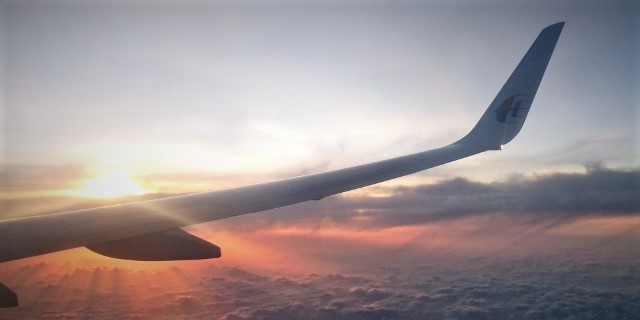 With my time in Taipei drawing to a close, it was time to head back to the airport for the pretty long nearly-5-hour journey back down to Kuala Lumpur.
With this post, I also ask the question; should you give up your carefully-chosen seat for the 'sorry, but would you mind…' contingent. Well, what do you think?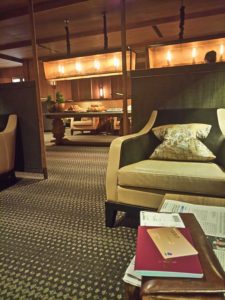 Check-in for Malaysia Airlines in Taipei opened very punctually 2 hours before the flight, which irritated me no end given that I wanted to get to the lounge as quickly as possible; even at the business class counter, there were a solid 7 or 8 people ahead of me and I found the whole thing a bit ridiculous how the staff stood behind their desks and literally waited until precisely the 2 hour mark.
To be honest, Taipei Airport largely feels like it wouldn't say no to some kind of renovation; it's pretty old and drab in a lot of parts, particularly around our gate, which was in some kind of large semi-circular art-deco room at the very far end of the terminal. It felt very sterile and bland, function by far over style.
However, in the lounge meanwhile, when they learned of my Oneworld Emerald status, I was escorted to what can best be described as a cross between one of the most amazing lounges I've ever been in, and some kind of gentleman's club. This lounge was insane; a dark, dimly lit room, where I felt like I should be knocking back whiskey's and smoking a cigar. Kudos to Malaysia Airlines – and by extension, their lounge provider here, China Airlines for this insane space.
Onto the plane, and this is where the adventure begun. Once again I was sat in 5A, the bassinet row for Malaysia Airlines. I was barely comfortable in the seat when a woman and her baby sat down beside me (I did the usual awkward smile and nod combo, before returning to staring at the partition in front of me). Almost immediately, she turned around and started speaking to a guy a few rows back; 'are you going to ask him'. I thought to myself, here we go, ask him what.
Honestly, I've had a seat-swap requests but never one so awkward as this. The guy shuffled up to our row, moved awkwardly in from the aisle and said 'hey man, this is my wife and kid', so I nodded back and sort of mouthed something like "OK, sure". He followed up with 'So since me and my son would like to sit with them, would you mind sitting in 9B'. Ugh.
With Malaysia Airlines, it's actually very easy to be sat together in this situation – call the airline, or visit their office and I've found that they will always pre-assign you the seat for free. Or, y'know, you can just pay the extra to sit there at the time of booking. So I explained that no, I didn't mind swapping per se, but not to 9B because that was a rubbish seat and I had deliberately picked this one for the extra legroom. I don't know why in this situation but somehow these passengers, who have completely disregarded that people have paid to select their seat or been awarded it based on frequent flyer status, or who may have reasons for wanting to sit there, seem to always excel in adopting some kind of guilt-inducing look.
I suggested he get the cabin crew and see if there was an emergency exit seat I could be shuffled off to, and that would be fine. So, he got the cabin crew member, brought her to our row and then
just pointed at me (he was American by the way, so a language barrier did not exist). It was incredibly awkward and she just stood there looking at me until I finally narrated the story on his behalf, while he stood there; 'oh hello, this guy here beside you didn't pay for the seat he wanted nor call ahead to make sure he was sat altogether with his wife, this woman beside me' etc. Cringe.
Making matters more cringe-worthy, he eventually suggested a good reason why I should move to the awful 9B seat was that 'the girl on the aisle seat looks pretty hot'. What? I literally just said I booked the seat I was in for extra legroom, and some hot girl (who wasn't by the way) who most likely doesn't speak a word of English does not at all equate to my seat selection reasons whatsoever.
I was eventually moved to an emergency exit row seat that I was assured was free, sat down, enjoyed the view and legroom for all of about a minute and a half before some guy came along, shuffled in from the aisle and I kid you not, stood literally in between my legs motioning towards my new seat. Needless to say at this stage, I more or less snatched the boarding pass out of his hand and sure enough, it was the seat I was sitting in.
So after all that, where did I end up?…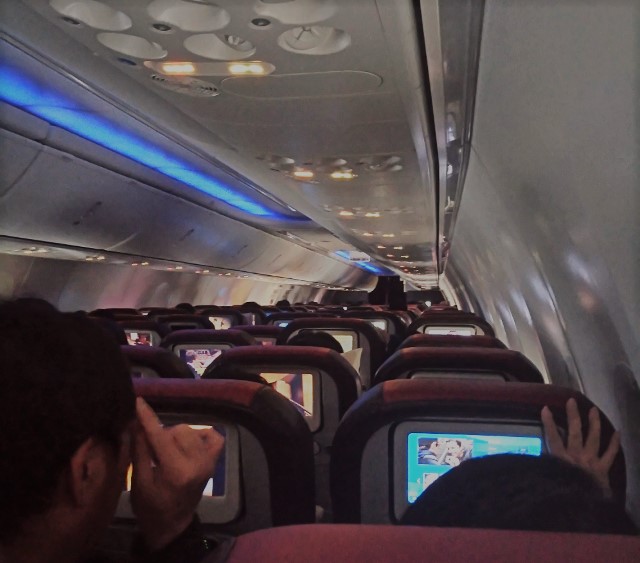 Yep, the very last row. To be fair, the crew did their best and it was an entirely empty row, they served me my food before everyone else and were as pleasant as can be, but still – suffice to say in terms of my generosity and the old 'would you mind…' question; lesson very much learned.