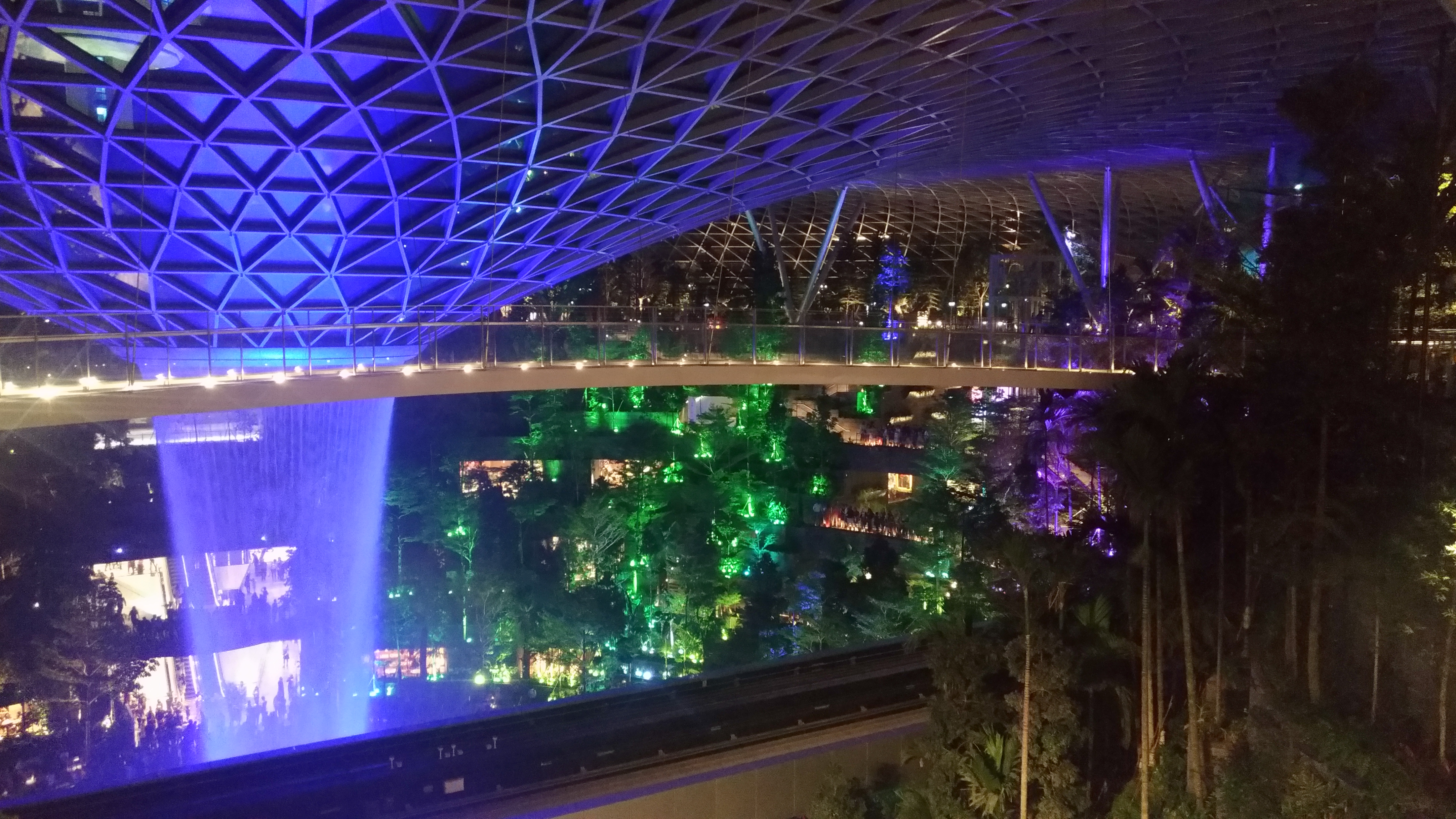 The Jewel at Changi Airport is the latest and most impressive new development at Singapore airport's complex, and joins the other award-winning features of the airport such as the slide, cinema, outdoor garden and no doubt many others in keeping bored passengers entertained while they wait for their onward flights.
I checked it out during the early previews last week, having flown in from Kuala Lumpur specifically to have a sneak peek, as well as spend the night (what there was of it before my 6:25am early morning boarding the next day) at the YotelAir, which is also housed on the 4th floor of the property.
Getting there from Terminal 2 was not as easy as I first expected; one needs to take the lifts by the MRT entrance up another floor, then an escalator – where during previews at least, were gangs of t-shirt wearing staff helping navigate you down the long corridor – and into a long, long corridor. Honestly, first impressions were that from T2 at least, Jewel is a bit of a stretch of the legs more than I would have expected. I don't even want to imagine what it would be like getting from Terminal 4.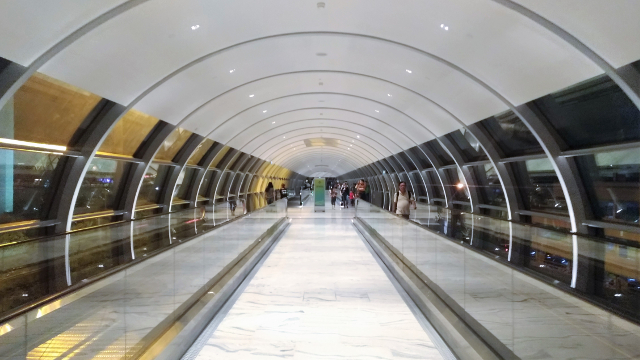 The corridor is reminiscent of just about every glass airport corridor in the world anywhere, with travelators helping to shorten the distance if you wish.
As airport facilities go, the place is absolutely immense; Jewel is truly massive. It's hard to know where to start and – as it appeared Singaporeans literally couldn't pack into the place fast enough – in my nervousness over the serious overcrowding, I immediately took an escalator upstairs, and up again, which has an odd night-time jungle feel to it.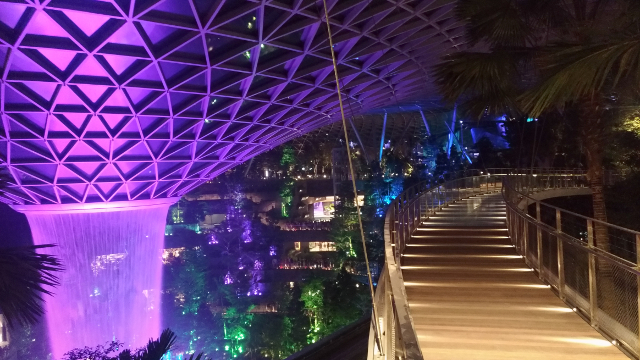 The whole complex is stunning; the centerpiece waterfall is truly something to behold alright, and is almost hypnotizing.
At one point, it also played a dramatic light show – but unfortunately, it was impossible to get anywhere near this light show due to the amount of mobile phones waving in the air (see below!).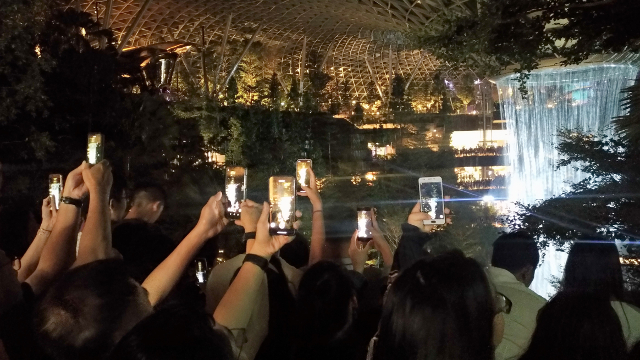 If you like your airports like gigantic shopping complexes, then you'll absolutely love Jewel.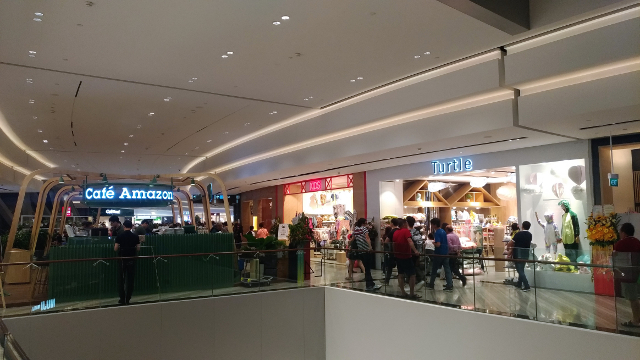 But you know – I am a natural-born cynic, and I had one gripe and one 'question'. The gripe – the place was packed. Not packed as in, look at this crowd – much more like "Oh God, get me to the hotel, I'm struggling for breath" packed. This was a preview event, and I realized that there would be a crowd there but in the interests of presenting the best look of the place, the event was very, very poorly capacity controlled – if at all. Getting anywhere next nor near a good view of the waterfall required incredible determination and an acceptance of photobombing many thousands of pictures.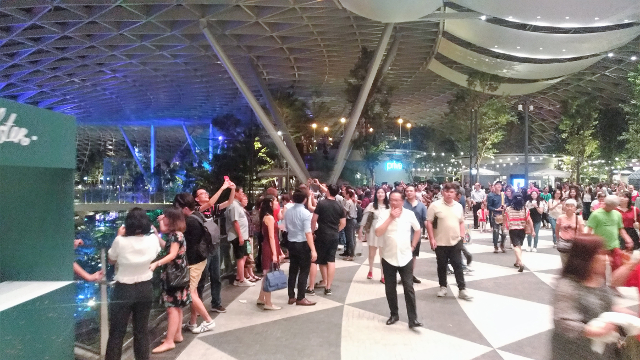 My question then. It's a rude one, but I think relevant; who is it for? The truth is, if I was a single-ticket connecting passenger (even with a long layover time), I would prioritise staying airside over visiting what is effectively a luxurious on-site shopping centre. If I was a double-ticket connecting passenger (i.e. connecting on 2 tickets from one carrier to another) and would therefore have to exit immigration and go outside to re-check in, I would prioritise making my way through that flow as quickly as possible in case of delays at any one place; immigration, customs, check-in, etc.
So, I kind of felt that that rules out the majority of straight-thinking connecting passengers. For those beginning their journey at Changi, wouldn't they rather arrive at the right airport terminal, check-in and enjoy whatever comforts there are post-security? I sure would. Where I possibly see value here is in the arrivals – perhaps while waiting for someone to pick me up, I might stop by Jewel for a snack or a browse.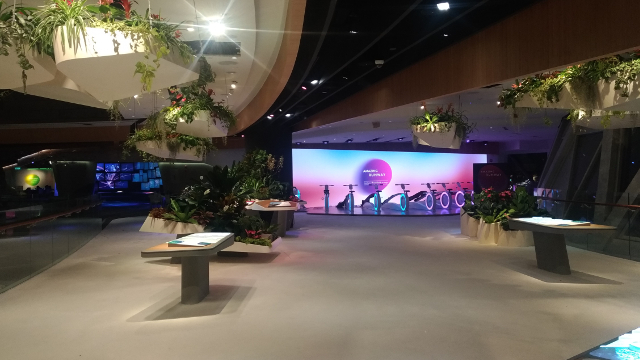 Lastly, for Singaporean locals; Changi is still some distance from town – after the initial hype has died down, will people really want to make a trek out to Changi just to visit a shopping centre, when there is literally thousands dotted across the island?
I sure hope I'm wrong as the whole place is truly stunning, the centerpiece and the jungle look fantastic and it's somewhere closer to a theme park, than a shopping centre – but it's also very far away from an efficient, people-handling airport terminal, as well as (other than Terminal 1) being actually quite far away from the main airport terminals. I'll be keen to head back next time I'm in Singapore and check out how it's doing and who are the main users, post-hype…