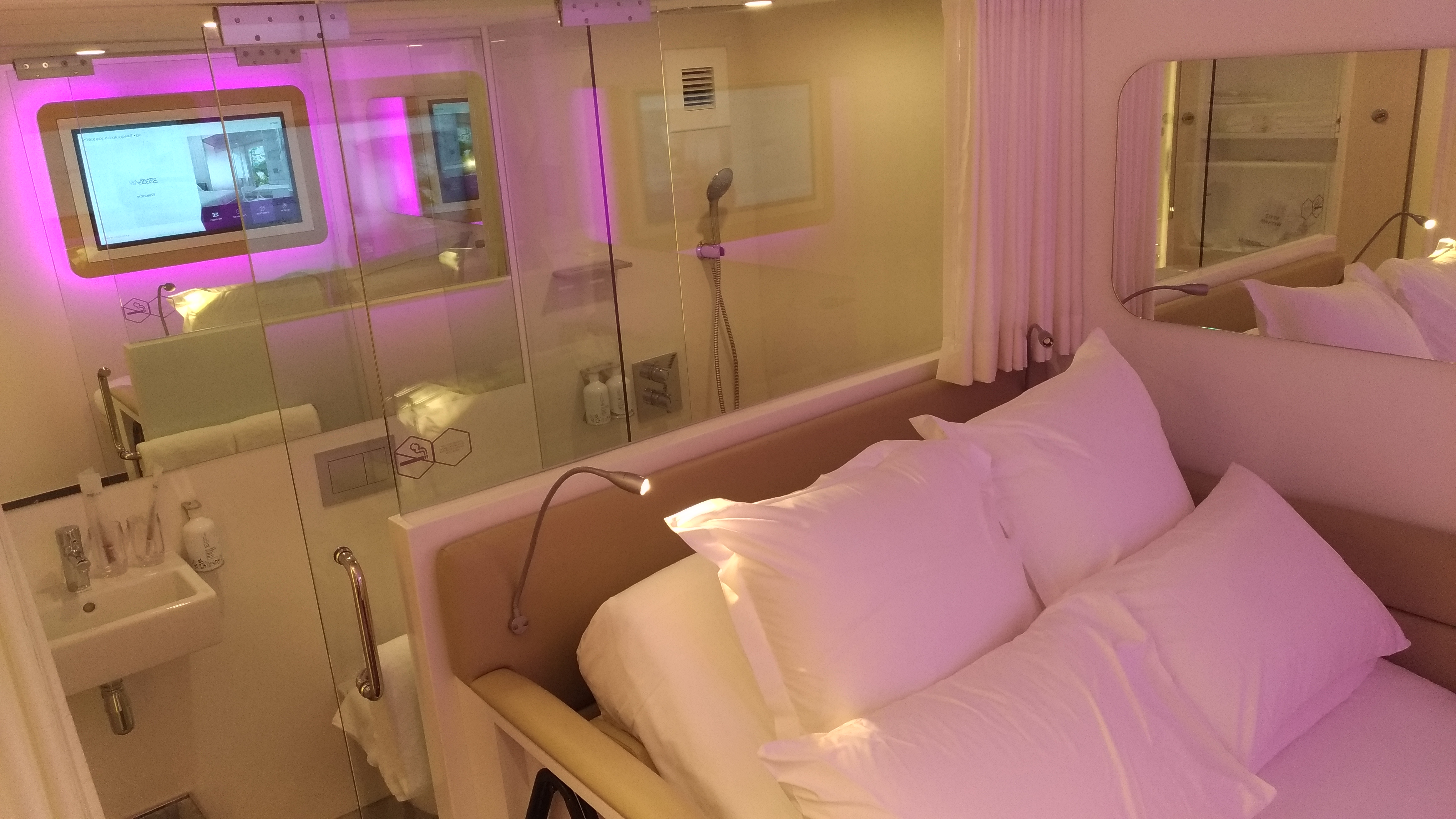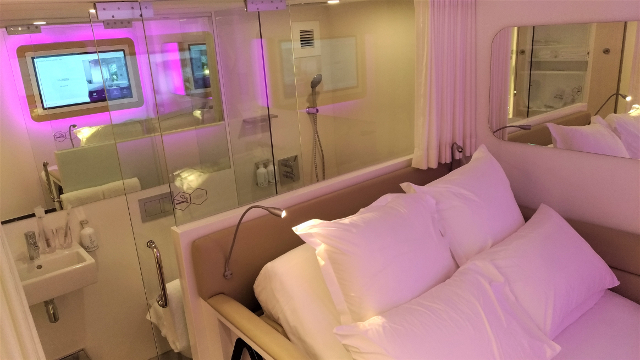 The Jewel Changi Airport, Singapore Airport's latest gargantuan mixed-use development, opens today and I was lucky to grab a sneak peek at it last night; at least for a few hurried hours. The whole place is more super-premium shopping centre meets theme park, rather than somewhere in an airport to burn a few hours. But one thing that did pique my curiosity (along with my need to lay my head somewhere for a few hours overnight) was the opening of the new YotelAir Jewel Changi Airport within the same development.
I love the concept of having somewhere to rest in between long journeys, and while I tend to make my journeys in one solid go as much as possible – I do definitely see value in breaking up a journey from say Australia to Europe with a bit of a longer stop-over, especially when flying economy. You may in fact remember that years ago, I was a huge fan of the plastic coffin-like layover beds in Abu Dhabi Airport for exactly the same purpose. At the same time, I've never stayed in a 'Yotel' anywhere before.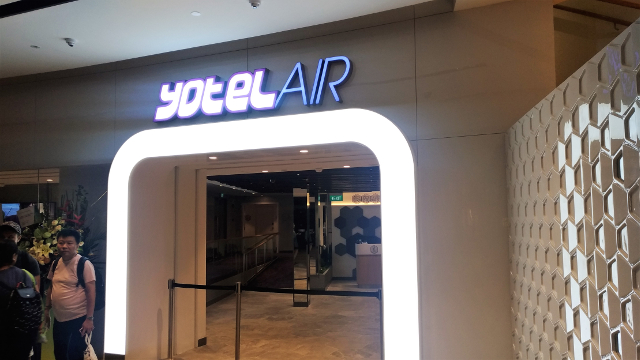 The entrance is on the fourth floor of the new Jewel Changi Airport development and opens into a very airy premium check-in like facility with a few self-service kiosks, and two desks from which the 'crew members' stand. Seemingly aware that none of us had a clue what we were doing, both crew members during my stay were helping guests to use the self-service check-in kiosks to check-in. Nevertheless, it's very much a DIY affair – take a picture of your ID with the installed tablet, pick up a keycard from the collection and put it on a fob to program it yourself, etc. It seems you do need a credit card for deposit, by the way.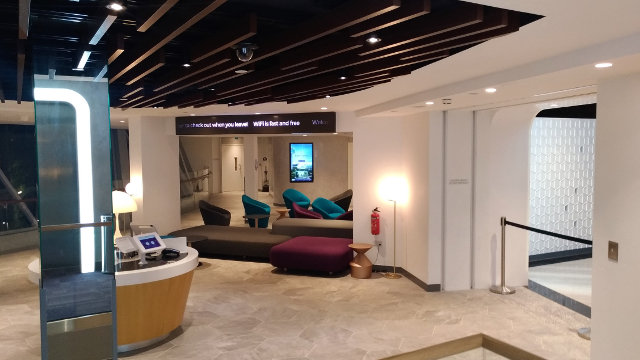 Off to the right from the reception space is a lounge, Komyuniti (which can also be accessed directly from the second floor), which I must admit I was very unclear about; there were muffins, fruit and snacks left out – along with an ice/water machine and a pretty high-end coffee machine. Was it free? It took me a good while to find a mention anywhere that the coffee/water/ice was all up for grabs free of charge; and by the way, it made the perfect cup of coffee at 5am when I had to get back up for my flight back to KL.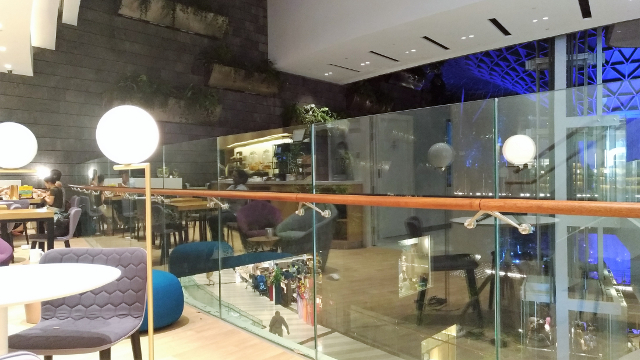 Upstairs meanwhile, where I had been assigned Cabin 243, there's a long curving corridor that really surprisingly doesn't give away the compact size of the cabins on the other side of the doors.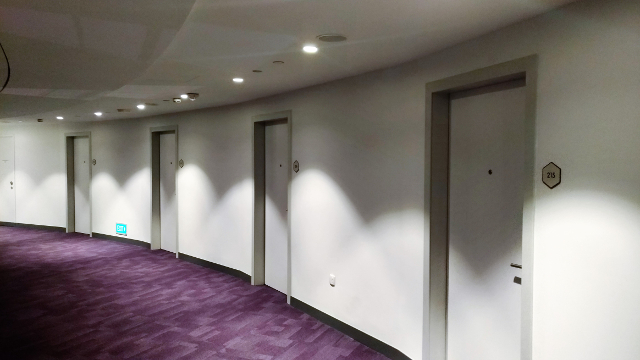 The cabins – well, as you can read in one of many thousands of other reviews – are very compact, but they realistically require only about the same attention to space utilization as on a business class cabin of any aircraft. The whole ambiance is very funky and unusual, with my cabin drenched in purple lighting on entering. The bed meanwhile at first glance looks like it may have been stolen from a hospital, but can be angled up or down to suit your preference and was more than sufficient for my 5-hour power-sleep.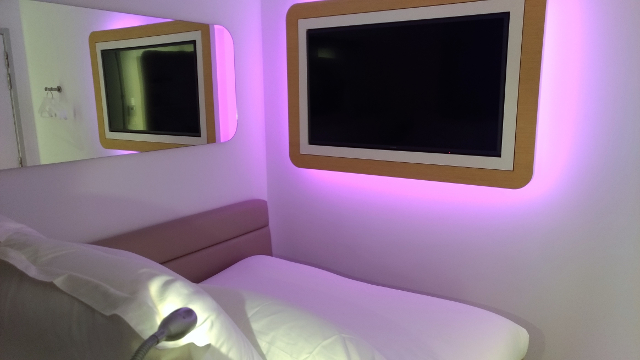 There's a pop-out desk and a little stool hung up on the side of the bed, while the bathroom (which is all glass by the way – though there is a curtain if you really must share the cabin with someone else) comes with power shower, rain shower and was surprisingly nicely decked out with fresh towels, hand towels, facecloths, a hairdryer and even dental packs.
I slept beautifully to be honest. While I probably wouldn't book a 2-week vacation stay in a Yotel anytime soon, I will give them credit; it is very well thought out and had everything you might need or might get in a normal hotel; comfy bed, great WiFi, TV, plenty of power/USB sockets in-room and sparkling clean (though, I suspect I may have been probably only the first or second person to stay in that room too, to be fair). The cherry on top was the lounge with free coffee and a lovely view out over the Jewel Changi Airport's centerpiece waterfall.
Make no mistake; this is a transit hotel and my only reservation was how far away Jewel was from the other parts of the airport (you'd hardly make a move from Terminal 4 to stay a few hours, for example). But location-aside, it excels brilliantly at what it does and who it's for; and after the waterfall, it was undoubtedly the most welcome sight at the new Jewel Changi Airport.