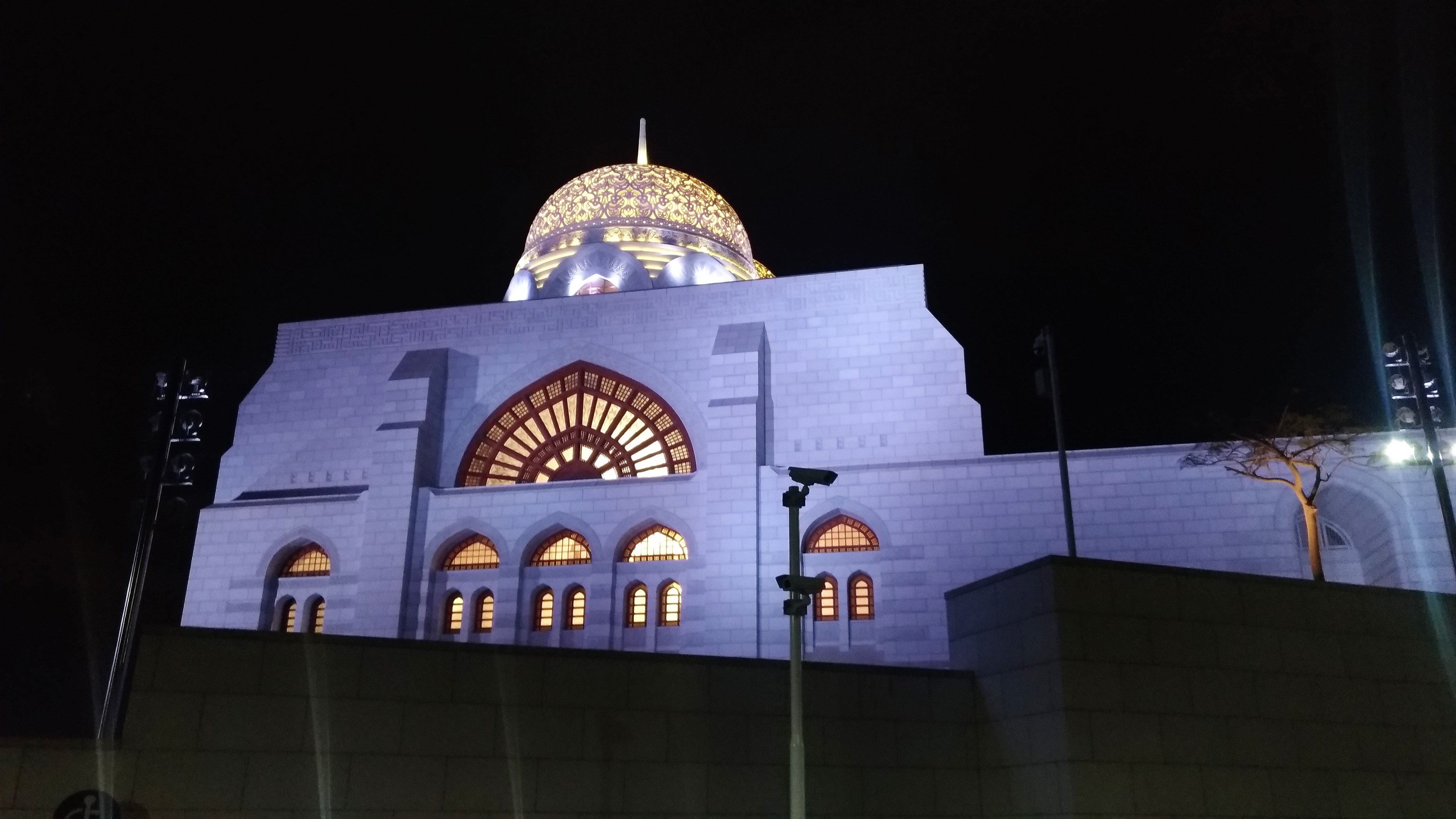 In my excitement to pack as much as possible into our near-week in Muscat, Oman – one of the first things I'd booked was a 'night tour' of Muscat. In hindsight, I'm not sure what there is to see anywhere in the darkness of any city worldwide let alone a conservative, relatively quiet capital city in the Middle East; but we were booked and I was nothing if not determined.
First things first; little did we realise this was anything particularly off-the-wall, but it rained during the early evening. I don't just mean showered – it was like a torrential downpour. My Mother, of course, having come directly from an Irish winter, and myself, well-acquainted with the floods of downtown Kuala Lumpur, thought little of it. But things took a turn when a few hours went past with no sign of our driver, little to no contact with Grayline (the tour organisers), and only a faint murmur that our guide was 'running late due to a family issue'.
Finally, once we got close to abandoning all hope and hitting the upstairs bar (don't worry though, Klook disappointed us with a tour guide no-show the very next day), our tour guide – Bader – arrived when least expected. Do you know when someone is very apologetic but you've nearly decided you don't like them anymore? Well, that describes how I was getting, despite multiple apologies about the rain causing the huge delay.
The tour was made all the more surreal when he announced – in our large white van – that we would be the only guests for the evening and that, to make up for the lateness, would be getting an 'extra special tour'. We really didn't know what to expect.
Traffic due to the rain it turned out was actually hideous, and our first stop in the total darkness, was Qurum Beach. As I say, I really hadn't thought through the effectiveness of a nighttime city tour, as you can see…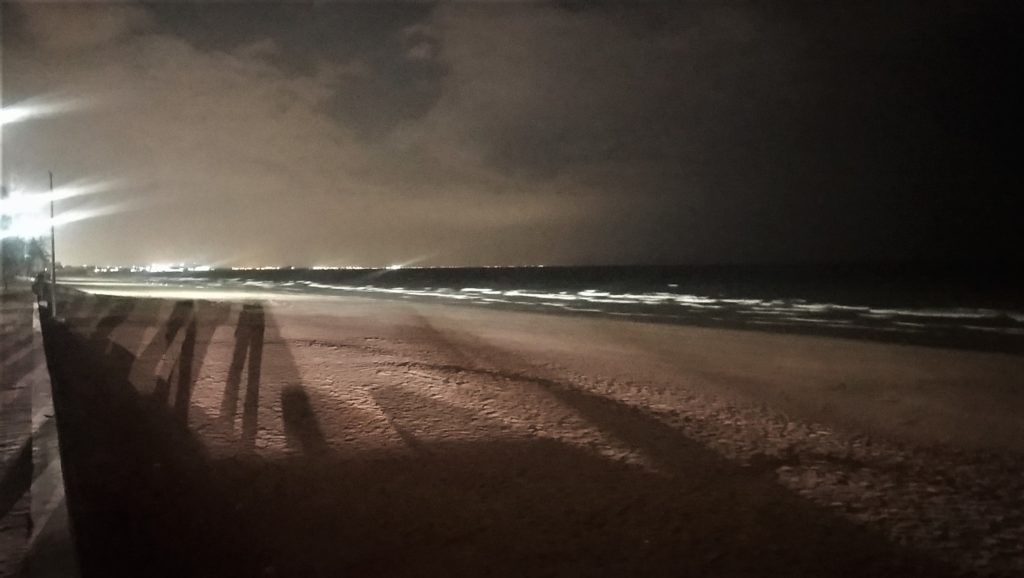 Nevertheless, I'm sure by the day the beach is spectacular. To my greater surprise though was Bader's leaving of the van running while we walked a few hundred meters away. If you did that in Ireland, the van would almost certainly be gone before you'd gotten even two minutes away.
Next up on our grand tour, despite being told it was closed on the day in question (and I'm pretty sure we circled it a few times), was the Opera House. While we couldn't go in, we were able to get out and walk around while, yes, the van was left running. I'm not sure why, and I'm sure the justice system has no small part to play in putting potential thieves' off, but I found the ability to leave a vehicle running and just walk off truly mesmerizing.
The Opera House is really quite something special; it's traditional Omani architecture all over, and represents one of the many facilities Omani's seemed particularly proud of, and in what would come to be almost a tradition at every tourist attraction, we were told of why the Sultan had decided to construct this venue in the first place. Yes, if there's one thing that seemed to persevere wherever you went, it was that Omani's definitely loved their Sultan.
We then went into literal Sultan overdrive. Muscat is largely connected by an almost-spinal motorway, also named after the Sultan, which we drove up and down any number of times – considering how many attractions are based off it (including, ultimately, our hotel at the time). From the Sultan's highway, we then drove next to the Sultan Qaboos Grand Mosque.
Thankfully here, despite the gentle pourings of rain, I came to realise that some things still look pretty magnificent, even in the pitch darkness of night.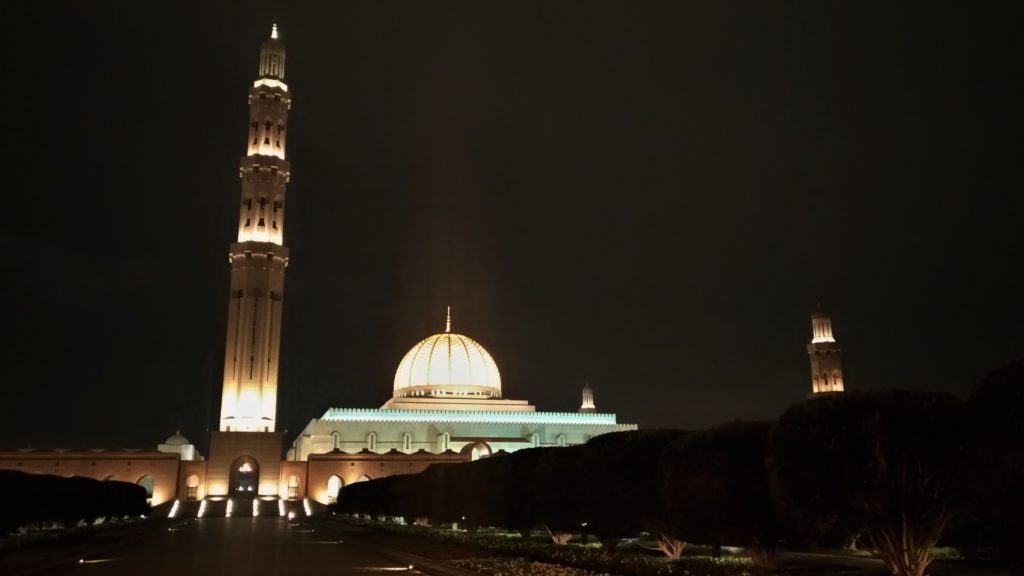 Back onto our favourite highway, and with the rain now closing in even worse, it was back down the highway to Mutrah Souk. I'll be totally honest; I have never yet had a good or enjoyable experience at a souk, and I've come to associate them with being sweaty, crowded conditions and haggling for stuff I don't actually really want or need. This one may have been no different, but the rain thankfully put paid to the visit; the souk was literally flooded, with water pouring out of it, under the road and out into the sea.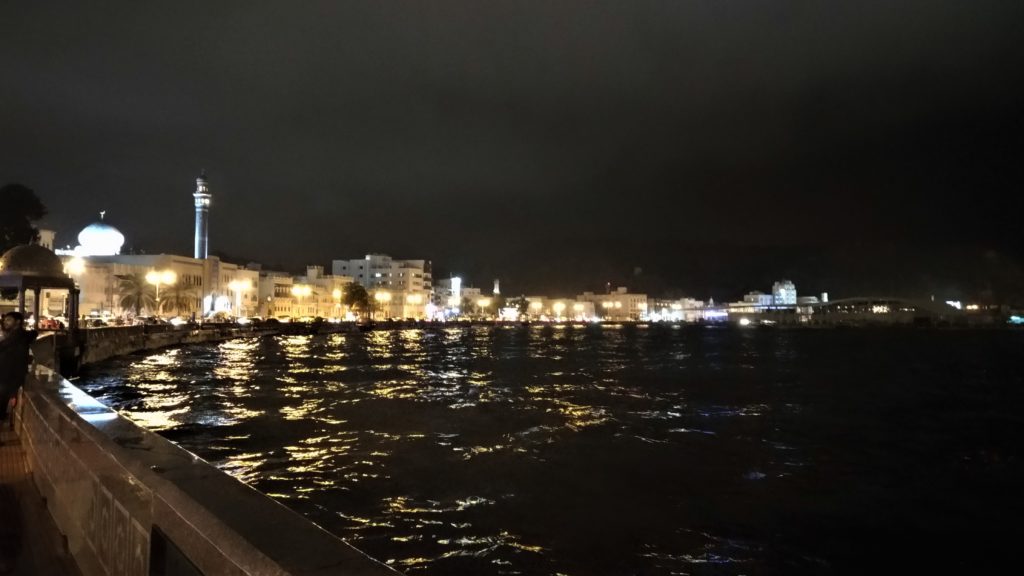 By now, we'd also oddly acquired Bader's nephew who had elected to join the tour. As I say, thankfully neither of us are of a nervous disposition and in their defense, they were very entertaining hosts.
Along the way, we made further stops (in no specific order) to the Mohammed Al Ameen mosque, what was allegedly the Sultan's Palace before finally one of the most entertaining parts of the evening; the 'local dinner' that was part of the tour (with the time by now closing in on midnight).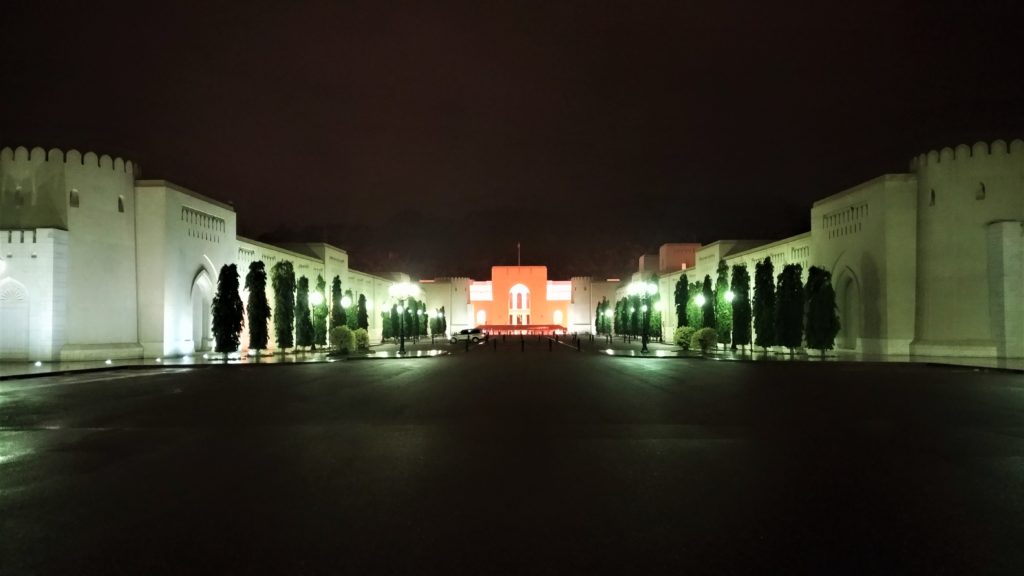 I don't know why I found this dinner to be so comical, and yet so entertaining; for starters, compared to pretty much every dinner I've had in a new country since I was 18, there was no alcohol of course. Secondly, when else would you be taken to dinner by two random Omani's you'd just met several hours earlier, and who'd driven you all over their city (with a guide/guest ratio of 1:1) in the lashings of a rain, for them a once-a-year-if-lucky event. And you know, the food was really good too.
By the end of the evening, despite my post-booking reservations about whether a night tour was worth it, I'd had a great time with our two intrepid guides, driving back and forth along the highway leaving what felt like no attraction unvisited. We both agreed a group tour would've been infinitely less fun and you know what – by the end of the night, that original lateness was totally forgotten as we arrived back to the hotel well after midnight; unusually sober!