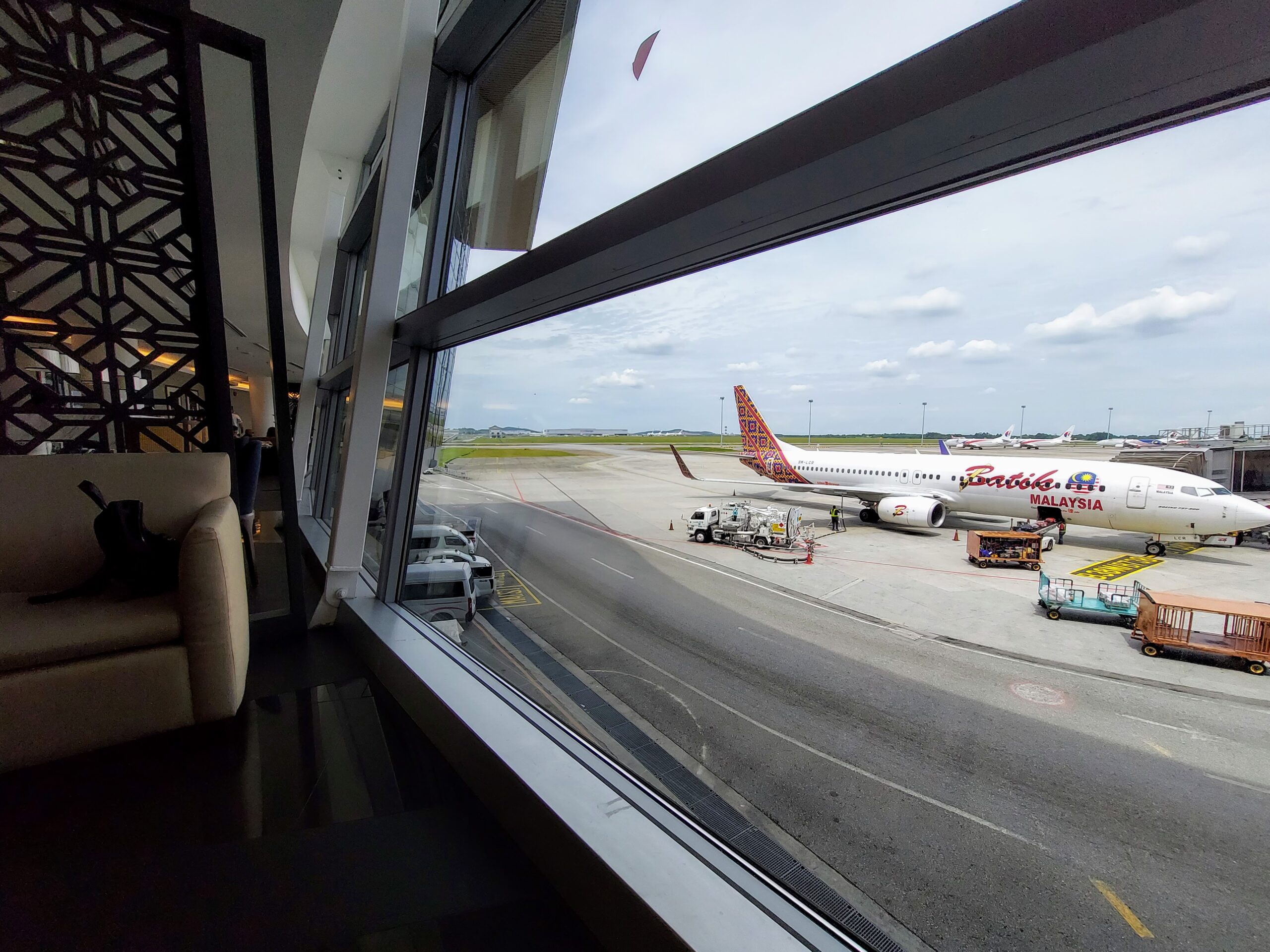 With 20 minutes – and literally not a minute more – to spare before our flight onwards up to Penang, I was curious to see how Malaysia Airlines' domestic Golden Lounge at its home in KLIA has been holding up after a few years of stifled travel.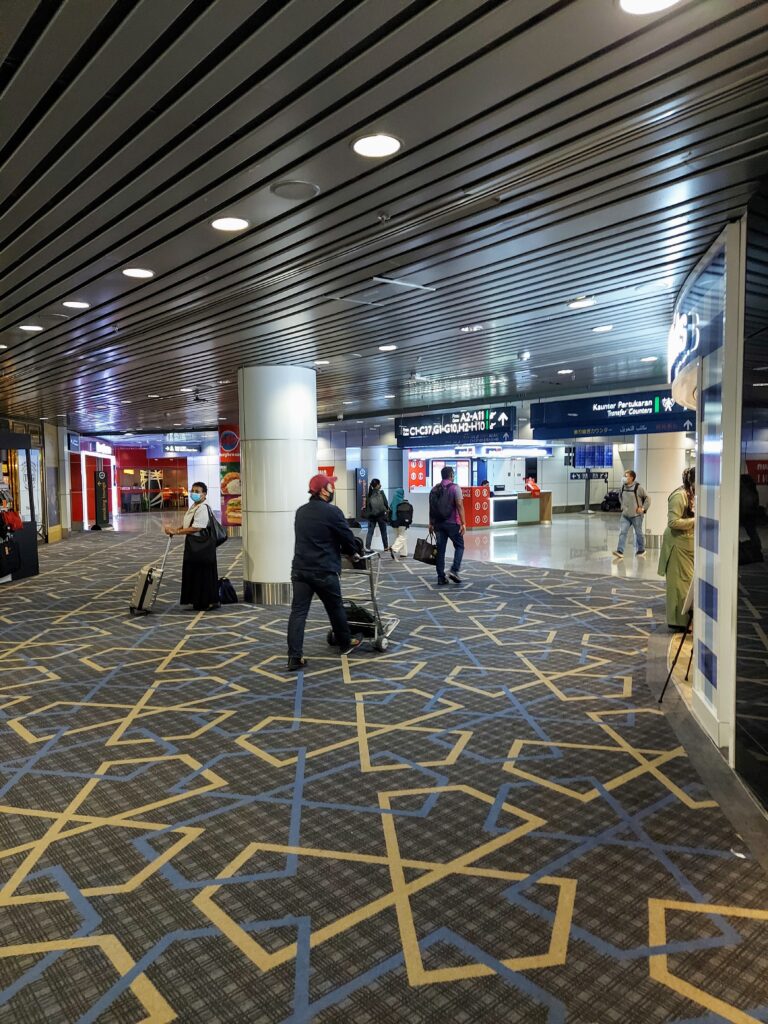 As always, KLIA segregates domestic and international passengers, with domestic passengers not having to pass immigration or comply with the 100ml liquids rule (yes, visitors to Malaysia – you can take a full bottle of water on domestic flights and through security), and passengers are routed downstairs underneath the international departure gates.
I find the domestic area (both departing and arriving passengers mix freely) a little cramped somehow due to the low ceiling. However, nothing much has changed in the intervening years and the layout of the terminal remains the same – a sort of duty free, opening to the main gate area either to the left or right.
The Malaysia Airlines Domestic Golden Lounge requires a sharp right turn after the 'sort of duty free', a walk of maybe 5 minutes, and a sharp left right before the first set of gates.
Admission was prompt and the reception well-attended. The lounge has something of an unusual layout – it follows floor-to-ceiling windows right to the end of the building, with ample seating and fantastic views out over the apron.
Then, about halfway down the seating area, the lounge also opens out to the left and follows a self-service buffet area into a wider seating area internally, which is also where you'll locate the conveniences (on my visit sufficiently clean and well-stocked, but nothing otherwise particularly special).
Alcohol is not served in the domestic lounge, and the beverage choice is somewhat limited to juices, coffee, and water – while the food, though more than acceptable, is predominantly Asian.
As I say, there really is ample seating of various types and – most attractively about the whole lounge – those great views out over the apron!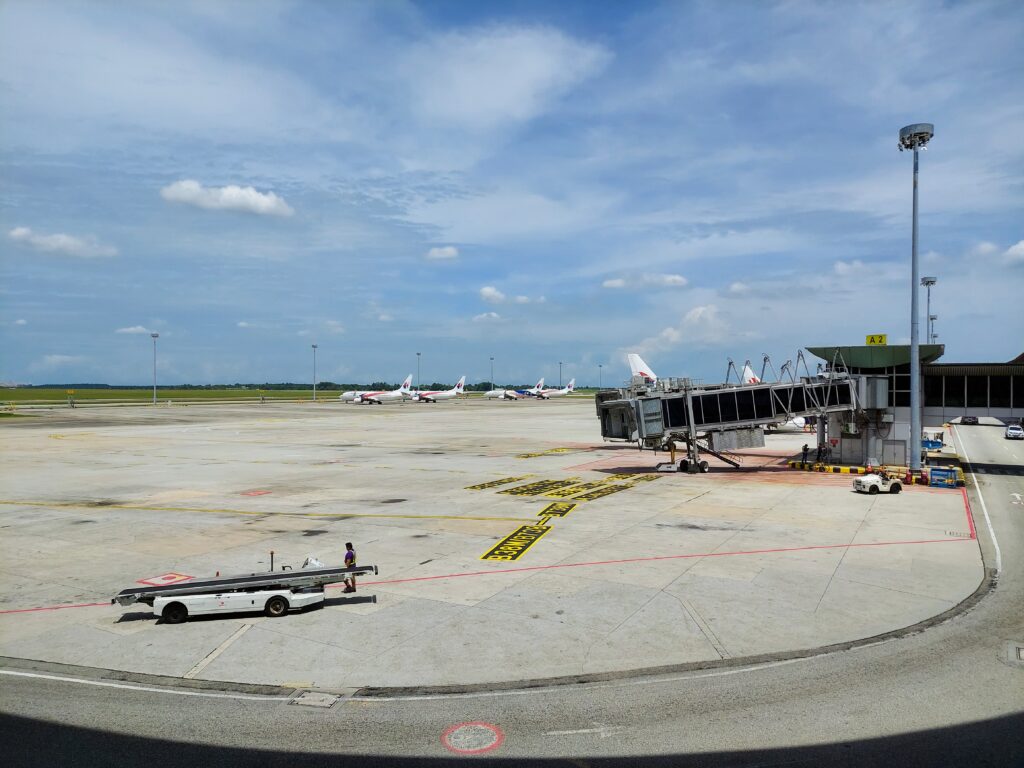 After 20 minutes, and keen to ensure that I had somewhere to put my hand luggage on-board, we set off for the gate – prematurely in the extreme as it would turn out.
Overall the Malaysia Airlines Domestic Golden Lounge is pleasant, and more than sufficient for short stays – but don't expect the variety, offerings and facilities of the larger international lounges (both of Malaysia Airlines themselves, and other airlines). I probably wouldn't be thrilled to be there for much longer than an hour, but it more than does the job while waiting for a short domestic flight!