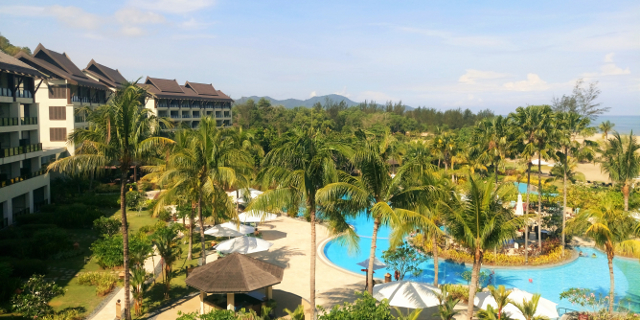 Serious Luxury: Rasa Ria Resort Review
After arriving in Kota Kinabalu (see previous post), we were through immigration and standing landside within about 5 minutes of landing – and cooling down inside our extremely plush car en-route to the Shangri-La's Rasa Ria Resort a few moments after that!
Quite how I ended up picking Rasa Ria Resort is another story – not unlike how we ended up getting Business Class both directions through MHupgrade. Initially, my plan was to just chill out in KK for a few days and unwind, but looking through the hotels available, it all seemed to be narrowly broken down into either places in the city itself (hardly much of a beach break), or lesser-known lodgings out along the coast. The trouble, in my experience with this, is that some of the 'lesser-known lodgings' in Malaysia especially, should often remain lesser-known – because their standards can vary from the mediocre to the pathetic. The only shining beach property among the thorns was the Shangri-La Rasa Ria (and with it of course, the familiar and uncomfortable Shangri-La price tag). But, as it's one of my only holidays likely this year, I forged ahead and decided to treat myself.
We arrived extremely late at night and were whisked straight from the car door to our room, with no stop necessary at check-in. Reaching the room (and it's worth mentioning that unlike on previous occasions, I didn't put too much thought or effort into what type of room I'd booked), all I could do was glance around in complete shock and hope that our lovely receptionist didn't notice; it was more like a small apartment – actually, I think it might be bigger than mine – with a balcony that even in the night looked large enough to launch a small aircraft from. Honestly, I've seen hotel rooms in very upmarket properties, but this was on a whole other level. I've never been in such a frantic rush to get through the credit card deposit and get the receptionist sent off; mind you, I can't think of the last time full stop I've checked-in, if ever, in my room.
One thing Shangri-La do extremely well in all properties, is consistency of service. Of course you pay for it, it's not a bargain, but I really believe everyone should witness this at least once in their lives; everyone seems to know something about you already and the whole 'experience' always just comes together in a manner very few other hotel chains can ever pull off.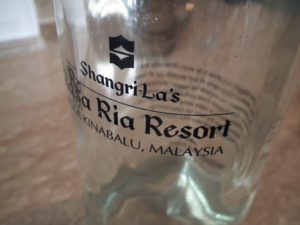 Looking around the room, we had a few glass bottles of drinking water (and I increasingly give kudos to any hotel chain that's given even some level of environmental consideration), and then an assortment of welcome letters, a fruit basket, a welcome in recognition of my Golden Circle status (that being honest, I had half-forgotten about but will definitely remember for future, without fail).
Topping it all off was the 'gift' item I've become a near-collector of in Shangri-La properties; the infamous 'bookmark'. The first time I received one, I read the back, had to admittedly look up the word 'lamasery' to see if it meant what it sounded like (it does) and decided that on that basis alone, it was worth keeping. I now have about 5.
The next morning though, even though it seemed things couldn't get better, it was a new chapter of wow…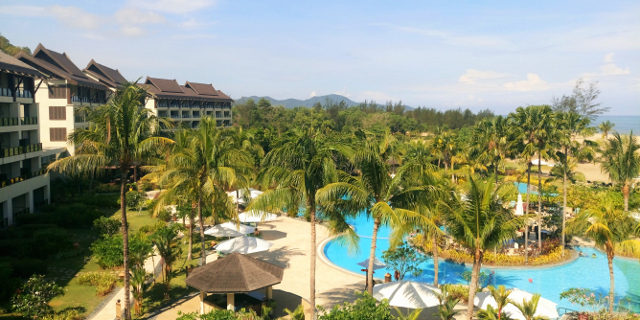 As I say, consistency of service is something that Shangri-La perform admirably. During the course of day one, we returned to the room to find that the key card had decided to give up the ghost; we couldn't get in no matter what we tried to do, and after a brief blame-game that perhaps it was my NFC-enabled phone (an unlikely proposition if ever there was one). Anyway, off I trudged to the phone by the elevators. I explained our predicament and waited patiently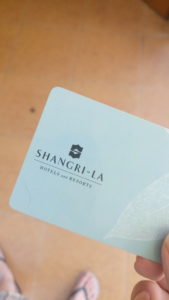 for someone to come up. Again, in another hotel, this would probably have become 'lost' in the messages, you'd call again and maybe sometime later someone would appear. In our case, someone nearly falling over themselves with apologies was up pronto and we nearly had to fight him not to send us down to relax at reception while he tried to sort it out (as he wanted us to).
It got sorted pretty quickly – and that could well have been the end of it, but no, later on that night we received an apology letter and a plate of chocolates. Even for a few days after we got back, I still found myself wondering how this all works; when we needed to be 'home', such as when the laundry arrived, or the plate of chocolates being delivered – we were actually, always home. But when we weren't supposed to, like cleaning, we never were. Shangri-La, please explain this magic to me.
As I say, something that everyone should experience at least once. The whole resort had a fantastic ability to create a 'moment' out of everything; a variety of drinks, ice-cold towels and other bits and pieces seemed to constantly turn up at your side down by the pool just as you'd need them, while the laundry itself was another spectacle; the few pieces turned up in a flat wicker basket that looked more like something a python might be sat inside, only for the small sack of pot-pourri on top; the items inside all lovingly wrapped as if they'd been just produced for royalty. And, even more complexing, still warm. Not for the first time, it set my logistics-driven mind nearly into overdrive.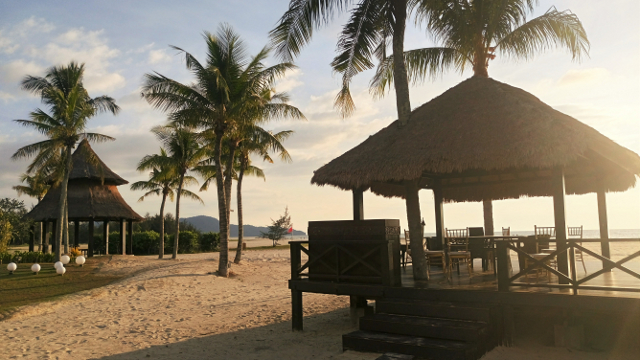 We were nearly heartbroken to leave at the end (and I'll touch on how I spent those few days in another post soon – but be assured, that like everything, it was an experience not to be forgotten), but for sure it has set a new benchmark for beach resorts for me, and speaking of experiences and moments, while I didn't get to enjoy the double-sized outdoor bathtub on our balcony, the Shangri-La Rasa Ria was also well worth it, just for those sunsets alone…