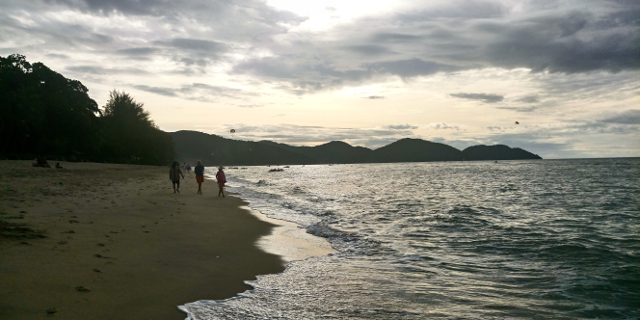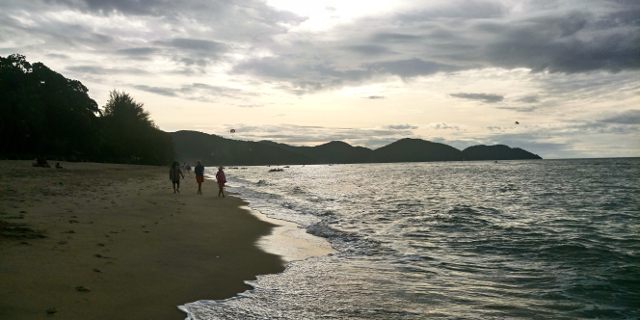 With family in tow and in spite of the absolutely sky-high costs of hotels in Penang for the New Year, I settled on one of my all-time favourite brands (and hotels), the Shangri-La Rasa Sayang Resort. We originally had another hotel, the Lone Pine, but poor reviews and some questions over its pool meant a late tactical change to the Shangri-La, which as a brand is my go-to for consistency.
This review is a bit all over the place, because the initial experience was a bit all over the place and not really befitting the cost attached to the stay. Though we booked transport from the airport with the hotel, a call the night before we arrived informed me the car had 'broken down', but there was some other option. The other option as it turned out, was a kind of outsourced operation. Don't get me wrong – it wasn't bad necessarily, but it wasn't Shangri-La either. The guy in the airport was basically hiding, then offered to take absolutely no bags whatsoever and just stormed off towards the vehicle outside. Outside, with my grandmother in a wheelchair, the car was parked way down the road and off we had to trot. Inside, the car was steaming hot from being parked turned off for so long and took ages during the journey to get cool. Moaning for the sake of moaning though it may sound, the whole thing was very un-Shangri-La.
The Rasa Sayang, despite its age, continues to be something approaching what I would consider a flagship hotel. It'll always be hard for any Shangri-La to outdo the amazing experience we had previously at Rasa Ria in Kota Kinabalu, but the Rasa Sayang must surely come close. The check-in was perfect, and our rooms were both beautifully clean and looking well (bar, but this is personal taste, a pretty hideous table plonked in both rooms with 2 chairs). Topping that all off, the view out across the resort and to the sea was spectacular and yet very quiet.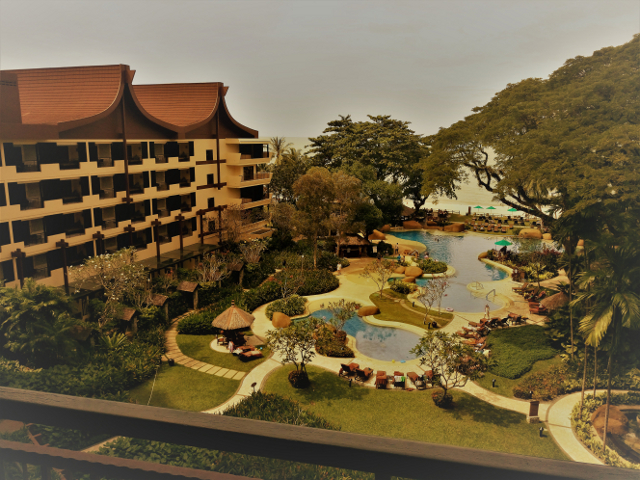 Needless to say, my unusual fetish for the green bottle Shangri-La toiletries and bookmarks (someday I'll end up buying and reading 'Lost Horizon' just to find out what happened to Conway) as always came to the fore and I went on a pinching spree as much as I possibly could over the few days trying to maximise my take-home haul of the little green bottles!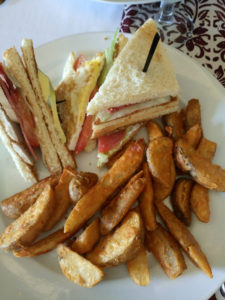 My acid test for a hotel stay and particularly a Shangri-La is always the room service club sandwich (not unlike the chicken sandwich on all Aer Lingus' flights) and it didn't fail to disappoint – heaps of food and a beautifully made-up table arrived up and it all tasted fantastic. Incidentally, we had the burgers another night and they, likewise, were absolutely delicious and piled with enough food to keep you sufficient for hours afterwards.
However, what I did notice during my few outings down to the beach bar was that the service – again – was positively 'average' and wait times of 5 minutes or so for service seemed not to be uncommon, even with my hand extended in the air like a bold student at school. It eventually all became a bit much and I let out a bit of a rant on Twitter. This for me, is the key, because most hotels will do little to nothing; maybe a reply on Twitter to make it look like they're doing something.
Of course, I always expect better of Shangri-La (as I mentioned earlier, 'consistency' has traditionally been the strong point) and I will give them absolute credit, they shone through. On New Years' Day, I was approached by one of their staff, Chloe, who explained they'd been trying to identify me by my Twitter picture (oops, might be time to change that one) and wanted to ask for further feedback and if they could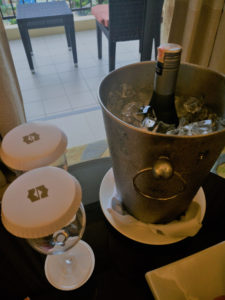 do anything at this stage to improve things. In addition, she had a bottle of wine sent up that night to each of our rooms and the send-off the next day was personal to the point that my grandmother wondered what kind of royalty status we'd qualified for.
Though it's super easy to complain, they did an amazing job turning this situation around and doing something I've found very few brands are able to do; listen and act while you're still there.
The rest of the stay was typical Shangri-La; amazing views, total luxury, great food and I won't lie, the odd trip down to the various bars around the property!
Overall, in spite of the wild crowds at breakfast and the overall busy-ness of the place given the time of year, the Shangri-La continues to remain top of my list for consistent, relaxing upscale stays. I just need to figure out how many bookmarks I need to collect before I have the full collection…!