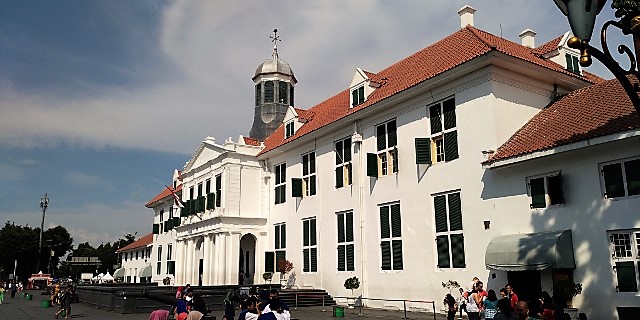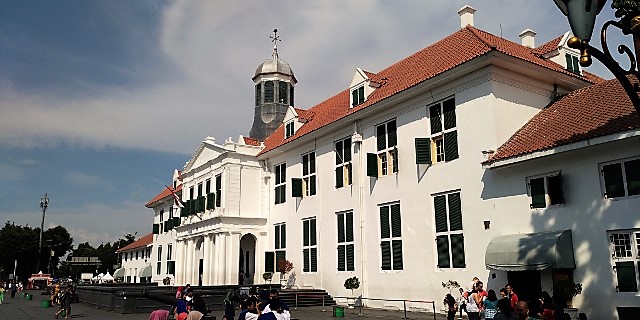 Jakarta was somewhere I wanted to visit for a few years now, but had been expressly warned by an old friend never to come and visit over a weekend; noting that it would be a most depressing, traffic-ridden experience.
True – stories of hours spent in cars (nights, even) abound and the thought of spending a whole night just getting from the airport into town definitely put me off. But, as luck would have it, an opportunity finally came up to make my way over there for – yep, you guessed it – a weekend.
First impressions are oh-so-important and my impression of Jakarta's main airport was very average. The terminal itself – which I understand will soon be surplus to requirements – is almost more like a collection of little huts that represent gates, which then lead into a never-ending corridor towards some of the most unfriendly immigration agents I've come across in a long time. Not because they're being deliberately difficult, but rather just failing to understand despite asking you a question. The dialogue went like this;
Officer; "So here for business"
Me; "No, leisure"
Officer; "Business"
"leisure"
Officer; "Bus-iness"
Me; "No. I said leis-ure"
Officer; Stamps passport, slams it closed and more or less throws it over the counter at me.
Getting a taxi into town turned out also to be way more effort than it felt like it should be. We took a ticket, stood at the blue taxi queue, got queue jumped by a few Australian backpackers who sort of jumped to the front with their backpacks and cans of beer that they somehow already had. Anyway, it took absolutely ages to get a taxi – but guess what – the drive was…I'm almost scared to say it…not really too bad.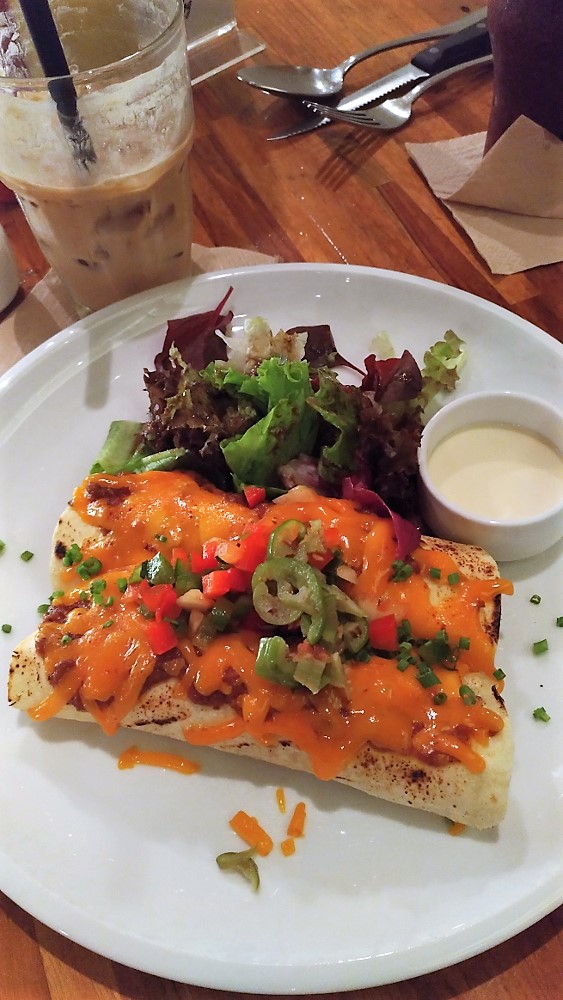 Sure, we drove blisteringly fast at every available opportunity but I was deposited in town within about 40 minutes or so. One point for Jakarta and zero points for the traffic naysayers.
Whether it was the area I was staying in or whatever, but I'll tell you something – it was another point for Jakarta next morning when I was able to find, completely unaided and in near record-timing, a pretty amazing breakfast joint. It was unapologetically hipster and tucked into a corridor beside a shopping centre car park, but it was delicious. I had ice latte's more or less on tap, topped off by an amazing breakfast burrito of some sort. If the way to a man's heart is through their stomach, then I was in love.
Unfortunately, it all began to tail off from there and the points began to quickly even out.
A trip to the old town necessitated a Grab drive down there. The driver – despite being supposedly 2 minutes away – took about 20 minutes to arrive. But, that was nothing as it would turn out. The drive – which was not far at all – down to the old town took a solid hour. Yes, one full hour to get between somewhere in a city, to somewhere a few kilometers away in the same city. Possibly the most surreal bit; the driver didn't seem to be under any impression bit that this was unusual or slightly ridiculous. Instead, he was happy out for the most part. I, on the other hand, with a bladder the size of a small matchbox, couldn't get out and find some relief quick enough.
So, how about Jakarta's old town? It was pretty spectacular to be honest – the only biggest downside were the swarms (and I do mean absolute swarms) of people wandering around in groups and the sheer numbers of schoolchildren looking to take pictures/do interviews with me, which was cute and fun for about 20 minutes, but rapidly started to get old.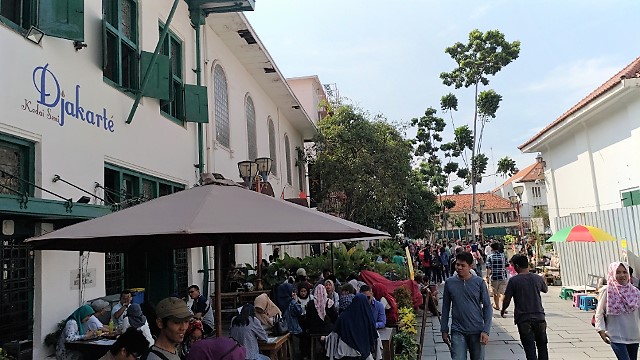 Otherwise, it was very pleasant; beautifully kept buildings, a taste of the city's history and of course plenty of overpriced café's in which to sit and nurse a coffee (or beer, if you're me), a puppet theatre to wander around – although the continuous efforts by the staff to guide us through got a touch irritating pretty swiftly too…though that may say more about me than anything else.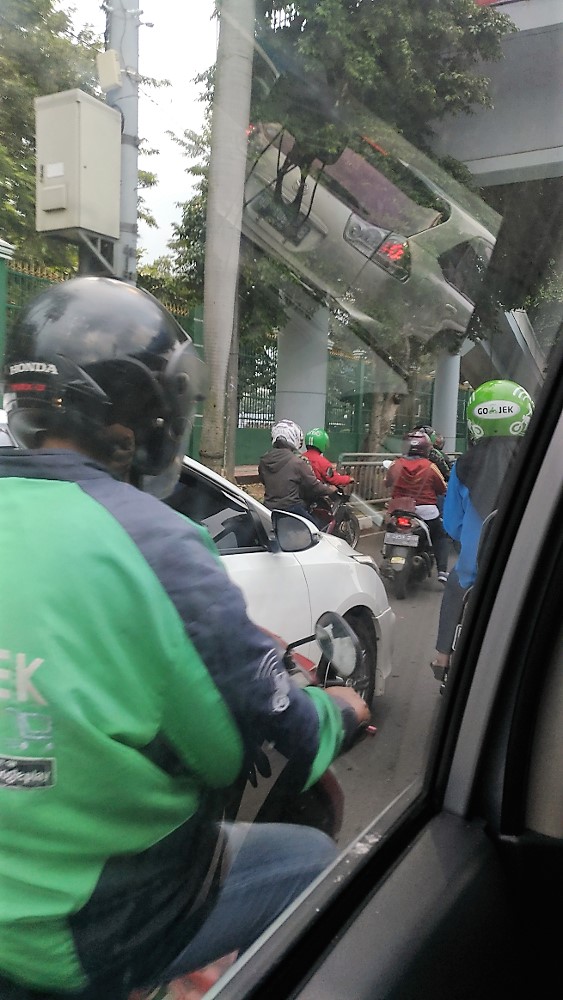 So with the evening setting in, it was time to head back. Well, friends, I won't lie to you; any goodwill points the city had built up with me were eradicated completely and then some in the ride back to the hotel. That same journey I moaned about earlier that took around an hour – guess how much on the way home?
Two and a half freaking hours. By the time we got back it wasn't fatigue I had from sightseeing or doing tourist activities; it was purely from just having my ass in a car seat for so long. I have literally never seen such a prolonged and continuous city traffic jam in my life on what was otherwise a perfectly normal weekend.
So it was with something of a heavy heart – given my flight leaving around 4 or 5pm on Sunday – that my final day in Jakarta was mostly occupied with packing and leaving the city as soon as possible after midday in case the traffic out there took another 2 or 3 hours. And you know what; it was a good job I did too, as it did take well over an hour and a half this time. But, Jakarta had one last nasty surprise in store for me…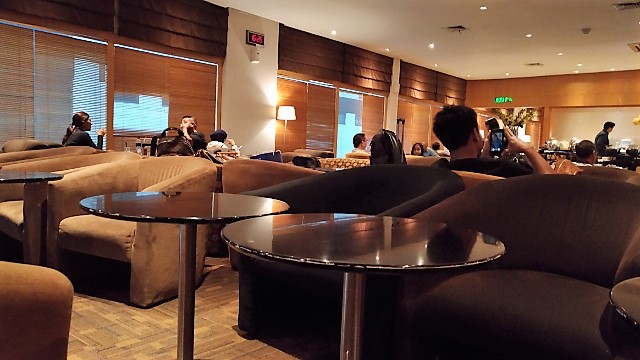 Ladies and Gentlemen, Boys and Girls – let me introduce to you the unquestionable worlds' worst airport lounge. As a Oneworld Emerald, this was the lounge MH kindly sent me to. For transparency, I don't blame Malaysia Airlines in the slightest as I'm sure they are still paying a pretty penny but words like hideous and ghastly don't even begin to do justice to this lounge, which was also maintained at water boiling temperatures; I actually sweated in the lounge and eventually left it was just so hot.
And there we have it, in the end a beautiful city but a city that – for practical reasons – I doubt I will ever go and see again…