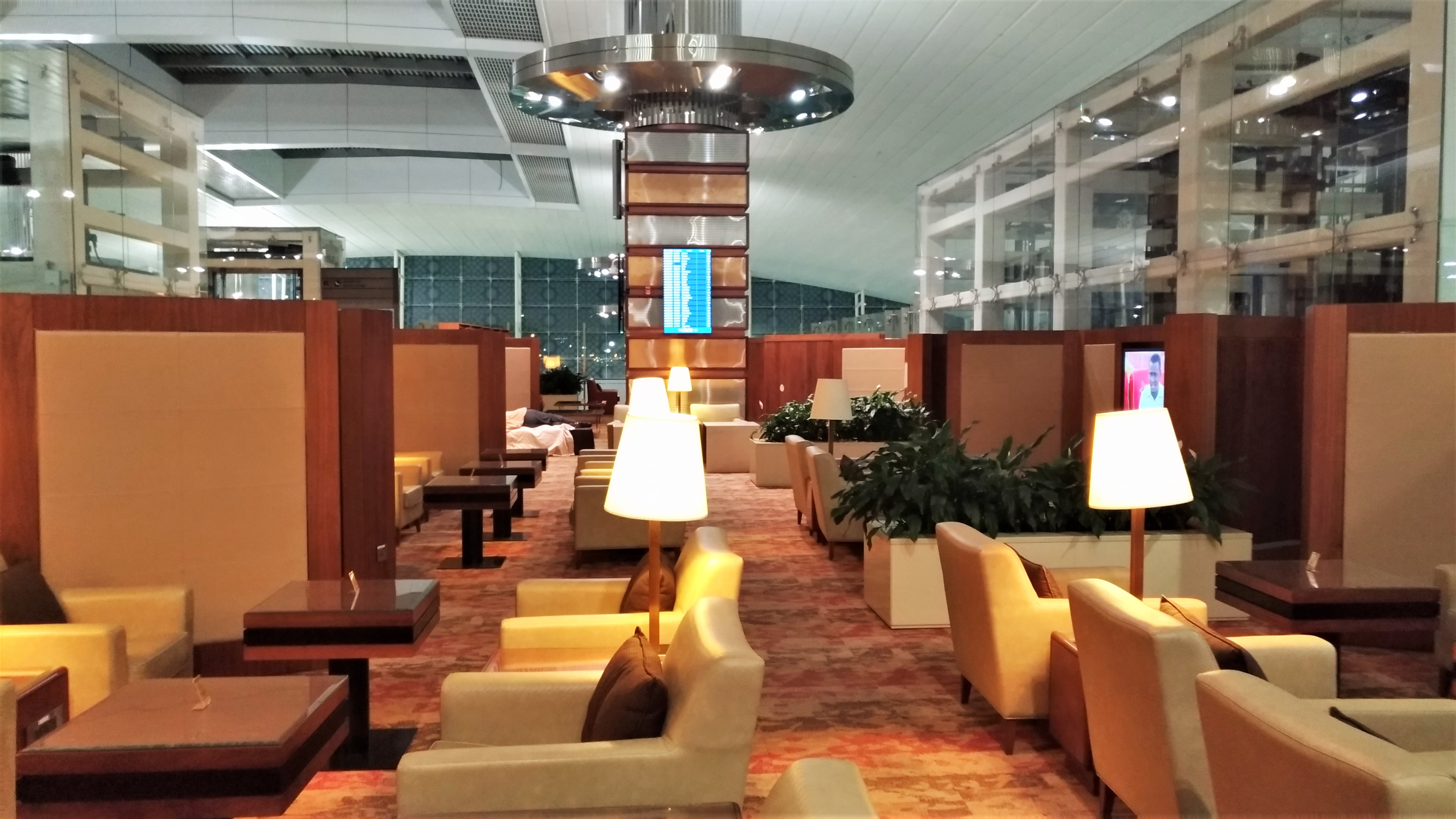 On my travel over and back to Brazil, I wound up with the perfect scenario for someone as curious as I am regarding the lounge situation in Dubai; one transit spent in Emirates' home business class lounge in their home at Dubai International Airport, with the return transit spent in their home first class lounge.
I'm not what you would describe as a great lounge aficionado – my definition of a generally good lounge being one with a shower, somewhere comfortable to sit, maybe a good view, and all the food and drink (read: alcohol) I can down during the time I need to be there. For example, while I don't find it to be truly spectacular by any means, I find the British Airways First Lounge perfectly acceptable as a 'lounge', while plenty of others online find it to be deplorable.
I will admit, extra points (in my mind and not really existing, since I'm not actually assigning each lounge any real points) go to any lounge with some kind of 'feature' – Aer Lingus' wall fountain for example. While conversely, I don't appreciate lounges that make me feel like I'm still somewhere right in the middle of the airport, albeit a slightly nicer area of it.
Emirates has a reputation for over-the-top décor and enough bling to nearly make your eyes catch fire. So I was dying to see what a trip to an Emirates lounge would be like. Business class first; and one needs to head all the way to the top of the A concourse, up several sets of escalators. Frankly, this lounge is ridiculous – in a clever way. It runs (as does the first class lounge) the length of the terminal and is effectively a replica of the 'ground' floor airport terminal, only a bit more exclusive.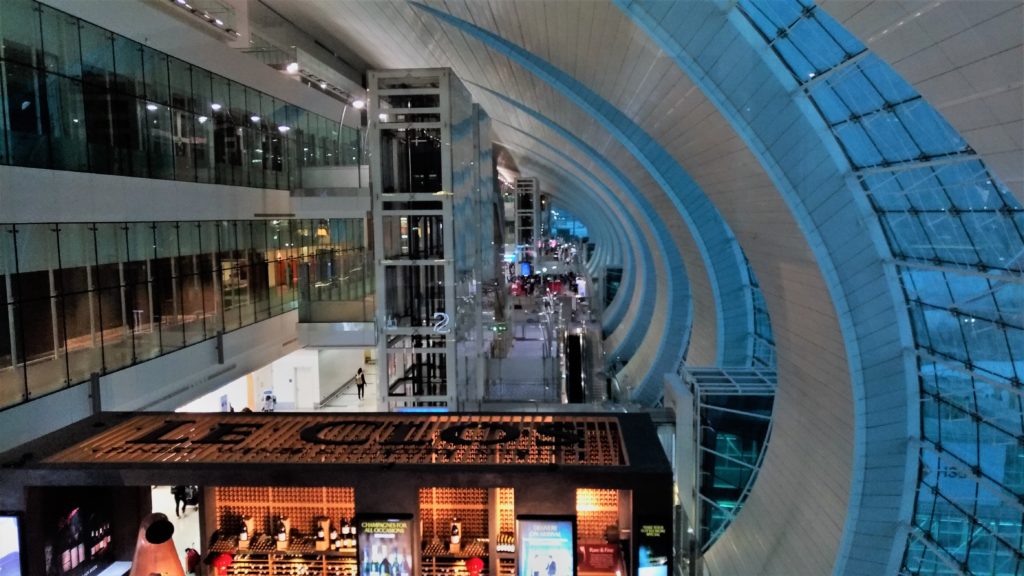 There's enough food and drink up there to last you through a war, although it's self-service and there are plenty of showers and bathroom facilities. Down at the very far reaches of the floors, I also found little sleeping cabanas you can help yourself to if you have a long layover (they were all taken though unfortunately). Cleverly, the lounge also offers direct boarding so you need not return to mix with the masses when boarding time comes knocking; simply approach your gate from the lounge, take an elevator down a floor or two and board.
On the downside, while I loved this business lounge, its size almost makes it quite un-exclusive. In other words, it's so huge that it felt just like being more in a quiet or private air terminal than in an exclusive business class lounge of one of the most 'fancy' airlines out there. And since parts of the floor (say, the dining area or the bar) are naturally at far ends of a long internal corridor, the internal corridor itself – in which there are plenty of chairs – feels like an after-thought with nobody really wanting to actually sit there. So, it comes across quite impersonal as the corridors of empty chairs can stretch from one actual 'area' to another.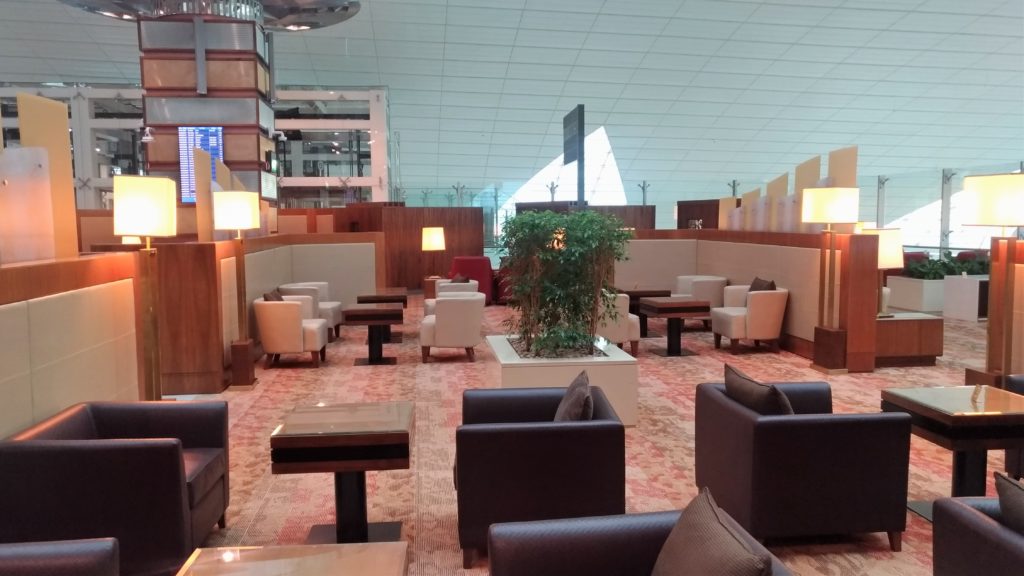 Nevertheless, I was more than happy to spend my time in there and board directly from the lounge – keen to see what additional pleasures the first class lounge would have for me on my return.
The first class lounge in Concourse A is one floor lower down, below the business class lounge. I'm not sure what I was expecting exactly, but it was almost a mirror image in terms of layout of the business class lounge upstairs, only with a bit of added oomph. Slightly more private check-in entrances, and to my bigger surprise, a few high-end stores actually lining the inside of the lounge. Somehow, I hadn't expected to see in-lounge retail in a first class lounge.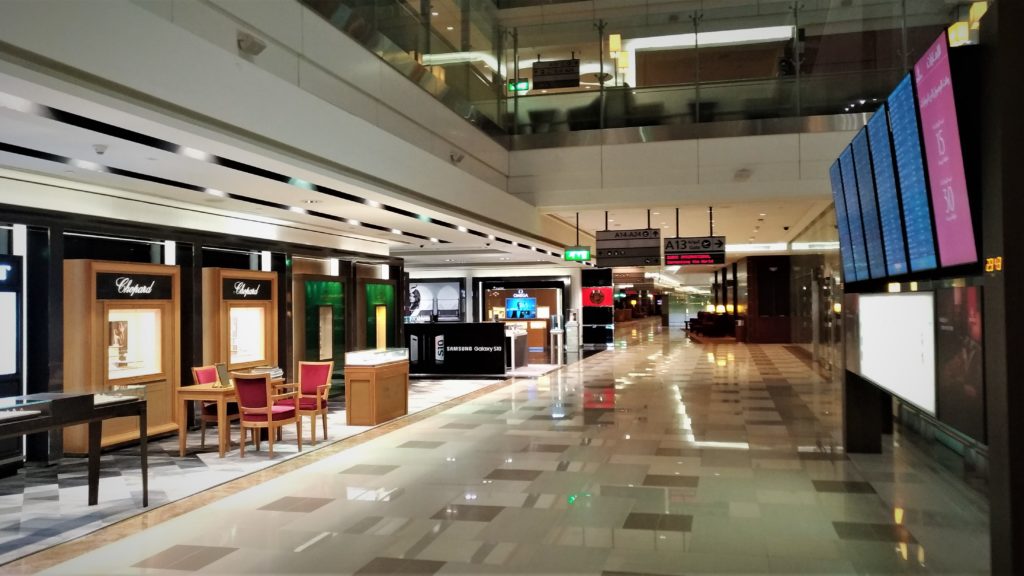 I'm going to also surprise by saying that, because the business class lounge was directly above, I found the first class lounge oddly a little uninspired. The ceilings therefore are uniformly quite low (to accommodate the other lounge above), and perhaps thanks to how wonderfully eye-popping the business class lounge already is, I feel like the furniture, décor and upholstery could only be made a very small amount more plush. It looked like the business class lounge, just a teeny bit nicer and emptier. Even right down to the long corridors full of empty chairs.
One thing however that I did fully enjoy was the dining improvements; whereas the business class lounge necessitated that you go help yourself to whatever you wanted (which was perfectly adequate), the first class lounge came with full table service and a pretty extensive menu, much like you might expect to find in a decent restaurant. As I recall, I had the burrata to start my meal, followed by the Angus tenderloin – all washed down with copious glasses of wine poured by our server who had an incredibly generous heavy hand when it came to refills.
Similarly, the showers and bathrooms were very similar in terms of layout, décor and design to the business class lounge immediately upstairs. Meanwhile, there was also a sleeping room along the way, which was surprisingly busy with people napping or silently playing on their phones. I did briefly attempt to get a picture for this blog, but then decided against the optics of standing at the front of the room, phone in hand, taking a picture of a bunch of people who may or may not be sleeping.
Once again, boarding could be done right at the gate although unfortunately in this case my flight to KL was out of Concourse C – but every cloud has a silver lining as we know, so I used that as my opportunity to check out the first class lounge at Concourse C instead.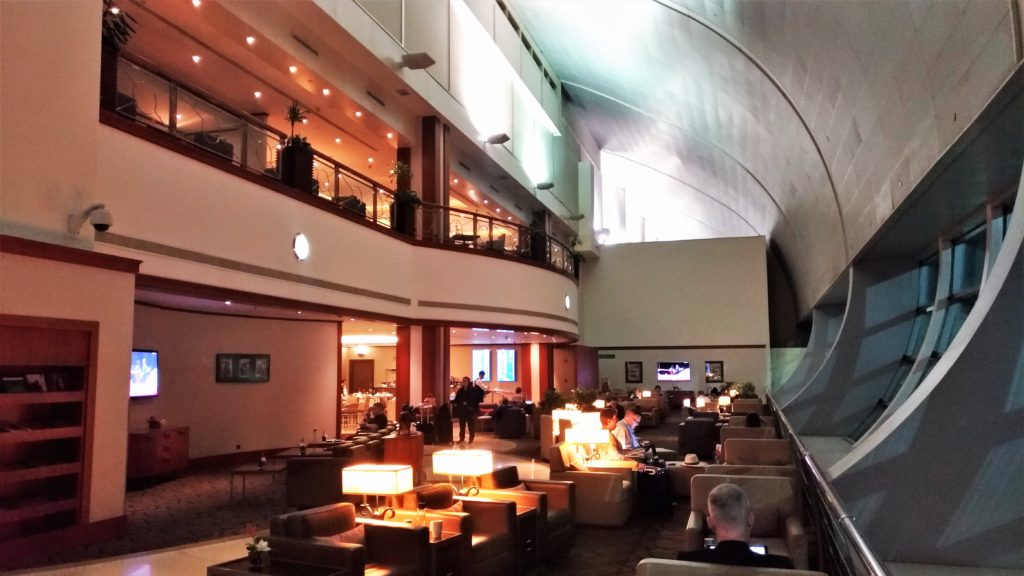 I realise that Concourse C is probably the oldest concourse and the least wonderful for sure, but I really felt that the experience in this lounge was a bit of a let-down. It was reasonably small, the cleaner kept getting in my way to clean things around the lounge (presumably it was partly shutting down for the night), and as you can see from the picture, it was strangely dark/bright in different areas and clearly elbowed into a corner of the building. It definitely had nothing even on the Concourse A first class lounge.
So closing thoughts on the Emirates lounge situation in Dubai? Well – neither had any waterfalls or amazing features, and I strangely found the first class lounge to be much of a muchness with the business class lounge, which – considering the price difference between the two cabins – I would've expected better. The business class lounge is really something quite amazing; running the whole length of the terminal, with direct boarding, all you could ever want to eat and drink, beautiful shower and bathroom facilities and a non-stop variety of seating options and locations. The truth is, with such a good business class lounge, the first class lounge felt barely any better – with the big exception being the table-service dining. I would definitely struggle to evaluate first lounge entry as a major perk over and above the business class lounge if I was choosing a cabin. But as I say, you won't go wrong, or hungry, or sober, or unwashed in either!