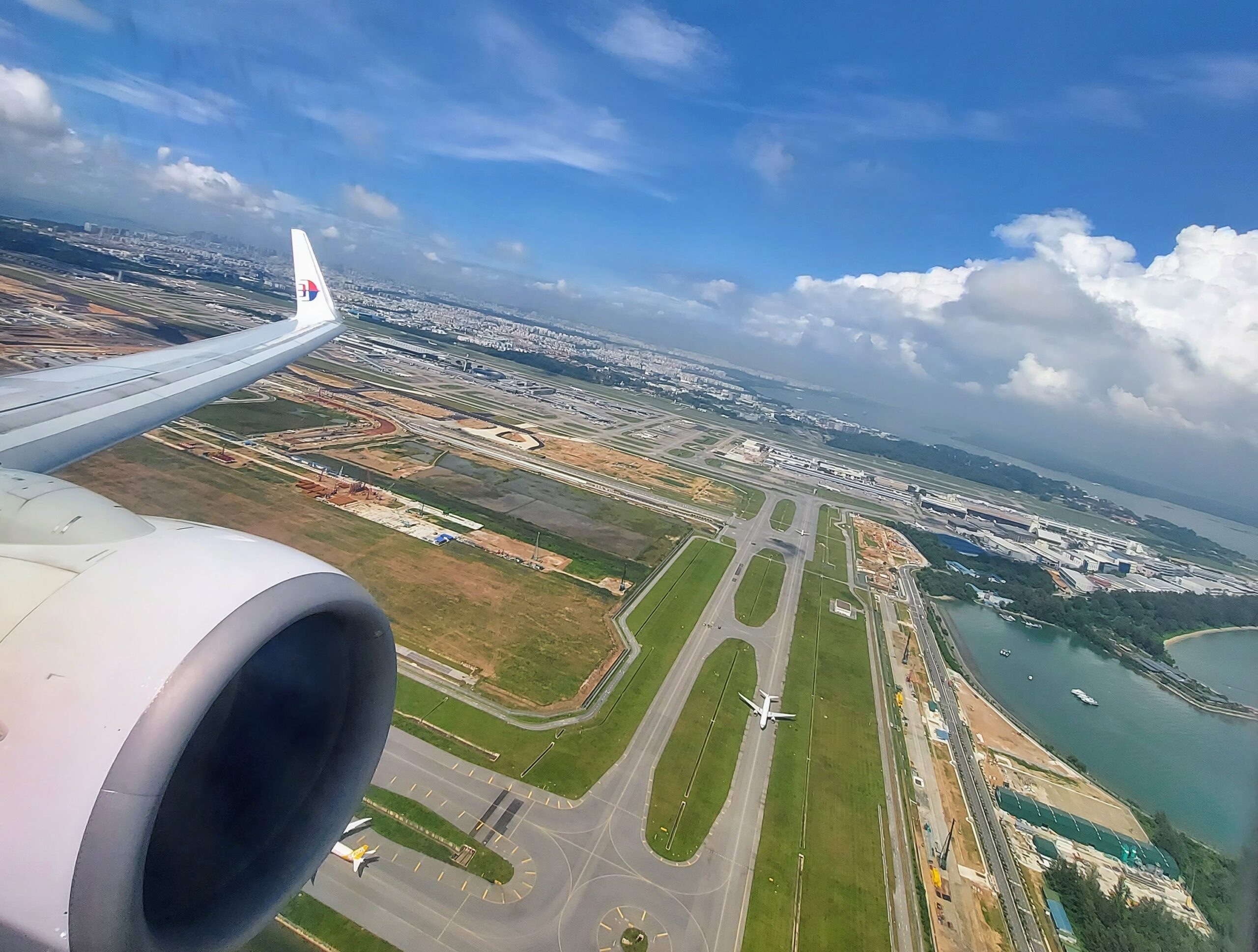 After an exhausting and less-than-amazing flight from London to Singapore, we had a separately-booked flight with Malaysia Airlines in economy, on up to Kuala Lumpur a few hours later.
My initial best efforts to avoid having to clear immigration in Singapore Changi to go and check-in again (especially with just hand luggage) were rumbled when the Malaysia Airlines online check-in site insisted I go to a desk to collect my boarding pass.
One terminal change and an encounter with probably one of the most apathetic, disinterested check-in agents later, and boarding passes were issued along with instructions to visit the Marhaba T2 lounge.
The Malaysia Airlines check-in area in Singapore Changi by the way, was a minefield, with no apparent order or enforcement of priority – though I stood in front of the priority desk, the next family from economy won by simply shuffling to the empty desk before us, with the agent not at all troubled by the apparent desk race taking place.
I expected the Marhaba lounge to be a shoddy offering; and perhaps it was because I was suitably jetlagged, or perhaps because it was absolutely empty, but I was actually left pretty impressed by this lounge. About half of the showers on offer (towels are self-service from a shelf outside the cubicles) seemed to not have hot water on offer that day – which was signposted inside the cubicles, very strange – but those that did, including my shower, was more than adequate for a freshening up.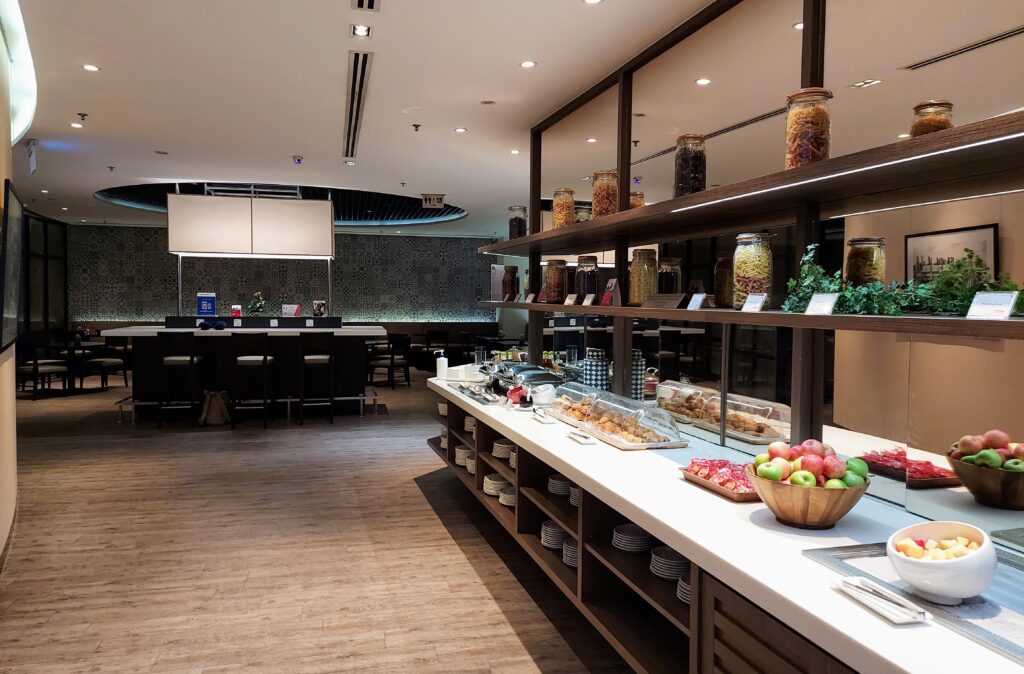 Similarly, the food and drink selection probably wouldn't win any awards, but was more than sufficient for a short peaceful stay away from the main airport concourse ahead of a very short regional flight. And finally, as I say, the lounge was practically empty, which made for an unusually peaceful experience.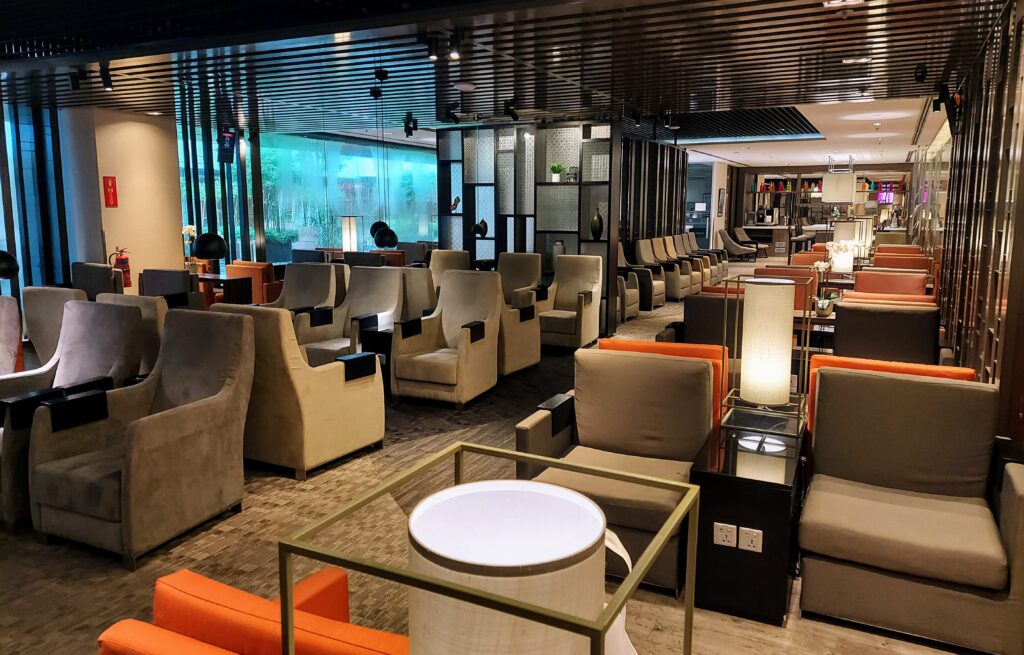 Onwards to our gate; security in Changi tends to be done close to the gate area and this flight was no different, with security being handled for two gates right beforehand. The result of both this, and the boarding passes being scanned upon admission to the gate area, is that boarding priority is almost entirely unenforced and the first call for priority boarding saw immediate crowds swamp the boarding gate.
Stepping onto our ship this morning, I was surprised to see we were being honoured with one of Malaysia Airlines' freshly refurbished 737's.
Settling into my seat in the first row of economy, I took a few moments to gather my thoughts – the cabin looks very fresh and new, but one simply cannot ignore just how barren and minimalist it all looks. Gone entirely are the previous in-flight entertainment monitors, the seats have that new 'hardness' to them and are quite uncomfortable (I dread to imagine a flight to Nepal or similar distance in them), and for such a fresh cabin rejuvenation, not even regular differentiating features are present, like winged headrests. It's all just…very plain.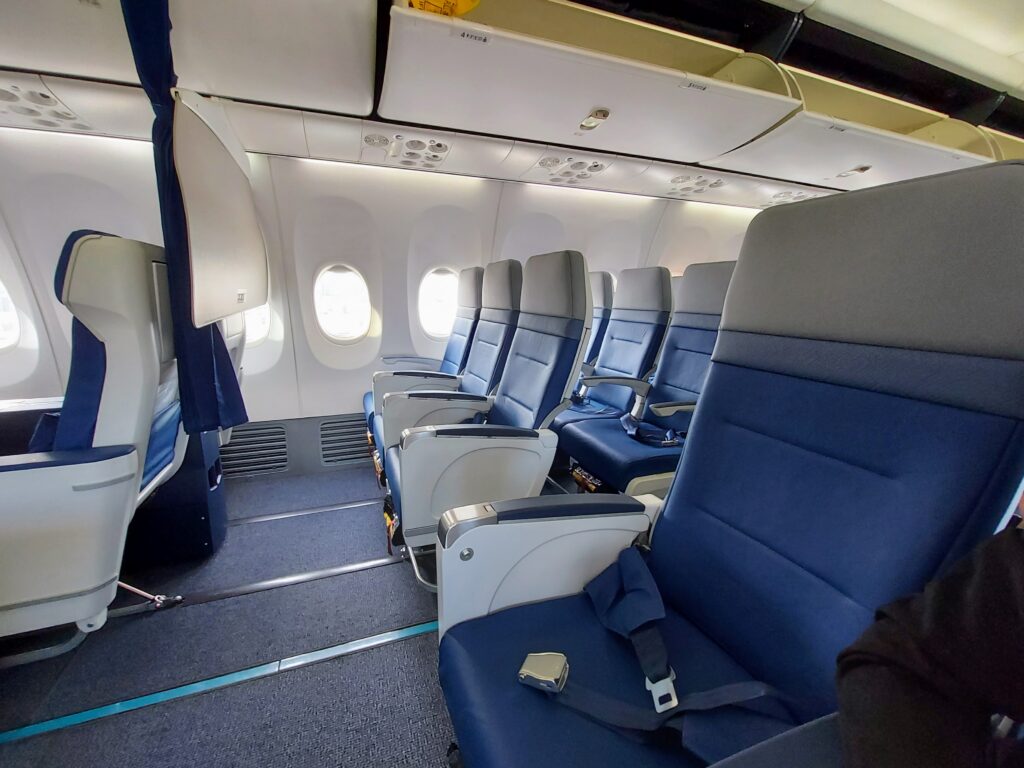 When I say very plain, of course this must be taken into account that it is of very similar style and appearance to most European short-haul economy cabins on national carriers. The problem is, they're not operating amongst European short-haul carriers as competitors – they're operating right alongside neighbours with best-in-class short-haul products such as Singapore Airlines and Thai, who offer all the frills. And ultra low-cost competitors like AirAsia, who offer lower prices.
It feels a bit like Malaysia Airlines have somehow come up with a way to save money on in-flight entertainment and seat complexity (and associated weight), but in the process bring the product – but not the price – generally even closer to AirAsia, and farther away from other neighbouring legacy carriers.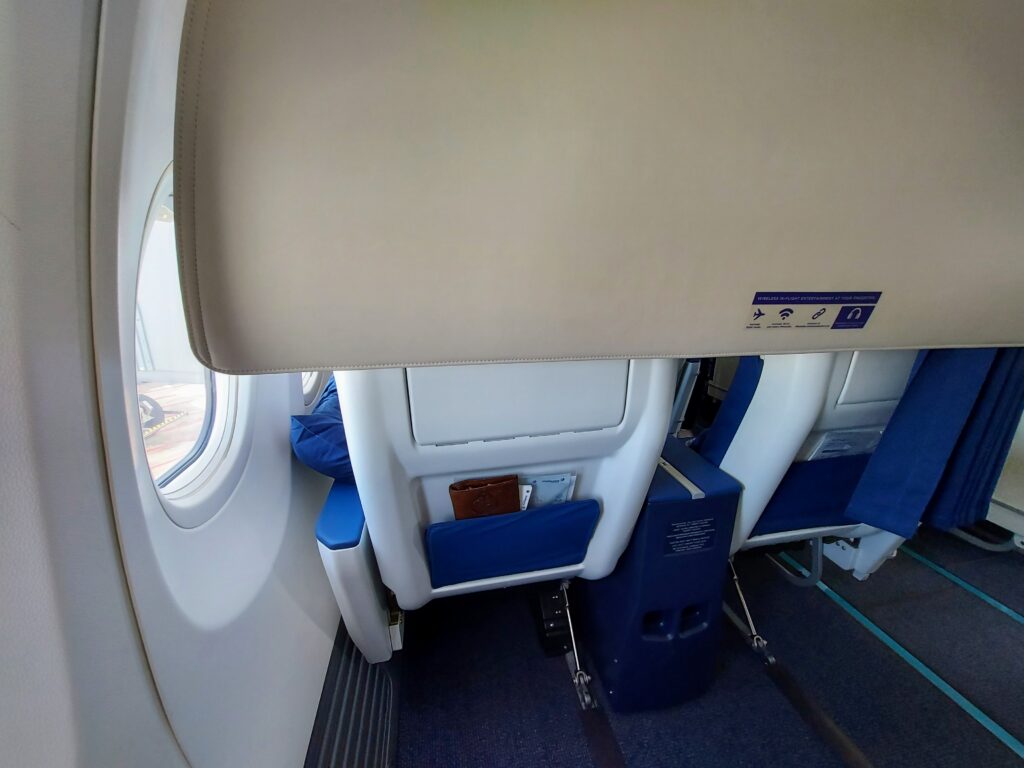 Business class similarly seems to have absolutely no point to it anymore – seat pitch has become noticeably tighter, the seats there also look very plain, and as we know, no alcohol is served and the food is barely much of an enhancement from economy based on my last experience.
Once on our way – after a long taxi to our take-off runway, the flight as always was uneventful with the standard Malaysia Airlines in-flight economy service; a pack of peanuts and a sachet of orange juice – entirely unremarkable, but adequate for a flight of about 50 minutes.
Before long, we were on final approach for KLIA, finding a very empty arrivals hall much to my delight shortly thereafter.
Overall, a fine and pleasant flight with Malaysia Airlines as usual, but nothing that makes it stand out from its competition – including its low-cost neighbour in Kuala Lumpur, particularly unfortunate when on a recently 'upgraded' aircraft with a new cabin.