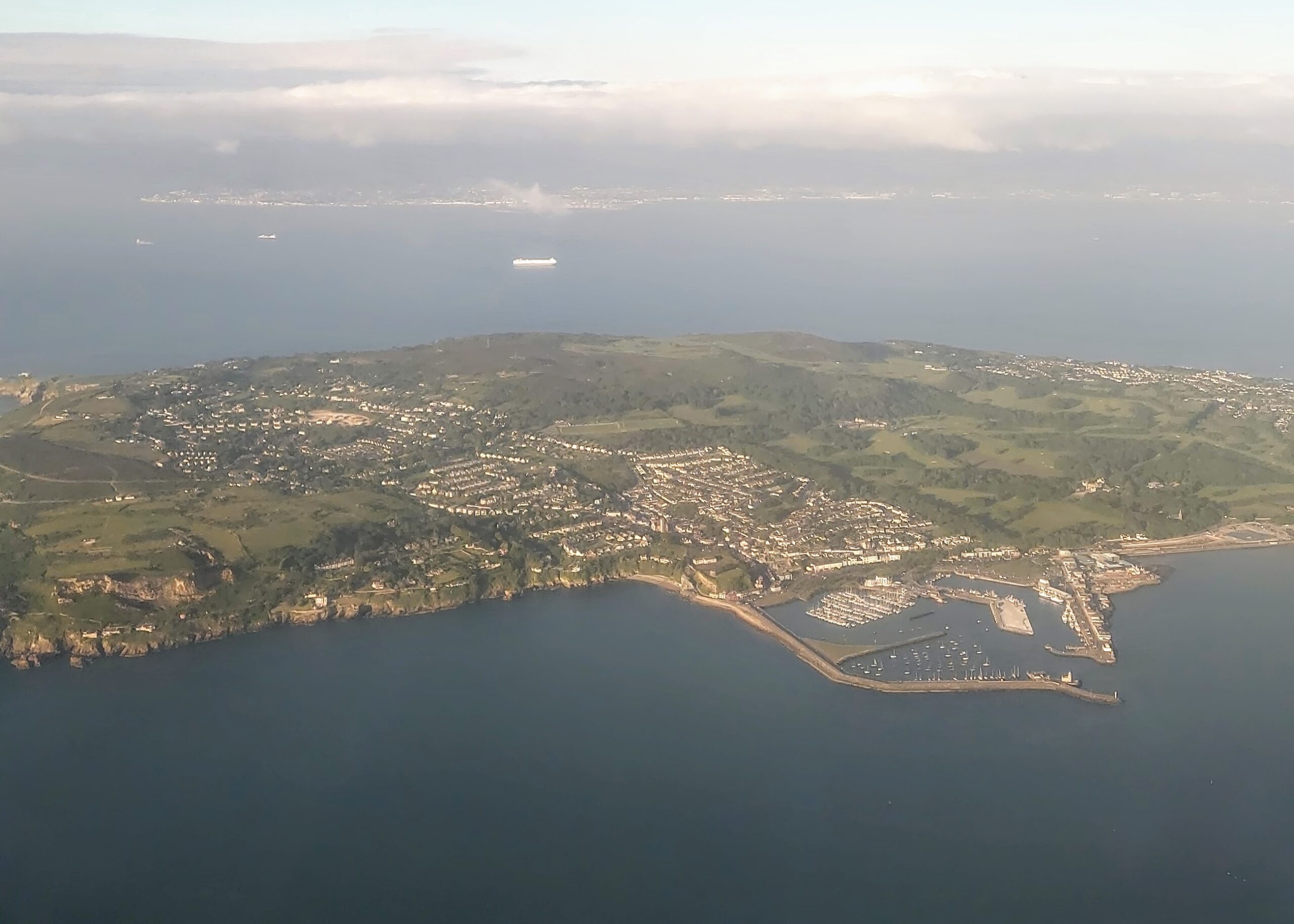 After a brief transit through the heaving Doha Airport, it was time – thankfully – to get out of the awful Silver Lounge South, and head for the final leg of the journey back to Dublin, on Qatar Airways Business Class, QR19 to Dublin. 
Our flight was on one of Qatar's older 787's, the original 787-8, which seems to have been crafted at a time when open cabins and airiness was all the rage; at least for Qatar Airways.
Despite being in this very cabin a few years earlier, my first impressions were just how compact the diminutive 787 cabin appears at first glance and how, despite the lack of privacy from these seats, much space is allocated to each passenger. It's no 787-9, with its snazzy new business cabin, but it still looks the part and, once seated, doesn't feel that dormitory-like, thanks to the angle of the seats towards the window.  
You might however, at first, worry about falling out of your seat into the aisle in the middle of the night – trust me, you won't; if I didn't despite multiple drinks and general clumsiness, then you'll be fine.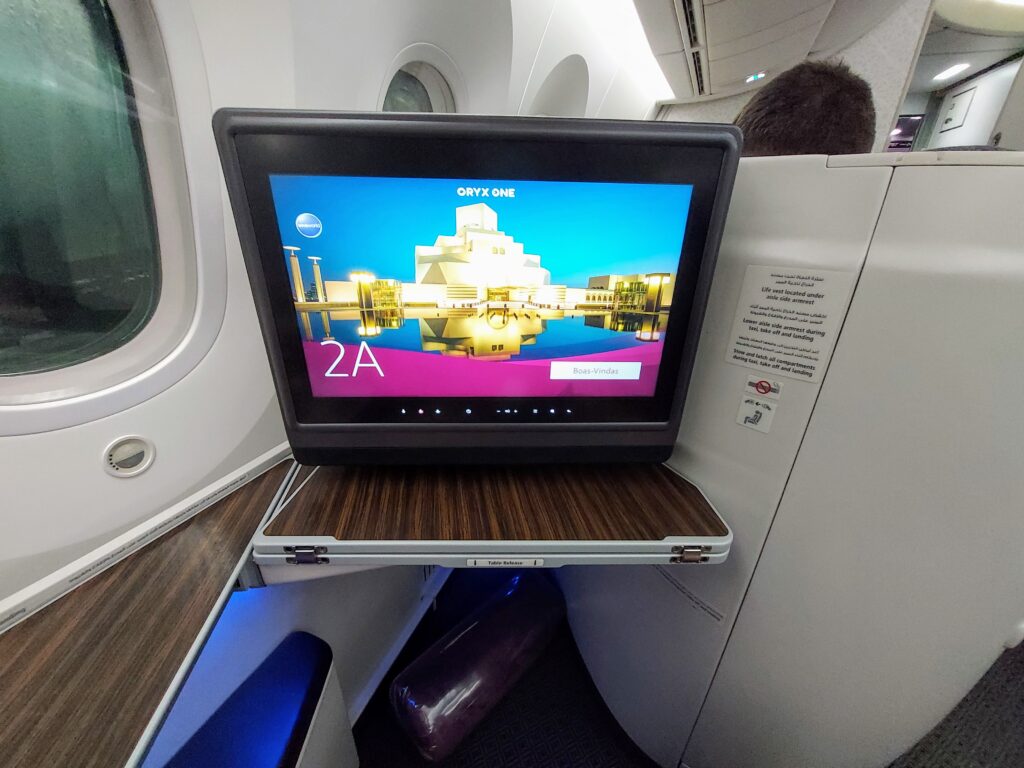 To the front of the seat, tucked in by the window, was the inflight entertainment monitor, and a pop-out table that takes a little bit of figuring out to get right. There are also multiple storage areas all around the seat and of course, a multitude of seat options available at arm's reach – in fact there's so many, I really wasn't sure what each could possibly do.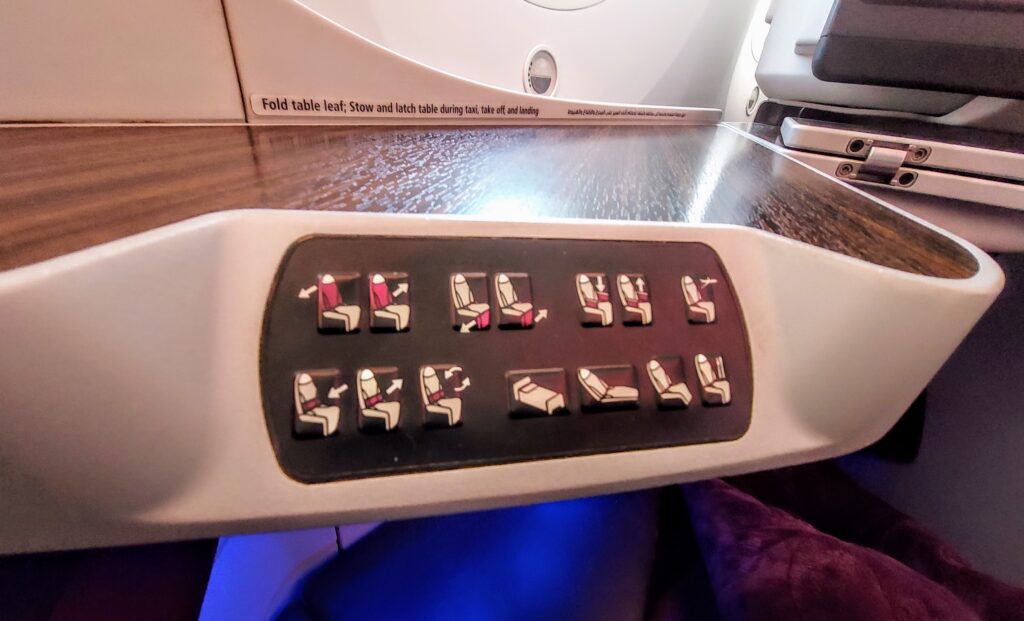 Starting us off tonight was a round of pre-departure drinks. I had convinced myself that this would be a non-alcohol flight, so went with the signature lemon and mint drink, which really is very refreshing. Please note my stance on not drinking lasted precisely until the first drinks' round after take-off, and then recklessly abandoned.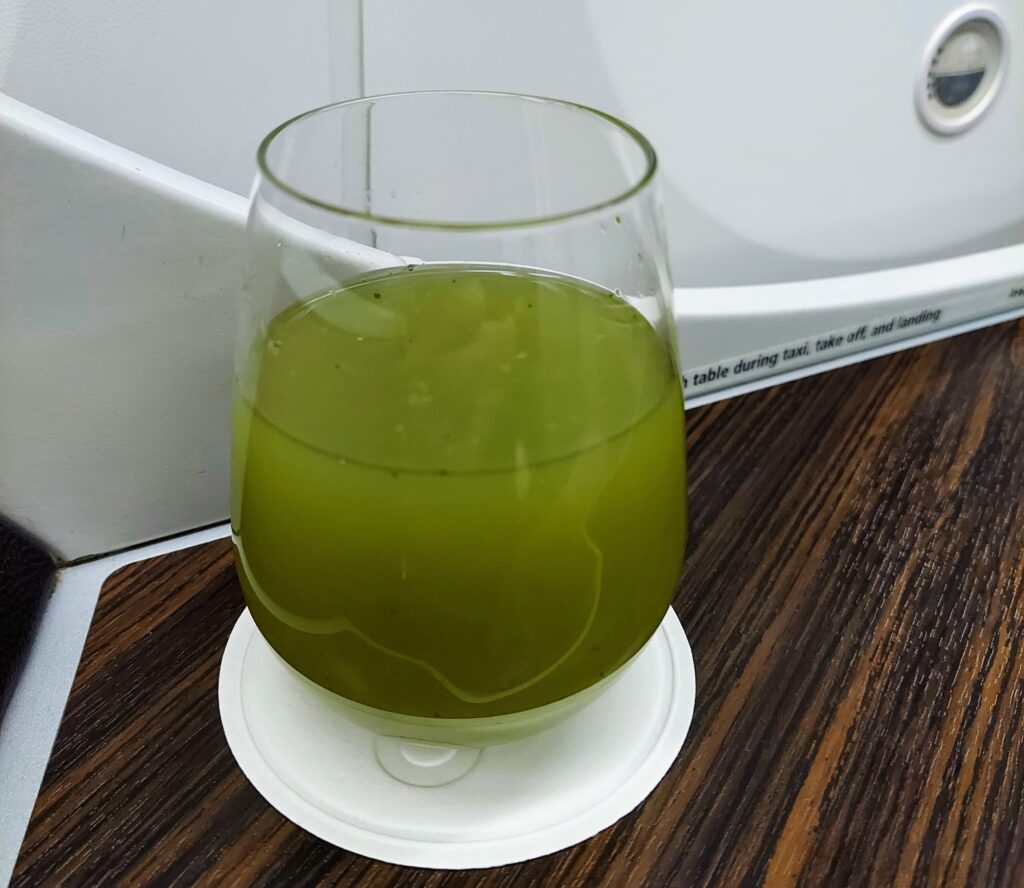 On this flight, given our departure time at nearly 2am, service consisted of a selection of late-night dining courses, or a six-part tasting menu. I went for the tasting menu and have to say, while the smell of the seafood chowder was incredibly brave and – if I'm honest – very off-putting so late at night, the hummus, lamb pie and fruit tart were all suitably delicious despite the odd eating hour. All, of course, washed down with copious glasses of champagne.
Whatever you can say about the seat, the retractable armrests and airiness do make for a very restful nights' sleep and after that truckload of food, and a quick change into the 'lounge wear' provided, it was time for a well-earned rest. I slept beautifully on and off throughout the night until breakfast was being served for those who had pre-ordered for a certain time.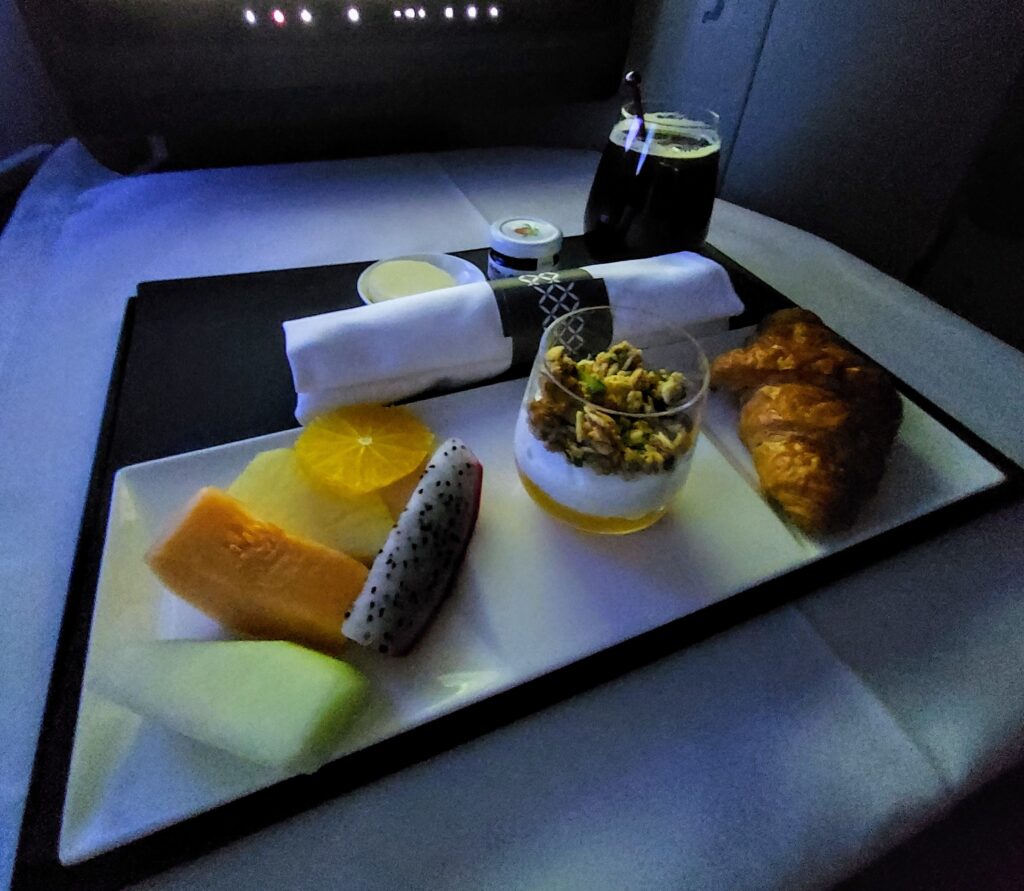 There was just time to wake up, undim the window blinds a few shades, and head to the bathroom for a quick refresh before breakfast was served. I've by now given up on heavy-going airline breakfasts and Qatar Airways always seems to get the 'light' option down perfectly, topped off with a glass of iced coffee – what a novelty!
By the time breakfast was done, it was full daylight outside as we approached the Irish coast at close to 6am.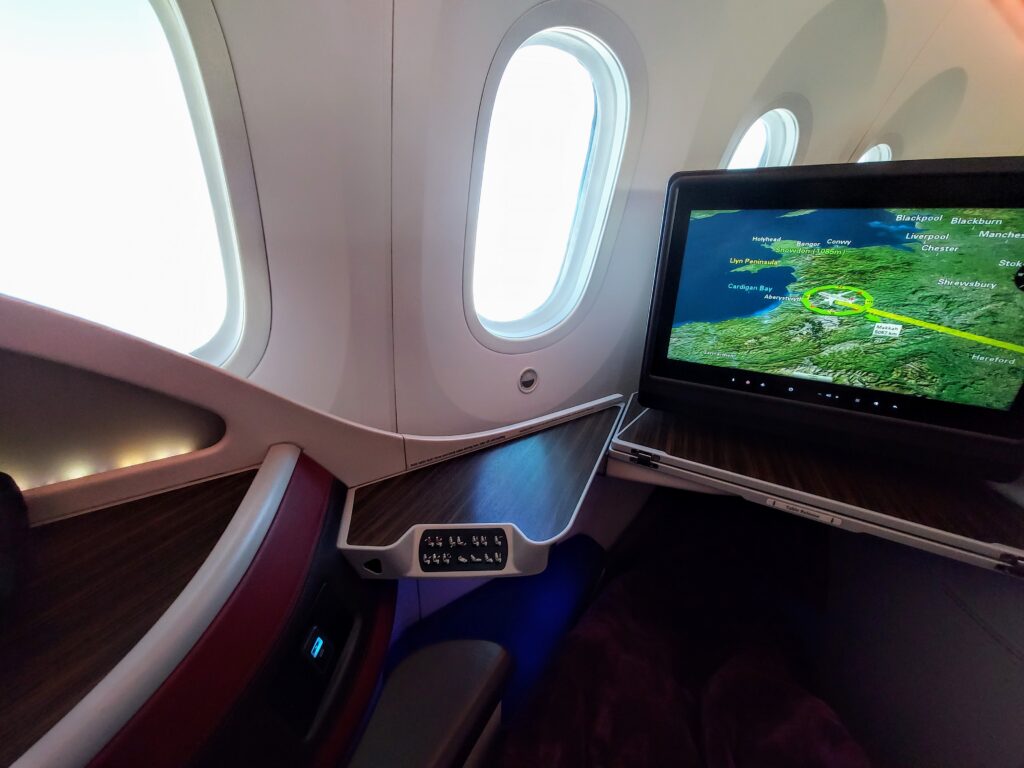 Soon after, we were preparing for landing and on approach – passing over Howth as always, and in across North Dublin towards Dublin Airport, very slightly delayed.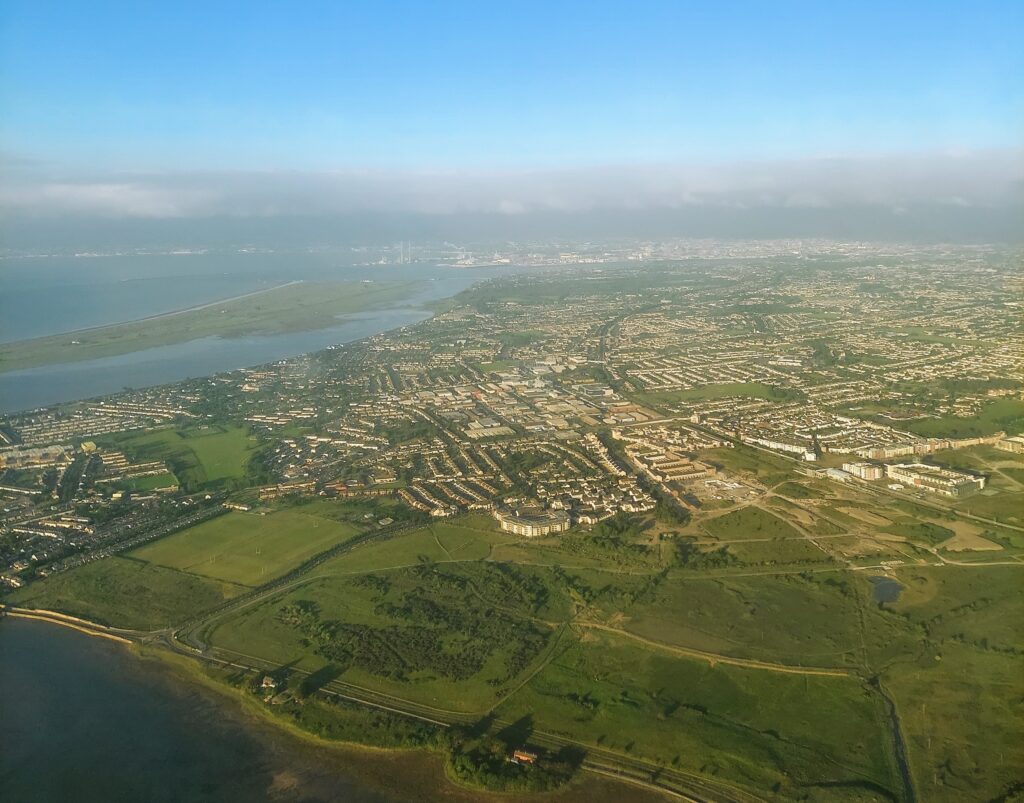 In Dublin Airport meanwhile, both Etihad and Qatar had arrived simultaneously and the queue at non-EU immigration was stifling – in, once again, the very unlovely Terminal 1 former 'Pier B' location that previously served as US preclearance back in the day. Honestly, it really, sorely needs some uplifting by now – parts of the walk from the former Pier B to Arrivals are reminiscent of the 1970's, up to and including the old latch-style windows that always seem to be open.
I've already complained more than sufficiently about the bait-and-switch to Malaysia Airlines for the flights' to and from KL, and the corresponding service and experience inconsistency – but honestly, this flight, taken by itself was perfectly pleasant. The crew were a little slow at times, and quite forgetful (no doubt more minimum crewing, the byword for travel in Summer 2022), but overall the food & drink, service and experience was very pleasant. Though the seats aren't Qatar's newest, they're holding up well, and still very acceptable for a flight of this length with plenty of space, storage and sleeping possibilities.