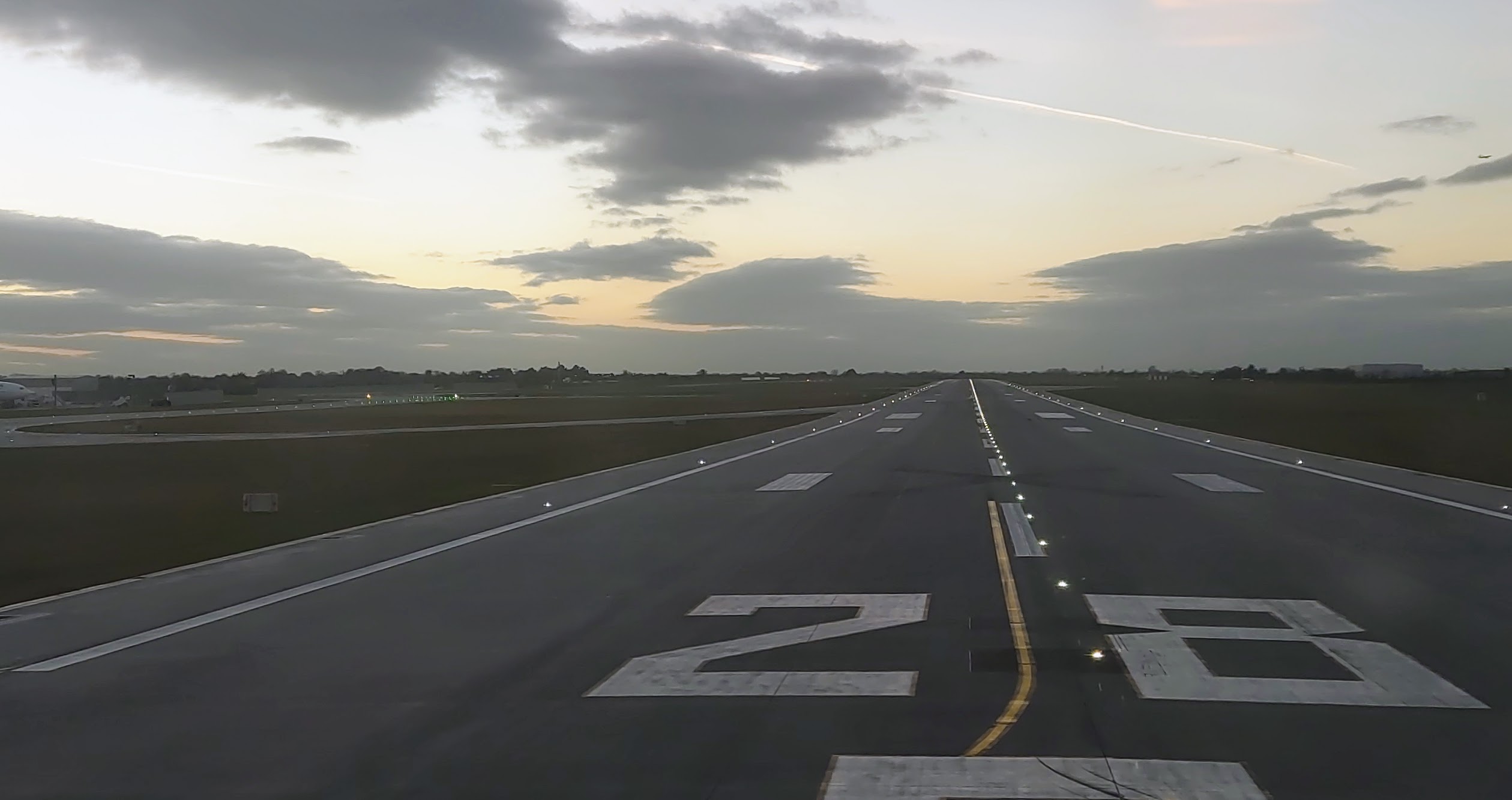 To kick off my multi-city voyage to South East Asia, it would be no less than Turkish Airlines in Business Class, ferrying us to Kuala Lumpur, from Dublin, via Istanbul. I've had nothing positive to say about Turkish in the past but hoped that things might be much improved in the premium cabin, and especially with their much-vaunted reasonably new home airport. So how was the flight from Dublin to Istanbul in Turkish Airlines Business Class? Let's get into it…
Dublin Airport Terminal 1, as I've mentioned before, is desperately showing its age and really not a delightful place in which to house major European and Middle Eastern national carriers, many of which are so otherwise careful to curate a premium, upscale image.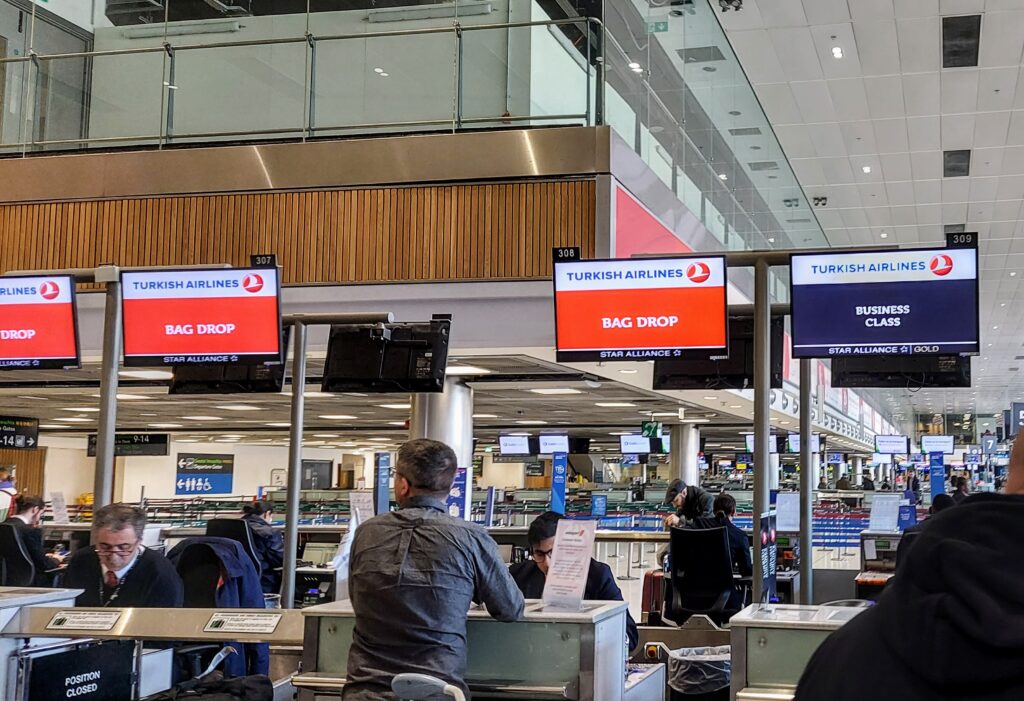 Check-in for today's flight was right down by security, at check-in area 3. Upon arrival, exactly 3 hours before departure, we quickly found both the business class check-in queue (alongside a bag drop queue), and also that check-in was only beginning to get going. With one queue, a number of people already lined up in the Business Class queue, formalities took about 15 minutes in total.
Fast track security took little to no time, and after a quick browse through duty free (nothing to get too excited about), I headed for the Executive Lounge.
I've covered it in other flight reviews previously, but to be even more explicit; much like the 'East' lounge Qatar uses, it is clearly now much too small for the entitled volume and seems to be suffering greatly from a combination of catering for too many airlines and subsequent higher than pre-pandemic business class travellers, higher than pre-pandemic frequent flyer status travellers, and lastly, too much monetization of the lounge to economy passengers via their website.
In short, if anyone asked me is the Dublin Airport Terminal 1 lounge worth it anymore – I'd have to say probably not, no. You may not easily find a seat (even if it's just yourself), food is confined to soup and sandwiches, and there appears to be a '2 drink' limit on alcohol – though I'm not sure how stringently this is enforced. Overall, pretty poor and no longer a source of any peace or tranquillity.
Similarly, the 300 Gates (Pier 3) is also now reaching a very visible end-of-life stage and even attempts to look out the windows make the outside look as grim as the inside (see below), where gate areas are no longer capable of holding the required number of waiting passengers – especially for the long-haul flights these gates' are often tasked with serving.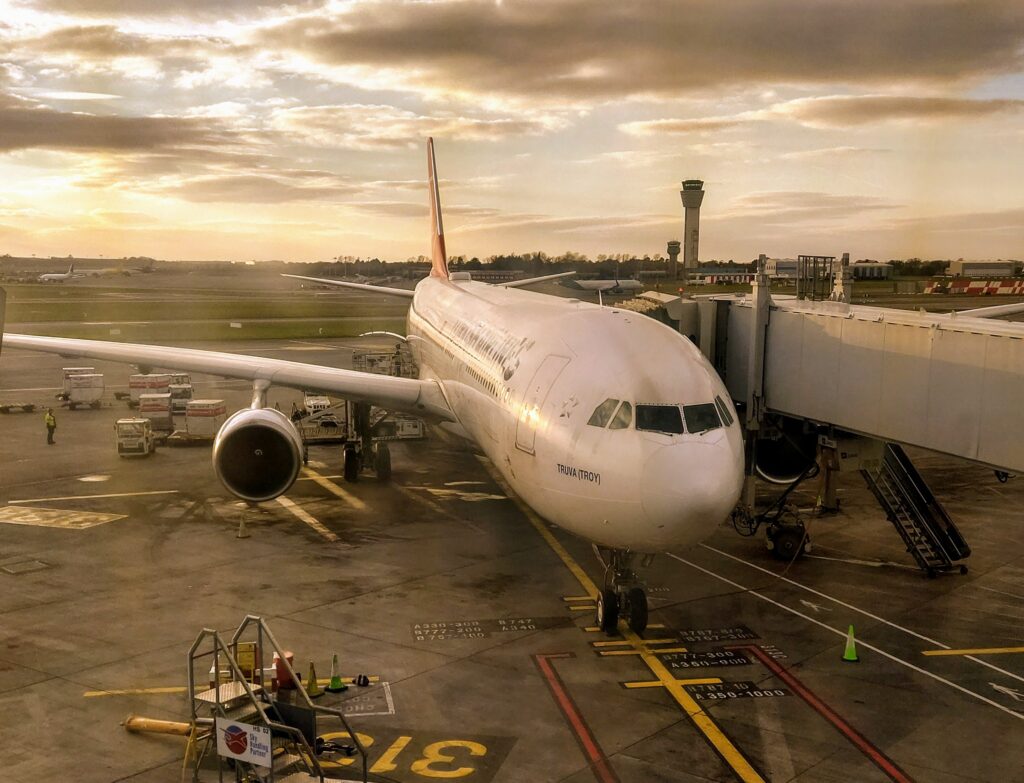 Our flight, TK1978, was flown with a larger-than-usual Airbus A330-300 – thankfully coming with a long-haul cabin, including lie flat seats and a much appreciated bit more space.
First impressions of Turkish's business class product – it is definitely not revolutionary by any stretch anymore, but there really is an immense amount of space dedicated to each seat and the whole cabin feels like one giant open space.
The caveat of course, is that once seated by the window, you'll likely need to perform minor amateur gymnastics should you need to use the bathroom later on and your seatmate has fallen asleep. But, on this aircraft, only window seat passengers suffered this unacceptable fate – there was no middle seat between the aisles.
Privacy is absolutely not something that's on offer here – however there was a pull-out slider between seats should you wish to very visibly let your seatmate know you're in no mood for their chitchat.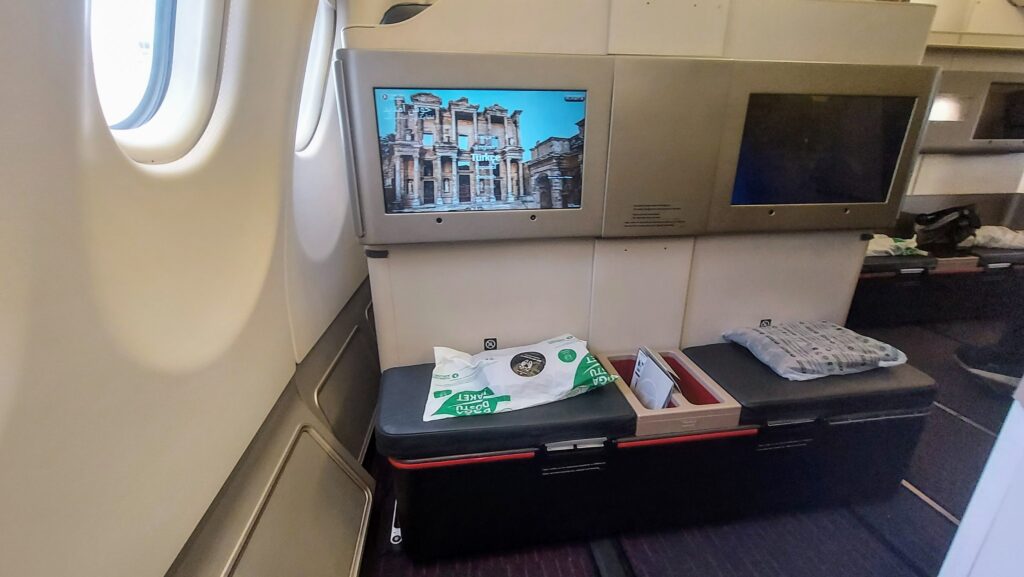 Legroom is – basically unparalleled, and this translates into a wonderfully comfy sleeping area. An ottoman is placed almost out of foot reach; unlike on a later flight, it also doubled as a locker for any loose items or small bags too, very conveniently. When it's time for a rest, the seat flips up and out to meet the ottoman – and this means your feet can also sleep free, not confined by the usual 'seat coffin' of most modern-day business class configurations.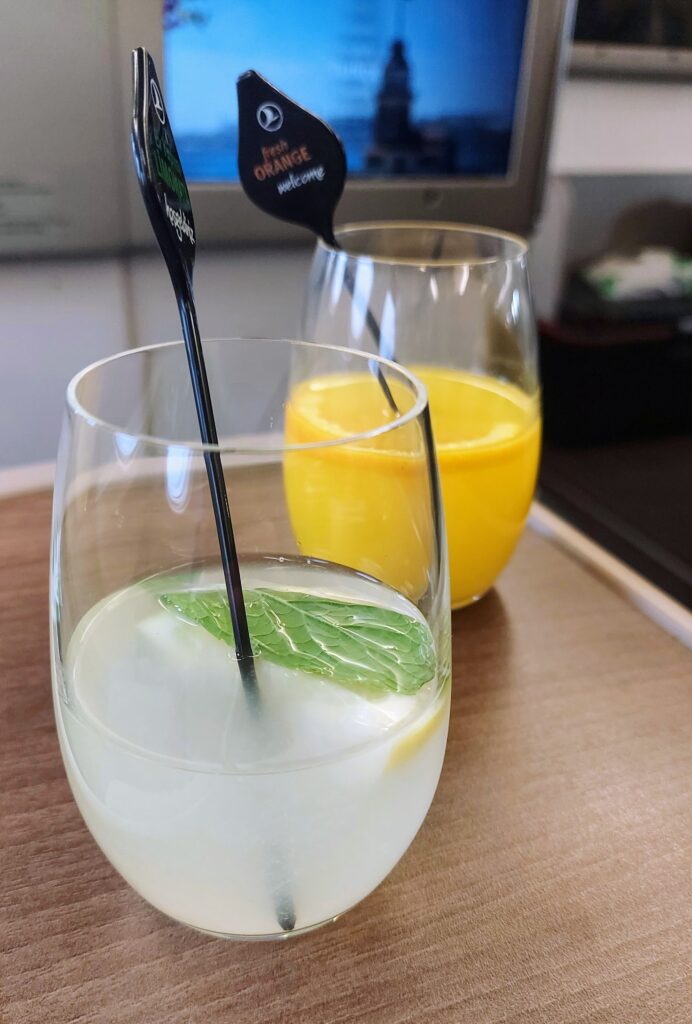 Once seated, a selection of alcohol-free beverages were quickly presented – orange, lemon mint, water and at least one other choice. Unfortunately, on all 4 flights, champagne or the like was kept for a later stage in-flight – but was definitely made available once airborne.
After a short delay at the gate, we got underway, taxiing out to Dublin Airport's controversial new runway for take-off.
The flight lasts around 4.30 hours to Istanbul from Dublin, and very soon after take-off we were treated to an extensive evening meal, from which you can select from a menu circulated during boarding. For my starter, I elected to go for the tried and trusted Turkish mezze, before moving on to a delicious beef wrapped in eggplant and rice main course. Overall, the food really was as excellent as other online reviews make it out to be.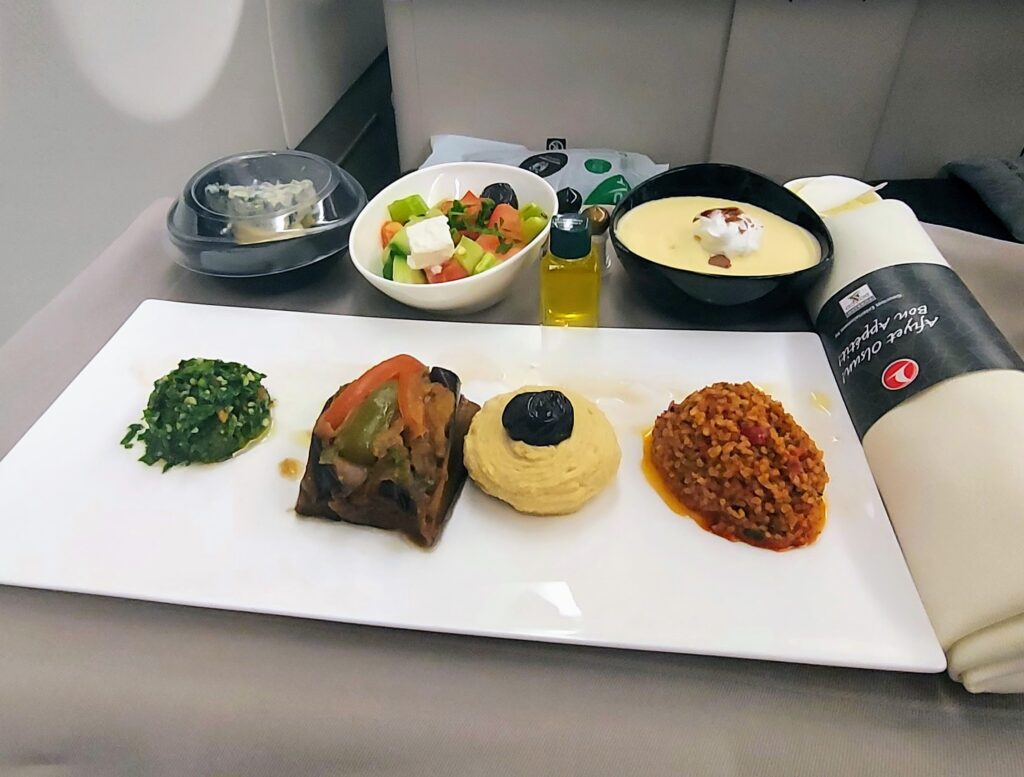 One of the minor gripes from this flight, which potentially includes an acceptance of stereotypes, was that we rather unexpectedly ran out of our first choice of wine (when I say 'our', I'm referring here to myself and two fellow Irish passengers), and other options seemed to dwindle throughout the flight. By the end, I had moved on to Turkish white wine (agreeable), one had given up, and one had moved to Turkish red wine.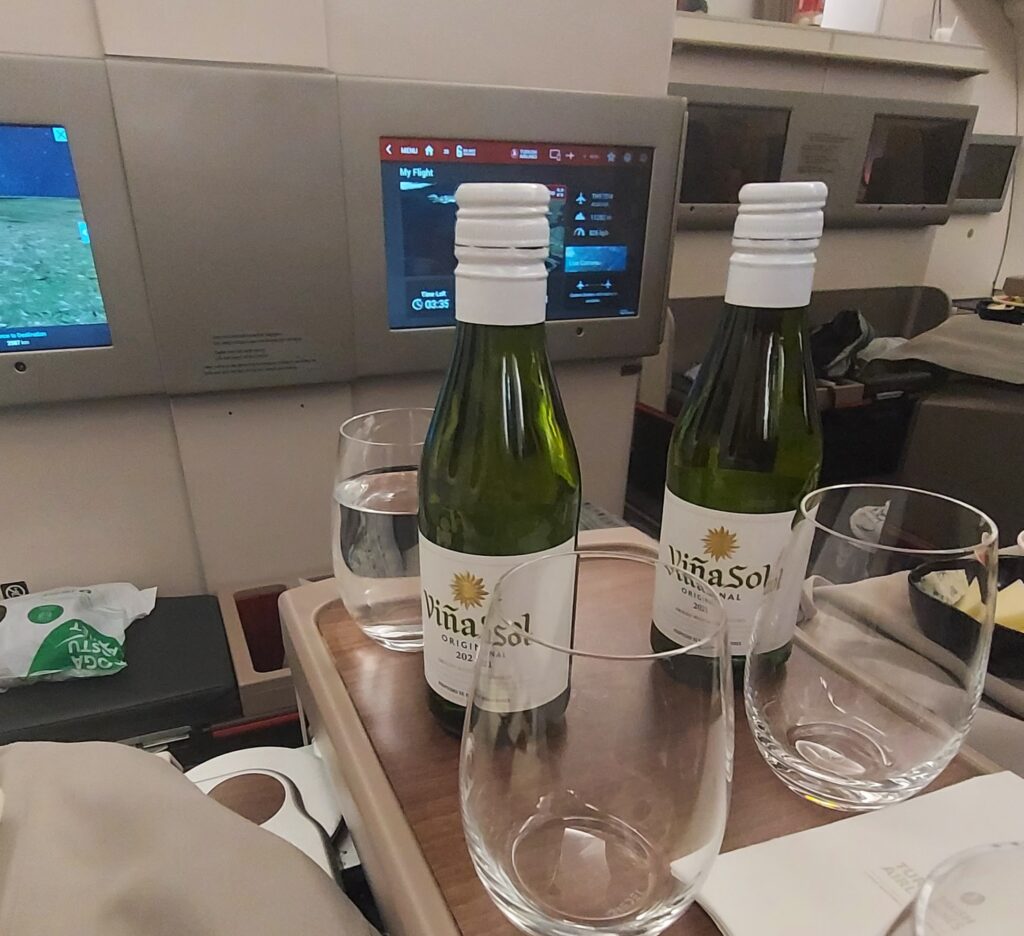 Overall though, especially in this larger size aircraft than usual, Turkish Airlines business class was a very agreeable and – dare I say it despite the wine shortage – enjoyable way to fly the relatively short distance from Dublin to Istanbul!